The F1 Disposable Pod Device By GTRS Previewed
The GTRS F1 Disposable Pod device is a new disposable way to get a quick nic hit when out and about.
We have seen a few of these devices pop up and recently our Laura-ann had the "pleasure" of reviewing the VGod Stig and the Digiflavor Liip.
Basically this is like the old disposable cig-a-likes you would buy for a few quid and then throw away when the tank was empty.
The F1 has an internal battery of 260mAh which should see out the contents of the pre-filled pod of 1.2ml.
When the pod is empty you simply throw this device in the bin – not all that environmentally friendly. I would see this more as the occasional out and about device where you don't want to carry a huge mod and batteries.
Inside the pod is a 5% nicotine strength Nicotine Salt e-liquid and the coil which atomises this has a resistance of 2.4ohm making this unlikely to be really harsh and aid battery life.
The kit also contains covers for the top and base of the device and a dust proof mouthpiece cover.
There are 5 flavours to choose from – Ice Litchi, Ice Mango, Ice Coffee, Mint Tobacco and Wheat Tobacco.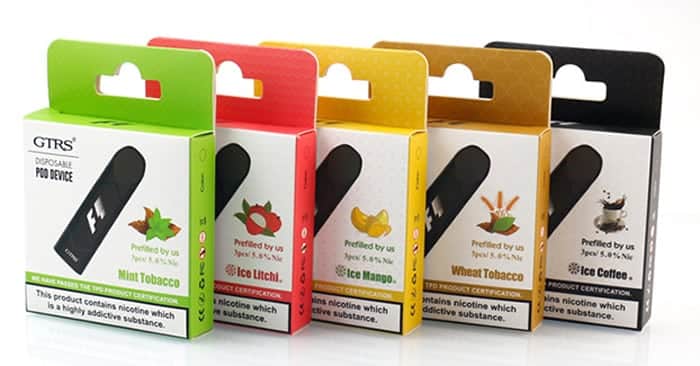 Kit Includes
3x GTRS F1 Disposable Pod device
Silicone dust stopper x 2
Silicone base x 3
Dirt proof boot cover
GTRS F1 Disposable Pod Device Specs
Size:73.5×20.4×11.4
Material: Food grade plastic and fireproof material
Battery capacity: 260mAh (not replaceable – fully charged out of box)
Coil resistance: 2.4ohm
E-liquid volume: 1.2ml (not refillable – dispose when empty)
Approximately 300 puffs
Nicotine Strength: 5.0% Nicotine Salt
5 flavours: Ice Litchi, Ice Mango, Ice Coffee, Mint Tobacco and Wheat Tobacco.

You know me I am going to whinge about the environmental concerns here – seems such a waste that a functioning although discharged battery goes straight in the bin when the pod is empty.
But there is a market for these disposable pod devices – ideal for a new starter to try and so fuss free. Also if you are out and about and need a stealthy easy to carry and maintain way of getting a nic hit – these are great for that too.
Will you be racing off to buy a pack of the GTRS F1 Disposable Pod devices? Let me know what you think in the comments below!