Does the Innokin DV Pod Kit Vape As Well As It Looks?
The Innokin DV pod kit follows on from the company's EQ Pod system that our Michelle really enjoyed so we're expecting big things.
It's certainly a stunning design but key here is the 0.5ohm Plex3D mesh coils which promise superb flavour and longevity – as to if that stands up we shall see.
OK it's powered by a 500mAH internal battery and comes in TPD friendly 2ml versions and rest of the world 2.8ml capacity and is available in three colour combos: black – white and the silver I received.
I've reviewed a ton of Innokin devices and can without doubt say their starter kits in particular are superb for those looking to quit smoking with the Endura T18-II – the Innokin JEM / Goby and of course the EcigClick award winning Zenith MTL tank among the best for newbies on the market.
So will the Innokin DV become yet another hit from the vaping giant? Let's take a look.
For the record this was sent to me free of charge for the purpose of this review – thank you – and as always my thoughts and opinions are my own.

Inside the Box
The usual high class Innokin packaging with everything stored neatly inside:

1x Innokin DV Pod System
1x DV Replacement Pod
1x Micro USB Charging Cable
1x User Manual
1x User Packet (Warranty Card, Warning Booklet, Battery Warning Card)
Innokin DV Pod Kit Features
2.8ml (2ml TPD Compliant) Refillable Pods
PLEX3D Next Generation 3D Mesh Coils
Auto-Draw and Button Activated
4 Wattage Levels (12/13/14/15)
500mAh Battery with MicroUSB Charge
Tri-Color Battery Capacity Indicator
42.4mm x 21.3mm x 75.6mm
Quick Start Guide
Pull pod from housing
Pull silicone plug half way out – fill and close
Snap pod back into battery
Allow 5 minutes + to prime coil
X3 clicks of fire button to power on/off
Hold down wattage select button to choose setting:
12/13/14/15w
Hold power button to vape OR just draw
LED battery indicator: red = low – yellow = half – green full power
Base of device lights whilst firing
Key Features
The Innokin DV is a refillable pod kit with the PLEX3D coils which have been receiving rave reviews for both flavour and longevity…as to if this is the case we'll see.
It has a choice of x4 wattage settings easily adjusted to your required taste however the airflow is not adjustable. Power comes from an internal 500mAH battery and the device can be vaped using the fire button or just from your draw.
It comes with TPD friendly 2ml pods as well as 2.8mls for the rest of the world and is available in 3 striking colour combos – black – silver and white.
Design and Build Quality
It's certainly a looker design wise and has the look of a slightly oversized remote car key. Let's put it this way it's certainly attracted a lot of attention whilst I've been out and about with it with folks asking if I'm driving a new gas guzzling truck.
It's definitely light I guess down to the build being some kind of alloy and plastic – and it's kind of ergonomic with the device sitting nicely in the hand and the pod comfortable on the lips.
Like most pod kits out there filling is a little fiddly – that silicone bung has quite a bit of tension meaning if you're not careful it will snap back whilst filling…yeah I was that vaper lol. The pods do come away easily enough but again there's no satisfying snap when they slot back into place however there's no suggestion of a rattle or that they may come away in transit.
The wattage select button works very well and the 'screen' is clear and well lit making it easy to read outside or in.
That fire button though…mine feels loose and there is a significant rattle…could be just mine hopefully.
The DV logo is definitely not in your face and it adds to the overall look however I'm not that keen on the honeycomb styled panel on the back.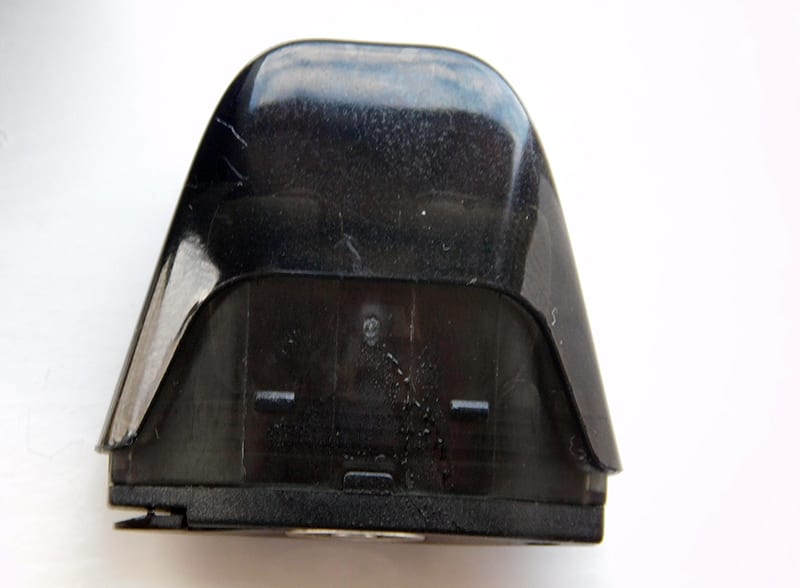 BTW if you're a bit of a Star wars fan the pods look like Darth Vader's helmet whilst the all black version looks like the bad guy himself…or is that just me?
How Does the Innokin DV Pod Kit Perform?
Ok the filling as I've already mentioned can be a little fiddly. It's good the bung doesn't come off completely but even after around a dozen fills it does remain very tight and can slip out of your fingers causing spillage. It's a double edge sword really – too loose and it might leak – too tight and spillage! Once pressed in I've had no leakage whatsoever so that's the important thing!
BTW I've used both freebase and nicotine salts in the 0.5ohm pods.
Incidentally that's a curious figure kind of halfway between DTL and MTL so let's look at exactly where in the market this is placed and how those pods vape at the various settings.
Read More: What is the Difference Between Mouth to Lung (MTL) and Direct to Lung (DTL) Vaping?
DV Pod Kit at 12w
As you might expect a very weak cool side of warm vape with a wisp of vapour and using both freebase and salt nic the flavour was very watery to say the least and not much of a throat hit using either e-liquids.
DV Pod Kit at 13w
Barely a difference from above – as you might expect.
DV Pod Kit at 14w
Slightly better flavour and the merest hint of a bit more warmth. Vapour started to increase however even with just 2 extra watts the flavour started to come through. Bit smooth as in no real throat hit.
DV Pod Kit at 15w
Things got a little better for me with a warmer vape and definitely more of a flavour pop. Plenty of vapour but still no throat hit from either nic salt or freebase.
So Is The DV Pod Kit MTL Or DTL?
Simply put it's a bit of a hybrid between the two from my experience. It's a very loose mouth to lung vape and is almost perfect for my style of MTL vaping…maybe just a tad airy even for me. And there's absolutely no throat hit whatsoever even using a strong 50:50 PG / VG tobacco blend.
I have been able to lung hit the DV too – obviously nowhere near a sub ohm tank level – but a DTL vape nonetheless.
I'm guessing this is designed for absolute beginners and those of us looking for a back-up kit and no matter what style of vaping you prefer – this sits either side of it leaving it up to you to decide!
I said earlier it's a hybrid of sorts and for me that's the case and I've adopted a kind of mix between the two vape styles.
One thing is for sure – the flavour from the pods is very good indeed – those 3D Plexus coils even in this pod kit certainly do manage to pop even at a lowly 15w.
Maybe it's just mind games but I seem to get a better vape all round using the fire button rather than just my draw.
Charge time is pretty quick and I timed it roughly at 80 minutes from a flat battery to fully charged and using this as my afternoon go to device was getting around 4 hours use – that's vaping steadily.
Not sure what the D and V stands for but given my experience it could be Duo Vape as in this both MTL and a weak but definite DTL.
Pros
Good flavour
Contemporary design
Quick charge time
Decent battery life
Vaping whilst charging
Decent vapour
X4 wattage options
Draw or button fire
Good pod longevity – 2 weeks still going strong
Cons
Fiddly filling
Awful fire button rattle
12 and 13w a bit pointless?
MTL or DTL???
Final Review Verdict
I've had the pleasure of reviewing many Innokin devices and this is the first for a long time so I was expecting something very special.
Looks wise it's out there with the best however and despite that edgy contemporary look underneath is still a pretty bog standard pod kit.
It's got a bit of an identity crisis too with those 0.5ohm pods neither true MTL or DTL but one thing is clear the flavour off the 3D Plexus Coils is very good indeed even at the lower wattage.
Would I recommend this to a brand new vaper as in someone getting off the fags? I might as long as they used very high nic salts and definitely a 20mg higher PG based juice because the vape is very smooth with no throat hit.
I would however recommend the DV to a more established newbie looking to let's say experiment with both MTL and DTL vape styles. It's also a cracking little kit for out and about – in the car or for those stealthy vape moments.
So a great design as to the vape experience I'm a bit on the fence but one thing is for sure the DV could definitely stand for Delicious Vape 😉