A new pod mod from Innokin, the EQ. Although this might make you sigh and think "yet another pod mod" – this one is actually quite different!

This is the first pod mod(or one of) to use Mesh coils.
What Can We Expect From The Innokin EQ Pod Mod
Mesh coils have been a massive game changer making a lot of stock coil sub ohm tanks perform almost as well as rebuildables. The Fireluke Mesh and the Horizon Falcon are real flavour machines.
Innokin introduced mesh coils in the Proton and Scion 2 kit, the coils used on the Scion 2 are called Plexus mesh and they are getting a reputation for being long lasting flavour coils.
So for a pod mod to use a similar style coil is brilliant!
On top of the mesh coil goodness, the pod is refillable and will hold 2ml of e-liquid. The filling is super simple too.
There is a 800mAh battery which is well above the average for pod mods plus you can choose from two outputs – regular mode = 13.5W or boost mode= 15.5W.
There are 5 colours to choose from – Black, Red, Blue, Purple and Silver.
So time to fill up, charge and get vaping to see if this can be one of the best pod mod vapes.
I was sent 3 of these devices for review – but my opinions remain my own and are based on the device and usage stated below.

What's In The Box
Innokin EQ battery
2ml EQ pod
USB cable
User manual
Features
Innokin EQ Pod Mod Specs
Battery: 800mAh (internal)
2ml refillable pod
0.5ohm Plexus coil
Battery life indicator
Output: Regular mode = 13.5W, Boost mode = 15.5W
Build Quality & Design
I received 3 of these beauties in the Purple, Blue and Silver colours.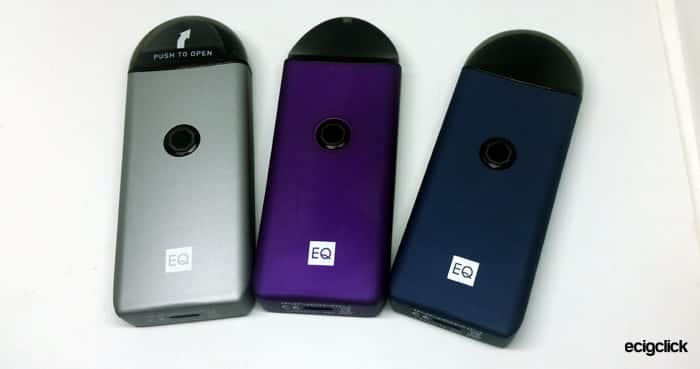 The Purple one became my favourite!
I was also sent 2 spare pods too – thank you Innokin.
On top of the pod is a cover cap which stops crap getting into the mouthpiece.
Good idea in theory however when you pull the cap off you pull the pod out of the mod!
However otherwise the pod is pretty secure and doesn't wobble or fall out.
Other than the silly cover this is solid.
The body has a rubberised finish with a fire button which also has an LED in the centre. The LED is white in general use but will turn red when the battery level is low.
The mouthpiece on the pod is lovely and the curved profile fits in the mouth lovely.
How Does the Innokin EQ Pod Mod Perform?
Basic operation
Power on / off – press the fire button 3 times quickly.
Change power mode – turn off device and hold fire button until it lights up to the required colour – red=boost and white=standard. Turn device on again. (This is the only way to check what power mode you are in – when the device is on the lights are the same colour in both modes!)
Battery level – the LED in the fire button will light up white – but when it turns red the battery level is low so recharge.
How To Charge The Battery
Plug the small end of the supplied USB cable into the base of the pod.
Plug the other end of the USB cable into a suitable USB outlet.
The LED on the fire button will go out when fully charged.
How To Fill The Pod
Pull the pod from the battery – it is only held in magnetically.
Tip the pod upside down.
Rotate the pod base to expose the fill ports.
Squeeze liquid into the ports whilst observing the level. If using one port only it does equalise between sides if you wait a second or two.
Swivel the pod base back into closed position.
Install the pod into the battery – as the contacts on the pod are circular the pod can be installed either way around.
How To Change The Pod
New pods have a cap on the base so remove this.
Pull the existing pod from the battery.
Fill the new pod as described above.
Leave the pod to stand for 5 minutes to allow the coil to prime.
Push the pod into the battery.
Flavour & Cloud Production
Well the instructions do not tell you what e-liquid would suit this pod mod best.
The coil is a 0.5ohm mesh coil so in theory might be too low resistance for some higher nicotine e-liquids.
I tried a few different e-liquids of varying nicotine strength and PG/VG mix. If you want to read more about PG and VG in E-liquid you can read our guide.
First of all I tried a 18mg Nicotine Salt liquid from Salt Nix on the standard power mode. Ouch this was way too harsh and one of my lungs exploded I swear.
So I didn't use with nic salts again!
Second pod I tried a 50/50 12mg nicotine e-liquid on the standard power setting and this was perfect. Wonderful flavour, perfect throat hit and the vapour you would expect from a MTL high nic vape.
Changing to the Boost power setting and this is so much hotter but not unbearable. I do prefer the standard power mode and this will help save battery life too!
Out of curiosity I also tried a 70%VG E-liquid – IVG Bubblegum Millions to see how this would cope.
Oh yes, it coped perfectly fine with 70VG e-liquid and again a wonderful flavour too. Not as much vapour as you would expect with high VG but this is a low power MTL device.
This is primarily a Mouth To Lung (MTL) device. However with the high VG I was able to manage a very restricted DTL vape but there wasn't much vapour – but you can't expect that from 13.5W! If you want help to understand the terms MTL and DTL read our handy guide to Vaping Styles.
It might be low power but doesn't lack flavour or warmth even in the regular mode. I have rated the Vapour output as 9 as this is what you would expect for this power device.
Further reading:
Battery Life
There are two power output settings on this. As I didn't find the Boost Mode to be of much benefit I used this mainly in the Regular mode – which outputs 13.5W.
With regular vaping on regular mode I got 4.5 hours of battery life. Bearing in mind that is me sat at a desk with 3-4 vapes every 10-15mins.
Pros
Solid reliable little pod mod
Very cute and lovely feeling to the rubber coating
Lovely taste and warm vape
Brilliant coil life – so far 2 weeks.
Easy to use and fill.
Lightweight and pocket friendly
Excellent battery life
Ability to use different types of e-liquid.
No leaks
Cons
The pod pulls out of the battery when you remove the protective cap.
Battery indicator only tells you when battery is close to dying.
Didn't really need to use the Boost power mode.
Instructions give no indication of what e-liquid is best for this. I found Nic Salts too harsh.
It would be nice if you could just change the coil without having to bin the whole pod.
Perhaps some brighter or girly colours – Pink, Turquoise and pastel shades would increase the appeal (subjective).
No indication of which power mode you are in unless you turn device off and press and hold fire. Not a big deal but would be nice to know without having to do this.
Final Review Verdict
I have thoroughly enjoyed my time with the Innokin EQ pod mod. I would be in floods of tears if it broke or I lost it. Yep I am an emotional female but this is so practical and performs so well I couldn't be without it.
If you want something for out and about with a battery capacity which will be sensible and a vape you really enjoy you can't go wrong with the EQ. Also this is perfect for someone just starting vaping and wants something clean and simple.
Add to that you can use high nic or higher VG liquid in this then then versatility is even better. Innokin do say that 80%VG might be too thick for this pod so I didn't try it.
Apart from the silly cover cap and the battery indicator this is perfect. I would buy another tomorrow. In fact I will be ordering some more pods too when they are for sale! So far my first pod with the 50/50 12mg liquid is still going strong after 2 weeks!
This has replaced my excellent Joyetech Exceed Edge pod mod as my dog walking/driving device!