Today I'm going to be taking a look at the recently released Innokin Sceptre Tube kit, a simple to use pod kit.
"Oh No" I hear you say not another Pod kit – but wait Innokin have added their own wrinkle to the kit and that's worth a look!
Founded in China 2011, Innokin is considered by many to be the Grand Daddy of vaping, their extensive back catalogue of devices and tanks is impressive!
Many of Innokin's early kits have moved into vape legend status including the iconic Cool fire 2, Itaste MVP V2 and iTaste VV.
Some of their latest kits include the Kroma 217 Z Force, Endura T22 Pro and let's not forget Innokin is a market leader for MTL tank design with the likes of the Ares 2 MTL RTA and Zenith Pro tank.
What Can We Expect From the Innokin Sceptre Tube Kit?
While you may be forgiven for thinking that the Sceptre Tube is just an updated version of the previous Sceptre pod kit and Sceptre MTL pod kit in a different body, I can assure you this is a different animal!
OK to condense things down a bit, yes the kit is classed as a pod system but I would personally class it as restricted DTL device in comparison to the other versions.
We tell you what the terms MTL and DTL mean in our Guide To Vape Styles.
The kit comes with a top slide fill pod tank and has an internal 1300mah battery housed in a conventional tube body and with 2 power modes making it an easy to use pen like device.
The Sceptre Tube Kit is available in 6 beautifully finished tones!
This product was sent directly to me by Innokin for the purpose of review!
As always my views and thoughts are my own after a considerable testing period.
In The Box
Innokin Sceptre Tube
Sceptre Pod (pre-installed 0.5Ω Coil)
Spare S Coil (0.5Ω)
Type-C USB Charging Cable
Spare O-Rings
Quick Start Guide
Warranty Card
Features
Size: 20×118.2mm
Capacity: 2ml
Output: 18W / 20W (2.65V / 3.4V)
Battery: 1300mAh (internal)
Display: LED indicator
Resistance range: 0.4-3.5Ω
USB Type C – 1A charge rate
Pod: Refillable, replaceable coil
Coils: S-Coil 0.5ohm, S-Coil 1.2ohm
Adjustable airflow
Top slide fill
2 power modes
 Design and Build Quality
As I have said in past reviews I'm not really a pod person (lol) and I specifically hate 2ml tanks, this kit includes both, I'm however impressed with the tank given its limited liquid capacity!
The tube design does hark back to the early days of vaping when tube/pen mods ruled the vape scene.
The kit is well made with great quality, it's comfortable to hold; given my fairly large hand size it feels almost stealthy to me!
Innokin Sceptre Tube – Pod Tank
The pod tank has 4 parts to it; mouthpiece, tank, coil and coil airflow adapter.
The pod tank liquid capacity is 2ml and comes with a pre-installed 0.5Ω coil with a spare and a couple of spare O-rings in the box!
Measuring in at approximately 40mm tall with a base diameter of 15mm, the pod tank is constructed of a dark see though plastic! The pod tank is held in position within the mod by 5 strong magnets.
For airflow the pod tank has 2 medium sized holes on one side, which match up perfectly to the airflow slot within the pod bay of the device.
The removable mouthpiece is a 510 type and made from Delrin, which can be swapped for your own favourite drip tip!
To access the fill port find the moulded Innokin advertising on the tank and at this point simply push the top section to reveal the fill port.
Two coils have been included with the kit and are both the same resistance being the "S Coil" 0.5Ω – 18 to 20W
Innokin have given us a gold coil adaptor that the coil screws into – don't throw the adaptor out once the coil becomes unusable, you'll need it for the next coil!
Innokin Sceptre Tube – Mod
This device is made of Zinc alloy and measures in at approximately 85mm tall, and has a 20mm wide pod bay and weighs around 50g. With the pod tank in place the Sceptre Tube measures in at just over 110mm.
When in use it has constant output wattage, the battery is responsive with a quick fire!
From the top
The Sceptre Tube has 2 small Gold Plated spring loaded connection points that will touch the coil.
When the pod tank is in position, turning the tank will allow you to fine tune the airflow!
Innokin Sceptre Tube – Fire Switch
The device is controlled with a plastic fire switch, which btw has a nice clicky feel to it. The switch functions as a mode changer, fire button and as the on & off switch.
Surrounding the switch is the LED indicator which changes colour to display the battery charge level, power level and fault conditions.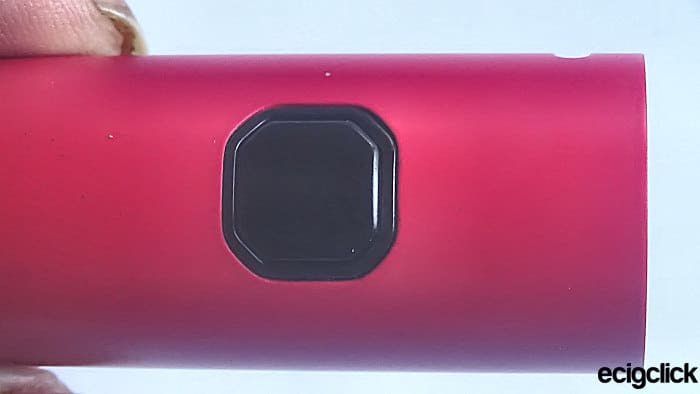 A Type C USB charge port is provided, which will charge the 1300mah battery at the rate of 1 amp, using the supplied cable. A full charge takes approximately 2 hours but the device does have a pass-through capability so you can vape it while it's being charged!
Of course both the tube and the pod tank have safety marks printed on them as well as the relevant Innokin advertising.
How Does the Innokin Sceptre Tube Kit Perform?
For this review I will be filling the Pod Tank with Kwik Vape "Fruitberry Sherbet" an irresistible taste of mixed berries with a touch of sharpness to it!
Basic Quick Start Guide
Innokin Pod Tank
Remove the tank from the device
If this is the first time you are setting this kit up, remove the sticker from the coil adaptor.
Prime your coil with a few drops of e-liquid and place the coil in the pod
Push open the fill port and fill with e-liquid
Let the tank stand in the device for about 3 minutes before firing so the cotton can soak up more e-liquid.
Sceptre Tube Mod
Make sure the device is fully charged before first use! I recommend this as mine had only a ¼ charge to it!
Functions
The Innokin Sceptre Tube kit is straightforward to use.
3 quick presses of the fire button will turn the Sceptre Tube on/off.
2 presses of the fire button will switch between the two wattage settings – do this until the LED changes to the colour of the setting you require. Purple for High (20W) or Blue for Low (18W).
A single longer press of the button activates the device.
The only visual indication the Sceptre Tube gives is the multi-coloured LEDs that surround the fire button, lighting up when the pod is inserted and lighting up when you toot on the device.
The colour changing LED will highlight the status of the battery with 3 different colours as shown below, (years ago we called this the traffic light system), and 2 colours when on charge!
Green – Greater than 50% of charge
Yellow – Between 10% – 50% of charge
Red – Less than 10% of charge remaining
Charging – LED illuminates Red then Green
Full charge – Green LED extinguishes when fully charged
Current battery status – LED colour flashes twice after fire button is pressed
Low battery – LED flashes Red 8 times
Pod inserted – LED illuminates Blue for 2 seconds
Short circuit – LED remains Red for 5 seconds
No atomiser – LED flashes Green 5 times
Overtime protection is 10 seconds – LED flashes Red 10 times when the fire button has been pressed for over 10 seconds.
Innokin Sceptre Tube – In Use
Well the Sceptre Tube Kit was a surprise! To be frank I wasn't sure if it would fit my style of vaping, I'm now looking at this one as a second carry around mod!
With the airflow open fully; I received a nice restricted DTL vape with fairly good flavour at 18 and 20W.
Reducing the airflow for a draw that is a full on flavour; quite literally I believe the flavour produced by this kit will amaze dedicated mouth to lung users!
Coil and Battery life
I have been using this kit for almost 2 weeks; the pre-installed 0.5Ω S Coil lasted me around 7 days as an MTL coil, the other 0.5Ω S Coil I used as a restricted DTL coil, it lasted just over 5 days!
The 1300mah battery was very good as an MTL device lasting over a whole day at work!
As a restricted DTL device the Sceptre Tube battery lasted approx 4 hours depending on how I tooted it!
The big question I really wanted to know!
Does the pod tank leak?
My quick answer is No! However I have found a little moisture in the pod bay which I put down to condensation, not a big problem just something to keep an eye on!
One thing to look out for, while in my pocket the slide fill port sometimes comes open!
Pros
Quality and Design are very good
Good battery life
Comfortable in hand
The 0.5Ω coil has lasted me very well
Good retail price
Cons
I have no big concerns with this kit
Final Review Verdict
This is one of those kits that for me it's in the grey area; I love it and hate it at the same time!
Being a restricted DTL the kit fits my vape style wonderfully, although the liquid capacity does drive me mad lol. The flavour if used as an MTL device is out of this world!
Would I recommend the Innokin Sceptre Tube?
"Yes", this kit would be suitable for all levels of vape experience.
Would I buy this device again due loss or damage?
I like to carry a small device as a backup and this kit fits that bill well, so "Yes" I would replace it.
Let me know if you have used the Innokin Sceptre Tube Kit in the comments below!