The Innokin Zlide is the latest mouth to lung tank from Innokin and is described as a 'cheaper alternative' to the Zenith and is part of the company's Platform Series.
Designed by Phil Busardo and the Vaping Greek, the Zlide has had a few tweaks and includes a couple of coils, notably the Z-PLEX3D both of which have different resistances.
It's 22mm and has a 2ml capacity and like the Zenith airflow comes from the bottom.
A Makeover Of The Zenith Tank But Has The Zlide Improved Things?
OK, I really didn't rate the Zenith highly at all citing poor flavour. However, that shows how much I apparently know as you guys voted it best MTL tank in our 2018 EcigClick Awards…I mean come on what do I know lol.
In all seriousness, I was extremely interested in seeing if Innokin had ramped up the flavour as I found the Zenith muted, to say the least…did they have manage that? We shall see.
For the record this was sent to me free of charge for the purpose of this review – thank you – and as always my thoughts and opinions are my own and unswayed by freebies.
Learn more about the difference between Mouth To Lung and Direct To Lung Vaping.

Inside the Box
The usual smart packaging we've come to expect from Innokin with plenty of goodies under the tray and inside you'll find:
x1 Z-PLEX3D .48 Ohm Kanthal 3D mesh coil
x1 1.6 Ohm Kanthal coil for a cooler vape at lower wattages
x2 mouthpieces
Replacement glass tank section
Replacement silicone seal
Replacement o-rings
Innokin Zlide Specs
22mm wide
2ml capacity
Colours: gun metal – blue – black – stainless steel
Key Features
This is yet another tank in the Innokin Platform series and is designed by Phil Busardo and Dimitris Agrafiotis aka the Vaping Greek.
This is a follow-up to the hugely successful Zenith tank and Innokin says this is not a replacement but meant to tackle a " more cost-effective solution while addressing some requests from Zenith users."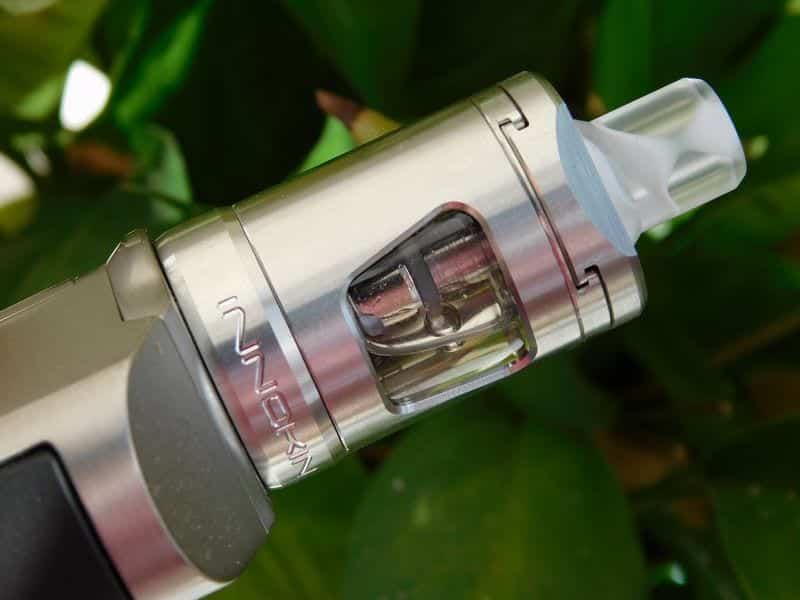 One of those requests from my review and indeed many other vapers, including those who commented on my original post, was a need for more flavour! As to if they've managed that with the Z-Plex 3D coil we'll see.
BTW Innokin says the key changes are:
Remove the riser so more mouthpieces will look good
Replaceable glass tank section
OK, this is a mouth to lung tank [MTL] 22mm wide with a 2ml capacity and to further cut costs Innokin has removed the 'liquid shut off feature' on the Zenith.
It still uses the push and pull method of removing and replacing coils which can be done whilst the tank is filled and the Innokin Zlide can be used with all the Z-coils.
The top cap has a child-proof design which simply involves removing the rather nice 510 drip tip and opening the fill port by pushing via the red arrows. This slider can also be removed to replace the grommet should it start to loosen.
Airflow comes from the bottom with a choice of x3 holes each reducing in size and appear very similar to the Zenith.
Design and Build Quality
As always from Innokin the build is first rate with quite lovely machining.
The tank strips apart easily for cleaning and the threads are very smooth indeed even fresh out of the box.
The 'slide to fill' port is very stiff and once locked into place with the drip tip is solid to say the least.
As to the design?
The Zlide certainly looks good and far less chunky than the Zenith, especially with that drip tip platform removed, in turn giving it a sleeker smarter look…nice looking drip tip too.
Gone is that silly Open and Shut lettering and is replaced by x2 red arrows showing where to push to fill.
I really didn't like the invasive open/close words and arrows on the Zenith and I'm not too keen on the new arrows either which for me clutter an otherwise good looking tank. I mean do we really need this? Surely an engraved mark of some sort would have sufficed?
The Zlide is most definitely the better design-wise of the two so let's see how it vapes.
How Does the Innokin Zlide Tank Perform?
For the record I used two different e-liquids.
A tobacco flavoured Decadent Vapours 50/50 VG/PG shortfill at 12mg nicotine – that I know very well indeed – with the 1.6 Ohm coil. After x2 fills I had no leaking even leaving the tank on its side overnight and wicking was very good indeed.
And with the 0.48 Ohm coil I used one of my go to juices the 3mg 70/30 PG/VG Papio from Twelve Monkeys 'Monkey Mix' Origins. Again there was no leakage and the coil wicked well despite the thicker consistency.
OK, popping the coils in and out is easy enough:
Unscrew the bottom plate
Line up the corresponding ridges and push in firmly. You can tell if it's seated correctly as the base plate won't screw back in if it's not sitting flush!
Filling as I've already mentioned is simply a case of:
Removing the drip tip and pushing open.
The fill port is reasonably sized and I've had no issue filling.
DO let it sit for a good 15 minutes before vaping though – called priming your coil – this will allow the cotton to soak up the juice!
Z-PLEX3D .48 Ohm Kanthal 3D mesh coil
Innokin recommends vaping this one between 13 and 15w which to be honest I first thought was pretty low given the resistance.
The vape was cool, to say the least, with the flavour not much to write home about, however, the vapour was pretty good.
I went through x2 fills at 15w and whilst there was a slight increase in flavour nothing to write home about.
Given this is a mesh coil I gradually increased the power and went as high as 37w before things got too warm.
Whilst 15w is the apparent limit – I got a very nice warm vape at 27w with a smallish increase in flavour – but sadly still not what I'd call good flavour.
As to the airflow?
Wide open and I was able to get a kind of hybrid MTL albeit restricted lung hit – however with the tiniest airflow hole half shut it was extremely tight to say the least. I found a happy medium on the middle setting with x2 holes open.
1.6 Ohm Kanthal mesh coil
This one obviously has a lower resistance and more attuned to regular MTL vaping with Innokin suggesting power between 10 and 14w.
After 15 minutes of priming, I vaped at 13w with the airflow wide open and immediately got a more traditional tight MTL vape for want of a better word.
However once again the flavour was muted and even bumped up to 21w [which it handled] the vape remained on the cooler side of warm with the slightest – and I mean the slightest jump in flavour.
What I will say is closed right down the MTL is as tight as you'd want it with my cheeks really sucking in to get a hit.
Pros
Well built
Looks good
Easy coil swap
Decent vapour
Choice of coils
Great price
Cons
Lacks flavour – simple as that
Final Review Verdict
I was very surprised – OK gobsmacked lol – to see the Innokin Zenith win our 2018 award for best MTL tank of the year…still scratching my head as to why lol.
Putting that aside – how does the Innokin Zlide compare?
Based on vaping on this one for a couple of weeks I have to say the flavour hasn't increased much at all from the Zenith which is a great shame as it looks the bees knees.
I can only think it's down to the rather squared off chamber that doesn't appear to have any doming whatsoever…proof positive for me that a domed chamber really does funnel and concentrate the flavour.
The Zlide certainly smashes the Zenith in the looks department – but as I often say looks don't mean anything if it doesn't vape well.
This is the first Innokin device I've reviewed for a very long time – I used to work with them closely really enjoying most of their vape gear.
I'm sad to say in the case of the Zlide and with coils I was hoping would have improved significantly, they've only managed the slightest and I mean a minuscule jump in flavour.
The last couple of years has seen a growth in new MTL stock coil and rebuildable tanks and given Innokin were industry standard leaders with tanks such as the absolutely awesome T18ii tank, I'm surprised the Zlide hasn't managed to keep up.
For me it's got to be a mix of these z-coils and the lack of doming – everything else is very good indeed…
Not one for me I'm afraid…
Remember reviews are personal opinions and as you guys proved me wrong awarding the Zenith MTL tank of the year…I'm apparently rarely right lol…
If you are using or have used the Innokin Zlide let me know your thoughts in comments below – I'm genuinely interested 😉