Media Bias?
An article on the World Vapers Alliance (WVA) website asks the question "How biased is the media about vaping?"
Michael Landl is the author and he did a brief experiment. Michael is the director of the WVA and a passionate vape advocate.
He set a Google alert to let him know when articles about vaping appeared during the week 23/4/22 to 1/5/22.
He then rated them as being Negative, Positive or Neutral towards vaping. Note these articles are from around the world.
It is pretty shocking to see that 40% of the articles were Negative and only 29% Neutral and 29% positive.
41 articles were found and used in this experiment and you can see a pie chart of the findings above.
There were 4 articles from the UK and 3 of those were Positive and one Neutral.
I am hoping to try to monitor UK media stories regarding vaping and will be back with the results at some point in the future!
Vaping Supplier Tour – Bring UK & China Closer
The UKVIA (UK Vaping Industry Association) along with the ECCC (E-cigarette Professional Committee of China Electronics Chamber of Commerce) and 2FIRSTS (media and consulting partner to ECCC) have created an event to bring together Chinese suppliers and UK brands and distributors.
UKVIA is working with the ECCC, to bring the two countries closer together with a supplier showcase to increase manufacturer transparency and communication between distributors and suppliers

🕔9-10am
📆 May 17th 2022

Register 👇https://t.co/5wOBeTRQl4 https://t.co/oXBkxTiZiZ

— UKVIA (@Vaping_Industry) May 5, 2022
You can register for free here – ICCPP Vaping Supplier Tour and the event will be held online on 17th May 2022 at 9-10am.
The event aims to try and bridge the gaps between the Chinese vaping industry and suppliers / brands in the UK.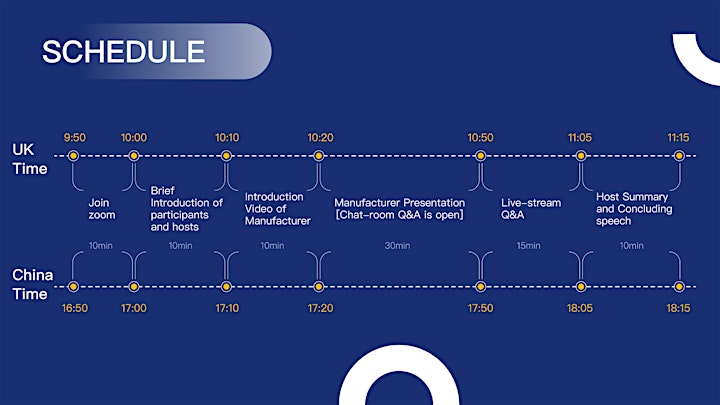 The UK has always been a huge contributor to the Chinese vaping industry but due to the Covid epidemic obstacles were created which made this process more difficult.
A total of 50 participants will take part and there will be presentations, chat room question and answer (Q&A) sessions and also live streamed Q&A.
World Vape Day!
The WVA (World Vapers Alliance) are holding a global "World Vape Day" on May 30th 2022.
The date has been chosen as it is the day before the WHO (World Health Organisation) "World No Tobacco Day" to showcase vaping.
There will be a program of live streams on Facebook and YouTube or you can view them on the WVA website – World Vape Day.
Here is the schedule – note the times are in CET (Central European Time) which is 1 hour ahead of British Summer Time. If you visit the website you can click on the program to view it during or after it has been broadcast.
As you can see Michael Landl (Director of WVA) and Dr Colin Mendelsohn (MB BS Hons) are two of the speakers.
Wipe Out Smoking With Vaping!
A lovely article in the Express Online newspaper by Jonathan Walker discusses how Vaping could be the answer to making England "Smoke Free" by 2030.
A review by the Department of Health is expected to recommend smokers switch to vaping and promote how vaping is less harmful than smoking.
Javed Khan is leading the "Levelling up" Tobacco control review.
He said:
"In my review I have considered a range of critical interventions that will make the most difference. For example, I've looked at the promotion of vaping as a less harmful alternative; a greater role for the NHS in ending smoking and the need to tackle illicit tobacco sales"
So everything crossed – it does appear the government is taking vaping seriously as a way to meet the Smoke Free 2030 goal!
You can read the full article here – Vape Britain: Huge new drive to wipe-out smoking in England by 2030.
Khan Review
Talking of our friend Javed Khan he has Tweeted this…
#Smokefree2030 pic.twitter.com/FcXGZ8TZbe

— Javed Khan OBE (@JavedKhanCEO) May 11, 2022
I have no idea what this is about?
I assume it is just to let everyone know he will present his findings of what direction future tobacco controls should take to the government.
He is the head of the Independent Review into Tobacco Control in the UK. The review was launched to find ways to achieve the Smoke Free 2030 goal.
On the Government website it says the review will report back in April 2022 – so perhaps this is what this Tweet means?
Javed said when the review was launched:
"I am very pleased to be leading this review into such an important area of public health. My independent findings will help highlight key interventions which can help the government achieve its ambitions to be smoke-free by 2030 and tackle health disparities"
As reported in my previous news articles he is very pro-vaping!
I am looking forward to seeing how this pans out!
Social Housing Associations Can Help Smokers Quit!
The NCSCT (National Centre for Smoking Cessation and Training) has teamed up with ASH (Action on Smoking and Health) to produce guidelines to help those in social housing access stop smoking support.
Some excellent examples of partnership-working, where vapes were given to social housing tenants to help them stop smoking. This is really important public health work 👏👏👏 https://t.co/9rGw5rm1OI

— Louise (@grannylouisa) May 10, 2022
This is to try and reduce inequalities in health care and target those who might need help the most. The rate of smoking prevalence of those in Local Authority or Housing Association homes were a lot higher.
The smoking rates in this type of housing are declining slower than in other sectors of the population so the possibility of support being offered by the housing providers could make a huge difference.
This is quite an in depth document but does cite one case study of the "Swap to Stop" scheme in Salford where the local housing associations and Salford City council joined forces.
In the Swap to stop scheme participants were provided with a free e-cigarette kit plus a standard stop smoking program.
The scheme was highly successful with over 1,022 people taking part and 614 returned for the follow up visit 4 weeks after starting. 62% of these were still off the cigarettes (37% of the original total).
Also this offer encouraged 4 times more people to take part!
Sadly due to the lack of funding this service was not continued – but it does show how such schemes could help those who need this assistance.
And it also promoted the fact that vaping does help smokers quit! Win Win I say!
Read the full article here – Smoking and Social Housing.
Sajid Javid Pro-Vaping!
This Tweet appeared from the Tobacco Harm Reduction (THR) account about how the UK Health Minister Sajid Javid is backing vaping to help smokers quit.
We fully support the #CancerPlanForAll! Thankfully, the UK's Health Minister @sajidjavid recognises the life-saving #innovation of #THR products, e.g. #vapes, to help smokers quit combustible tobacco:https://t.co/uNm1UXlAPH https://t.co/rrsTEfYfxV

— Tobaccoharmreduction.net (@Tobaccoharmred1) May 10, 2022
Clicking the link to the THR website they refer to an article in the Sunday Times. Sadly when I click on this link it requires a subscription.
The THR website says this:
"He will announce plans to address the root causes when he unveils his health disparities white paper this spring. It is understood this will include a "vaping revolution" that will allow GPs to prescribe e-cigarettes on the NHS."
This also ties in with a campaign from Cancer Research UK for a 10 year cancer plan to help tackle cancer. The campaign believes we should be able to diagnose it earlier, improve research and prevent inequalities in treatment around the UK.
PMI Grabs Snus
An article on the Reuters website is discussing the news that PMI (Philip Morris International – Big tobacco who make Marlboro and many others) is in talks to buy a small company.
The company in question is Swedish Match who make Snus, Chewing Tobacco, Zyn, Cigars, Swan Matches and Cricket Lighters.
Zyn tobacco pouches are available in supermarkets and many independent stores in the UK.
The company Bronte Capital which own 15.1 million shares in Swedish Match think that the PMI offer is way too low and undervalue the company.
World's Biggest Vape Graffiti
Voopoo have been busy – they have apparently released a song using their slogan "Spark your life" and now have commissioned a huge vape mural by well-known London based graffiti artist Woskerski.
I saw this on an article on the Yahoo News site but it also links to a press release on the Business Wire website too.
Here is an image of the mural…
The mural features the new Argus GT 2 and is located in the Leake Street Tunnel in London.
Ald Goes Eco!
The vape manufacturers ald have apparently created a 90% recyclable Disposable Vape.
This will be launched in mid 2023 and at the moment is named "EBVS" (Eco friendly Biodegradable Vape Solution) – not very catchy but I suppose it is only in the early stages.
There is nothing on the ald website about it as yet – the article I found is on the Tobacco Reporter website – ALD Group to Launch Biodegradable Vape Next Year.
Apparently the packaging, plastic shell, circuit board, mouthpiece and battery are all recyclable.
Eric Ding the founder and president of the ald group says…
"The innovative factor is that our extensive research showed that in the e-cigarette sector there was currently no ready-made solution for the application of biodegradable materials."

"During development, we screened dozens of materials, repeatedly verified product performance and, finally, determined the seven best mixes of materials. Our processes included the verification of material strength, chemical resistance, extractability and degradability."
Scottish Government – Killjoys!
An article in the Scottish Daily Express remarks on how the strict proposals to ban all vape advertising could have a detrimental effect on reducing the number of smokers.
It would basically make vaping invisible unless you purposely walked into a vape shop or had information from friends or online.
The Scottish government are proposing a ban on in store promotions, billboards, hoarding ads and any sponsorship.
Mark Oates the vape advocate and director of We Vape said this is really a bad idea…
"If Nicola Sturgeon has her way, Scotland will have the strictest laws on vaping in Europe and its chances of hitting the country's smoke free target of 2034 will be doomed."

"A planned ban on advertising e-cigarettes serves only to limit information to the public that could stop them dying from a preventable disease."

"We know there is a mass of misinformation out there, perpetuated by critics who choose to ignore science and every report that states vaping is a fantastic harm reduction tool."
The ACS (Association of Convenience Stores) have also slammed the plans and their chief executive James Lowman said…
"Banning in-store promotions and other advertising mechanisms would also reduce access to vaping products, which are a growing category for retailers and are widely considered to be an important smoking cessation tool."
Also the Scottish Grocers Foundation (SGF) spoke up against the bans and called them "unjustified" and that they risked hampering efforts to encourage people to stop smoking.
You can read the proposals here in the Vaping Products – tightening rules on advertising and promotion consultation 2022 from the Scottish Government.
Hiding The Evidence? Surely Not!
A paper on the ACSH (American Council on Science and Health) website titled "Anti-vaping Bias Undermines E-cigarette Research? New Study Raises Questions" discusses the presentation of results from a recent study.
The study in question is the "E-cigarette Use and Risk of Cardiovascular Disease: A Longitudinal Analysis if the PATH Study 2013-2019" paper.
This was published in the AHA (American Heart Association) Journal, but the way the results were interpreted were questionable.
They focused on the fact that dual use (smoking and vaping) would increase CVD (Cardiovascular disease) risks over a 6 period.
However the results were actually very favourable to vaping – which seems to be hidden.
This is what was concluded about vaping…
"After adjusting for covariates participants exclusively using e-cigarettes had risk of developing any CVD condition that did not differ from non users and higher, albeit non significant, risk of the MI, HF, or stroke outcome … Compared with smoking, e-cigarette use was associated with 30% to 40% lower CVD risk, although this association was only significant for the any CVD outcome."
Basically Vapers had no extra risk of CVD developments compared to non-smokers. There was a non-significant risk of MI (Myocardial Infarction), HF (Heart Failure) and Stroke risk being slightly higher. But otherwise vaping compared with smoking had 30-40% lower risk for CVD.
The paper continues…
"We did not find a significant difference in the cardiovascular risk of exclusive e-cigarette use compared with non-use of cigarettes and e-cigarettes, although analyses were limited by a small number of CVD events in e-cigarette users."
Again backing up the fact that their findings in vapers matched those of non-smokers/vapers. That is if you can get through the total word salad they are spewing out.
Convenient that they hid the Pro-Vaping data isn't it – the AHA is always campaigning against vaping – ooops!
Cigarettes & Asthma
This article is quite interesting for me – as I was diagnosed with Asthma and told to stop smoking many years ago. Then the quest of Patches, Lozenges, Inhalators and the Champix / Zyban medications kicked off. None of them worked.
I finally totally quit smoking in June 2019 by Vaping. Having been a dual user (smoking and vaping) for many years, the introduction of Nic Salts was the innovation that worked for me.
I have regular Asthma checks at my local surgery and my peak flow readings were gradually improving since stopping smoking. They are not far off what a non-smoker my age would expect to see now. So vaping does work – whenever I have an Asthma check they are always very pleased to see the difference it has made.
Anyway enough of my life story – a paper on the Science Direct website discusses Cigarettes and Asthma and I quote…
"A tailored approach to the smoking cessation of the smokers with asthma has been described previously. While the preferred goal is abstinence, this is not always achievable and substitution of conventional cigarettes with alternatives that do not require combustion to deliver nicotine such as E-cigarettes may be an alternative for those smokers with asthma who do not wish to stop smoking."
The rest of the paper is like a biology lesson so I had to skim through a lot of it, but at least it is recognises that vaping is much more preferable to smoking for people with Asthma.
I know personally the difference it has made to my lungs and will always be grateful I found vaping!
---
Wow that was a massive news dump – hope you enjoyed reading – sorry it was a bit late I have quite distressing real life stuff to deal with at the moment.
Have a great week!