Today I take a look at the G-Priv 4 kit from Smok. This is a high powered touch screen device that they have paired with the TFV18 Mini Sub Ohm Tank!
Smok is a China based e-cigarette manufacturer and needs no introduction to the wider vaping community! Their impressive back catalogue of kits stretches back to 2010!
Some of Smok's latest kits include Fortis Kit, Arcfox Kit and Morph 2.
What Can We Expect From the Smok G-Priv 4 Kit?
Smok have released the G-Priv 4 kit in 6 colours: Black, Brown, Beige White, Grey, Red and Blue!
I have always loved the styling of the Smok Priv products and already own several including the H-Priv and H-Priv 2.
The G-Priv 4 kit runs on dual 18650 batteries up to 230W of output power. The chipset inside is the IQ-M that gives the device its very fast firing speed (0.001s).
This device has a nice large 2" colour touch screen and a large lateral fire bar that is perfect for those of us with disabilities!
Smok have paired the G-Priv 4 with the standard 6.5ml TFV18 Sub Ohm Mini Tank. If purchased within the UK the kit is supplied with the TPD 2ml version of the TFV18 Mini Tank.
This G-Priv 4 kit was sent directly by Smok for the purpose of testing and review!
As always my thoughts and views are my own after considerable testing period.
In The Box
Smok G-Priv 4 Mod
Smok TFV18 Mini tank
V18 Mini meshed 0.33ohm coil (installed)
V18 Mini meshed 0.15ohm dual coil
Spare glass
USB Type C cable
User manual
Features
Size: 90x29x50.8mm
Battery: 2×18650 (not included)
Display: 2in colour touch screen
Output: 5-230W (VW) / 10-230W (TC) / 0.5-8.2V
User modes: VW, TC
Type C USB charging – 2A charge rate
Resistance: 0.1-2.5ohm (VW) / 0.05-2ohm (TC)
Temperature range : 100-315°C / 200-600°F
IQ-M chipset
Large lateral fire bar
Smok TFV18 Mini Tank Specs
Size : 28x54mm
Capacity : 6.5ml / 2ml (TPD)
Coils : V18 Mini range
Bottom adjustable tri airflow
Push button swing top fill
Design and Build Quality
Straight away I got excited when I opened the box! To me this is a proper box mod, it is substantial in size and looks great no matter of what atomiser you put on it!
The size and weight of the whole kit is fabulous! I'm not a big fan of Smok tanks – as personally I think they are too thirsty, the resulting vapour and flavour production from the TFV18 mini tank is hard to beat!
This is a handsomely designed kit that has great quality design and manufacture!
Smok G-Priv 4 Kit – Overview
Smok have presented the G-Priv 4 nicely in a card box!
My review is based on the 6.5ml Standard version of the kit!
The G-Priv 4 mod measures in at 90mm tall and will take atomizers with diameters up to 29mm. The TFV18 mini has a diameter of 28mm and is 54mm in height, and is installed with the V18 Mini Mesh 0.33Ω coil and a 6.5ml bubble glass.
Extras include – 6.5ml bubble glass, V18 Mini dual mesh 0.15Ω coil, a baggy of O-rings and a USB Type C charge cable!
I'm not going to concentrate with great detail on the TFV18 Mini Tank, as we have already covered it a few times before, most notably within my Smok Fortis review!
This tank has got a sleeve mouth piece and comes with tri adjustable airflow and the tank will break in to 5 parts for easy cleaning!
Smok G-Priv 4 – Device
From the top the mod has a well threaded 510 connection, and a spring loaded gold plated pin.
This device is padded with a faux leatherette back that is decorated with advertising "G-Priv 4" and the chassis is made of a zinc alloy.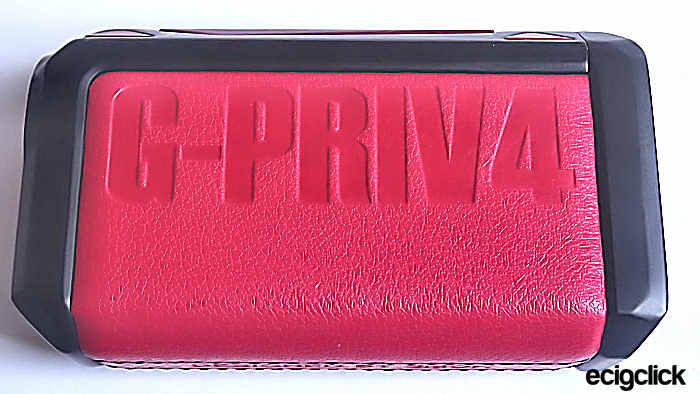 The workface of the device is a large 2" TFT colour touch screen and includes all the normal info, the fonts are easily large enough to be read at a glance!
Smok G-Priv 4 Sides
On the left side of the mod is a large lateral fire bar, which is especially welcome to those of us that have dexterity issues.
Above the bar is a secondary key which has a couple of functions, that I'll get to later and below the fire bar is a 2amp type C charge port!
The right side has a wraparound from the backs leatherette padding, it has design info stamped into it.
Both sides of the mod have bevelled edges making the device even more comfortable to hold!
Smok G-Priv 4 – Battery Door and Compartment
The battery door is a locking flip up style door. This door has a bit of wiggle to it when open, but no movement when batteries are in place!
The door has the normal safety symbols as well as having designed and manufactured marks printed in white.
On opening the door you will see the normal gold plated contact points with A and B and the + – symbols highlighted in white. The 18650 battery compartment is lined with inserted plastic sleeves and has the normal red and blue battery orientation symbols!
Smok G-Priv 4 Quick Start Guide
For this example I will be using the installed V18 Mini Mesh 0.33Ω coil within the TFV18 Mini, as a liquid I will use be using. Mejusa, Berry Lemonade!
Preparing the TFV18 Mini Tank for use
Choose which coil you want to use.
Prime the coil with a few drops of liquid and screw into the base
Screw the base and coil into place to reassemble the tank.
Fill with your liquid and leave alone for 3 minutes, so the cotton can soak up more liquid.
Preparing the Smok G-Priv 4 Device for use
Place 2 18650 batteries into the mod following the battery guides.
Screw the tank on to the device, and enjoy a very cloudy tasty vape!
BTW the mod can be charged using the 2 amp type C port, but like always I recommend using a separate battery charger!
To turn the device on and off click the fire bar 5 times fast
Locking and unlocking the touch screen is done with a long press of the secondary key, the device can also be put into stealth mode with a short press of this key.
A quick 3 presses of the fire bar will lock/unlock the power.
The mod will fire from 5 to 230W and will round robin using the arrow icons on screen.
To enter the menu make sure the screen is unlocked, press the windows like icon at the top of the screen.
MODE
Variable Wattage with Preheat levels – Soft, Normal and Hard. The wattage can also be adjusted here.
Temperature Control Material – Ni/Ti/SS as well as TCR and preheat options.
MY MODE
Allows up to four user custom settings
PUFF
This section will tell you what puffs you have taken as well as allowing you to setup a max puff count and of course deleting your puff count.
SETTINGS
General – About, Factory Reset, Accessibility and Power Off
Chip info and Themes – Colour changes and screen timeout
The G-Priv 4 has 8 safety features:
So How Does the Smok G-Priv 4 Perform?
Suffering from arthritis in my hands I found this kit a delight to use! The screen and font size are both bright and clean looking and easy to read.
The best feature of this device for me, is the touch screen it's extremely responsive, almost to the point of annoyance! I do recommend locking the screen!
TFV18 Mini Tank
While I consider the TFV range of tanks very thirsty with liquid consumption, having the 6.5ml bubble glass included with this kit, was a god send! I'm not constantly filling up a 2ml tank every few minutes lol.
As always, this tank gave a constant and tasty vape that was very cloudy!
In wattage mode I tested both coils that come with the kit in the range of 80/100W, I even dug up a 0.2Ω coil that was fabulous at 60W.
The airflow is a little noisy wide open and incredibly airy. In this range, the coils feel as though they want to stretch their legs and go to higher wattages!
I've used a few other tanks and RDA's with this mod including – the Hellvape Dead Rabbit V3 RDA, the Hellvape Fat Rabbit RTA as well as my Oxva Arbiter RTA. My favourite so far is the Fat Rabbit RTA, I am better able to customise the airflow with it!
Pros
Good quality kit
Nicely designed kit
A great performance
TFV18 mini had thick vapour production with good flavour
Cons
TFV18 mini, airflow is very airy and quite noisy
Sleeve mouth piece – cannot replace with a standard drip tip.
Final Review Verdict
I am very impressed as always by the vapour production that the TFV18 mini can produce along with the consistent flavour.
While the tank airflow is noisy it's certainly something I can live with!
The G-Priv 4 was a delight, and was so easy to use, it's a fast and responsive device.
The kit as a whole looks and functions great in fact without sounding too gushing lol, this is a handsome looking bit of kit.
Would I recommend the Smok G-Priv 4 Kit?
I would like to say I'd recommend this kit to everyone! However the G-Priv 4 kit is not going to be everyone's cup of tea. I would classify the G-Priv 4 as an intermediate to experienced cloud chasers kit!
Would I buy this kit again due loss or damage?
I personally would buy this kit again as I like the feel and weight of the mod!