This time I'm taking a look at the very recently released Smok Fortis kit, a light weight single battery kit that is paired with the impressively cloudy TFV18 mini tank.
Smok is a prolific China based e-cigarette manufacturer, they really need no introduction to the wider vaping community, and have an impressive back catalogue of devices.
Some of its latest product offerings include Arcfox Kit, Morph 2, Nord 50W Kit, and slightly older devices like Thallo S and Rigel kit.
What Can We Expect From the Smok Fortis Kit?
The Fortis Kit is a traditional style sub ohm kit, and Smok has billed this mod as an 80w device when used with an 18650 battery, but will also give you 100w with a 21700!
This is a straight up variable wattage only device folks with no complicated menus.
As for the styling of the Smok Fortis mod, it has a very familiar look to it, check out the Lost Vape Hyperion.
The Smok Fortis kit comes with a cloud beast as a topper, the impressive TFV18 Mini sub ohm tank – for me to say it's impressive, it's got to be!
It's available in 6 colours.
This product was sent directly from Smok for the purpose of review.
As always my views and thoughts are my own after a considerable testing period.
Inside The Box
Smok Fortis Mod
TFV18 Mini Tank
2, V18 Mini Mesh 0.2Ω coil
Spare Glass
O-rings
Type C USB cable
Paper work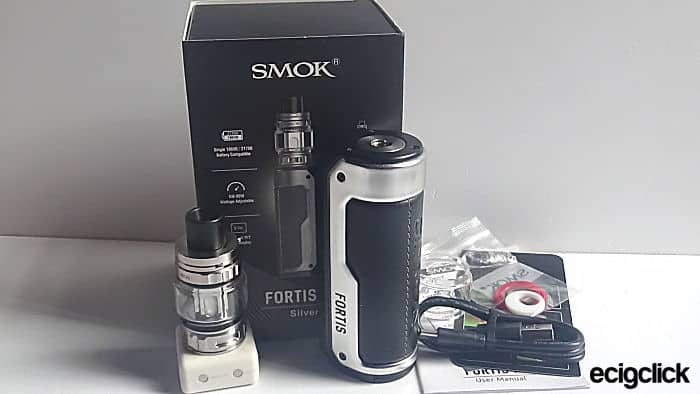 Key Features
Size: 94×38.8×32.4mm
Output: 5-80W (18650) / 5-100W (21700)
Modes: VW
Battery: 1x 18650/21700 (not included)
Display: 0.96in TFT colour screen
Resistance range: 0.1 to 2.5Ω
Type C USB port – 1.4A charge rate
Smok TFV18 Mini Tank (Standard Version)
Size : 28x59mm
Capacity : 6.5ml
Coils : V18 Mini range
Bottom adjustable tri airflow
Push button swing top fill
Design and Build Quality
I was sent the standard kit, hence my review is based on this.
Smok do have two other versions of the kit available, they include either the 5ml TFV mini 2 tank or the TPD 2ml TFV mini 2 tank.
Smok Fortis TFV18 Mini tank
The tank liquid capacity is 6.5ml and comes with a spare 6.5ml bubble glass, along with 2 coils and a baggy of spare O-rings in the box.
Measuring in at 58mm tall with a base diameter of 28mm, the tank is constructed of stainless steel and Pyrex glass.
The mouthpiece is a sleeve type and made from Delrin, breaking into 5 parts including the coil for easy cleaning!
To access the fill port there is a button on the cap, the door swings open to reveal a wide kidney shaped fill port.
TFV18 Mini has tri bottom airflow slots, what you put one slot on is mirrored by the other two.
The coil screws into the base on top of a 5 post affair to make connection, the 510 connection pin is fixed, and I don't recommend putting this tank on a hybrid Mechanical device!
Two Mesh coils have been included with the kit and are both the same type.
V18 Mini Mesh 2Ω – 40 to 80w best at 60w
The coil material is Kanthal FeCrAl with organic cotton.
All threads for the tank have been turned well, and a bit stiff when new.
The tank is of good quality and design.
Smok Fortis Mod
This device measures in at 94mm tall, it has a 38.8mm tank diameter, the width of this mod is around 32mm.
The Smok Fortis is made of a hard plastic material and is very light at 97g without a battery/tank in place.
From the Top
The Smok Fortis has a stainless steel 510 connection with very well turned threading, and the gold plated connection pin is spring loaded.
SmokFortis Mod – Face
It has a bright 0.96-inch TFT colour display that shows everything one would expect to see.
Both adjustment and fire button have a nice clicky feel to them.
The charge port is a Type C, which will charge your battery at the rate of 1.4 amps.
Smok Fortis Mod – Body
The back of the Smok Fortis mod has a comfortable cushioned leatherette panel with "SMOK" embossed for advertising.
An aluminium cage surrounds the body with "FORTIS" and "SMOK" printed on either side.
Out of the box you will see a small QR sticker on the cage, which can be easily removed.
Smok Fortis Battery Door
This door is activated by pushing it forward and flipping up.
The reverse side of the door has a gold plated negative connection point.
Inside the Smok Fortis Mod
When new you will find an 18650 battery adaptor inside the Fortis.
Looking in the battery sled you will see the Red + mark for battery orientation, along with the spring loaded positive gold plated connection point.
While there are no apparent vent holes for the battery venting, I presume that the slight space around the door fills this function.
How Does the Smok Fortis Kit Perform?
For this review I will be filling the TFV18 Mini Tank with Pancake House – "Blueberry Flapjacks".
Later I will swap out the tank for a mouth to lung RDA.
Smok Fortis Quick Start Guide
TFV18 Tank
Remove the base and coil, prep the coil with a few drops of e-liquid on all exposed cotton!
Re-assemble the tank.
Open the fill port door and fill with e-liquid.
Let the tank stand for about 3 minutes so the cotton can soak up more e-liquid then screw onto the Fortis mod.
Smok Fortis Mod
Insert your choice of battery into the mod, check the choice on screen.
It is safe to charge the battery via the type C port, but as always I recommend using a standalone charger.
Smok Fortis Functions
Click the fire button x5 fast to turn the device on and off.
Using the up and down buttons will alter the wattage.
Click the fire button x3 will completely lock and unlock the mod.
Holding down both adjustment buttons will lock and unlock the wattage.
Fire and up buttons together, will allow you to change the theme colours.
Fire and down button together will clear the puff counter!
The device will adjust and round robin from 5 to 80w with an 18650 or 5 to 100w with a 21700.
Protections
Atomizer detection
Short circuit protection
Low voltage detection
8 sec cut off
Smok Fortis Kit – In Use
I've got to say straight off the bat I'm not a big lover of Smok TFV tanks!
They tend to be very thirsty and the coils never seem to last for me, however this time the coil has lasted me quite well, over a week in this case!
I am amazed at the thickness of the vapour, while the flavour is good I wouldn't call it stellar.
At 45w with the airflow restricted to ¼ any lower and the tank whistles, I received a nice cloudy restricted DTL vape with fairly good flavour.
Upping the wattage in 5w increments to 60w, the vapour progressively became thicker as did the warmth of the vape and the flavour was surprisingly good!
I took the watts up again to 65w then 70w!
With the airflow fully open this is a very airy tank!
I whacked the wattage up to 80w, the vapour was incredibly thick the heat was no problem for my micro lungs, the flavour was again fairly good.
My preferred wattage for this kit is 55/60w, with the airflow turned down a touch. For the best balance of flavour and vapour production for my style of vaping.
I wouldn't recommend chain vaping with the TFV18 mini as the tank can get quite hot!
Using my Vapefly Holic MTL RDA on the Fortis, with a 1Ω coil at 15w, I enjoyed a very tasty mouth to lung vape.
Smok Fortis – Batteries
I prefer to use a 21700 battery as I can get about 4hrs vape time, with an 18650 that is reduced to 1½hrs!
I can also confirm that 20700 batteries will work in this device.
Smok Fortis Screen
The screen is not cluttered and is easy to read.
It's bright and clear to read even outside, although it does dim a lot in direct sunlight.
Pros
Quality and Design are great
Good battery life under normal use
Comfortable in hand
So far the coils have lasted well
5ml liquid capacity
Fairly good price for the kit
Cons
Sleeve mouth piece, give me a 510 or 810 any day!
The tank can get very hot chain vaping
Final Review Verdict
Isn't it's great to see a more traditional kit being released, the kit is small and light enough to be put in your pocket and powerful enough to suit many needs.
While TFV tanks would not be my first choice of topper, I was pleasantly surprised with the function and quality of vape from this pairing.
Would I recommend the Fortis Kit?
"Yes", I would class it for intermediate users!
Would I buy this device again due loss or damage?
I like a small carry around device these days and this kit fits the bill so "Yes" I would replace it.
So are you using the Smok Fortis or thinking of buying it?
Please let me know your thoughts and opinions in the comments below.