Stoptober: Advances In Vaping Technology Makes It Easier To Quit
OK last year we ran a series of articles about how we the EcigClick team managed the switch from smoking to vaping – some found it hard whilst others found it easy – the personal stories make interesting reading to say the least – and hey if we can do it you can too!
There is a lot to take in when it comes to choosing an e cigarette suitable for those new and making the switch. We go over the basics lower down in this article so keep scrolling to find out more about what you need to look for.
One thing is for sure this year is that with the release of nicotine salts and far more efficient starter kits and pod systems packing in the fags has never been easier.
So let's take a look at what we think are some of the best beginners vape kits so far this year that WILL help you get off those cancer sticks. We also have a few Stoptober deals that will help you on your way.
We have a dedicated Good For Beginners section that's added to all the time and also checkout Michelle's awesome guide to ALL Things Nic Salts – these are newer e-liquids especially designed for those looking to quit!
We highly recommend the below kits with the following type of e-liquid, they are of course available in a wide range of flavours:
And Jonny in particular is always around to answer any and all of your questions – no matter how silly they may seem to you! You can email him directly here.
OK here's just four of the best vaping starter kits we've found this past year – there's tons more so feel free to have look around the site but please don't confuse things. The below are all superb (and easy) options for you to make the switch and keep switched!
BTW vaping is a fast moving business so BOOKMARK – sign up to our newsletter and DO check back regularly for news and reviews on the latest vape gear 😉
Stoptober E Cigarettes & The Best Stoptober Vaping Deals
JAC Vapour VIM AIO Vape Kit
Maybe a touch more advanced than some below – but bottom line of the VIM is it really is as simple as vaping gets!
This is classed as an AIO – all in one – device and it's a simple matter of filling the tank and pressing that fire button – easy!
I was impressed with this piece of kit and highly recommend JAC Vapour as a company too – they got me off the stinkies!
Price: £29.99 – This is a Stoptober vape deal if ever I saw one. The kit includes 6 x Pre Filled pods with a choice of flavour. All you need to get started.
I said:
Despite a couple of niggly points the adaptability of the VIM AIO would make an excellent starter kit for those new to vaping.
Read the full review.
Innokin EQ Pod Mod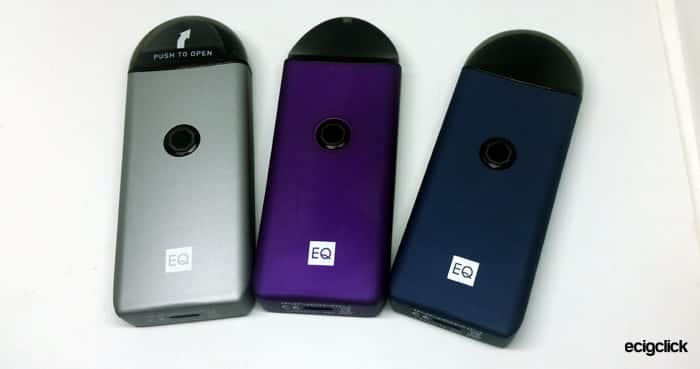 Yet another contender for 'pod mod' of the year and this one caught mine and Michelle's eye and tongue!
Designed by Innokin this one has a stunning yet simple design and is ideal for newcomers to vaping as using it is about as simple as it gets.
A great beginner vape kit made by one of the best vaping companies out there. As easy as it gets and great for use with nicotine salts.
Price: £24.99 Shipped – Must add e-liquid.
Michelle said:
The Innokin EQ is very special. In a world full of Pod Mods this stands head and shoulders above them all.

The Mesh coil heads give exceptional performance coupled with a really sensible battery capacity too it really is a winner. I would be lost without this now as I love it. If you fancy a pocket sized out and about vape or even for a starter this is perfect – buy it!
Read the full review.
Innokin JEM / Goby Starter Kit
I reviewed this awesome little kit and was able to give a couple to friends of mine that smoked – and yup the Innokin JEM was their first steps to quitting!
One is now a dual user whilst the other I'm pleased to say has quit for good – excellent!
OK this is a dainty little kit known in the UK/EU as the JEM and the Goby in the USA.
It's dead simple to use – cheap as chips and does everything you need to pack up smoking – what's not to like!
Price: £24.99 (without discount below). All you need to do is add e-liquid.
I wrote at the time:
This is the ideal starter kit and perfect for anyone new to e-cigarettes looking to quit smoking – stylish – easy to use with great flavour…
Read the full review.
SMOK Infinix Pod Mod
Yet another pod mod – they really are popular due to ease of use – and this one really does come under the 'bargain' category. Don't let that put you off though, it's a superb, compact device that also looks the part.
This one really cuts it in both flavour and looks – very stylish.
It's a clean and simple to use device and again perfect for those of you looking to quit this Stoptober!
Price: £15 – Includes 1X 10ml e-liquid bottle. All you need to get started.
I said:
It's nicely put together and certainly looks good design wise – feels nice in the hand and delivers a pretty decent flavour with good battery life..
How E-Cigarettes Can Help You QUIT Smoking This STOPtober
An amazing 1 million smokers have quit the stinkies thanks to Stoptober and its back bigger than ever.
NOW really IS the time to stop smoking for good and by using e-cigarettes you are far more likely to save your life and money.
E-cigarettes have come a very long way since their arrival over a decade ago and here in the UK we are world leaders at embracing vaping as a life changing/saving habit.
You only have to look at the reams of positive scientific data that has poured in over the last few years to see why the UK's NHS and other scientific and indeed political bodies now say vaping is CONSIDERABLY safer than smoking – it's that simple.
So what exactly is Stoptober?
In a nutshell it's the UK Government teaming up with the NHS to get smokers to quit and once again e-cigarettes are front and centre of the huge campaign.
This year you can tap into tons of free resources including a personal handy app that monitors both your health and shows you by making the switch just how much money you'll save.
Over on the NHS based Stoptober website the experts make it VERY clear just how safe e-cigarettes are:
E-cigarettes aren't completely risk-free, but experts estimate that vaping is at least 95% less harmful than smoking cigarettes. E-cigarette vapour contains some potentially harmful chemicals also found in tobacco smoke, but at much lower levels.

Many people think nicotine is very harmful to health. In fact, although it is addictive, nicotine is relatively harmless – it's the thousands of other chemicals in tobacco smoke that cause almost all the harm from smoking.

You can find out more about e-cigarettes and find answers to questions, including safety for users and bystanders, using e-cigarettes while pregnant and how e-cigs are regulated in the UK, on Smokefree.
You can't be any clearer than that!
E-Cigarette Basics
OK there's more than one kind of e-cigarette and different styles of vaping but for this introduction we shall keep it simple.
Most devices have a battery and a tank which contains the atomizer and the e-liquid.
Keeping it extremely simple here – the battery sends power to the atomizer which heats and turns the e-liquid into vapour which you inhale the same way you would a cigarette – it's that simple!
Obviously different devices and tanks whilst all operating on the very same principles each have their own unique looks – operating styles and filling methods. The pod mod devices listed above are a prime example of this.
However the way they work is exactly the same – battery – heat – atomizer – vapour!
What E Cigarette is the Best Option For a New Vaper?
First up it's best to keep things a simple as possible.
That's not to say pop out to the garage – supermarket or pound shop and buy the first device you see!
Whilst some of those are decent enough – we'll show you the very best for beginners out there right now and all at affordable prices.
Indeed talking about prices of kits – vaping has come a long long way since I began and the new kits for beginners are affordable – simple to operate – effective and work very well indeed.
OK there's a little bit of jargon in vaping to say the least lol and it can get extremely confusing for newbies.
So and once again keeping it as simple as possible here's a few things you need to know:
Mouth To Lung [MTL]
This is the vape style that mimics smoking and the one new vapers should really use first – learn more about styles of vaping here.
Wattage – Resistance
OK a little technical maybe but it really is simple – the atomizer contains a coil – the amount of power that coil needs to heat to turn the liquid into vapour depends on its resistance.
Generally MTL kits and tanks have a resistance ABOVE 1.0 ohm – which means you need less power to make it heat up and vaporize your e-liquid.
Most beginners kits will do the settings for you automatically but as a rule of thumb most coils/atomizers have the correct power required etched on the side – NEVER go above that else the coil will heat the e-liquid too high and you'll get a real nasty taste!
Might all sound a bit mumbo jumbo – but trust me after a few minutes familiarizing yourselves with your chosen kit it will all become second nature – I should know I'm the least technical bloke in the world!
Those All Important Nicotine Levels!
As a newcomer to vaping the first thing you'll need is something that tastes like a cigarette – gives the same tight draw – gives a good throat hit and most importantly gets that nicotine into your system.
We'll get onto the right e-liquid to choose in the next bit – but it's important to note that the more you smoked the higher nicotine level of e-liquid you'll need to successfully quit.
Under EU regulations here in the UK we are limited to nicotine levels in e-liquids from zero to 20mg.
So as a very simple calculation if you smoke 40 per day you will need 18 or 20mg nicotine strength in your juice.
However it's all down to personal taste and requirements so 12mg is a great place to start, you can reduce or bump it up as you see fit – there's a great article introducing you to e-liquids here and we'll cover this more later.
So for now here's our pick of the very best kits on the market right now that WILL help you quit smoking.
You CAN Do It!
There you have it just five vape kits that are absolutely perfect for smokers looking to quit – trust me there's plenty more to choose from 😉
Forget all the bad press you've read about e-cigarettes here in the UK the tide has most definitely turned and it's fantastic to see both the UK Government and the NHS accepting vaping as a considerably safer alternative to smoking.
Now really is the time to quit so give it a go – you really have nothing to lose – but PLENTY to gain – but please please please do your research first – some of those cheap 'n nasty kits in the supermarket are bloody awful 😉 Leave a comment below with any questions you may have.
Useful Links