The Suicide Mods Ether RTA is another design by Vaping Bogan, AKA Sam, who is probably the most potty-mouthed of the vape reviewers!
Previously we've looked at The Odin 100, the Blotto and the Blotto mini.
All of those were designed by The Vaping Bogan, and they scored pretty highly, so I'm interested to see if the Ether lives up to what he's done before!
What Can We Expect From the Suicide Mods Ether RTA?
The Suicide Mods Ether RTA shares it's name with a Billet Box compatible rebuildable, as well as one specifically designed for Suicide Mods new Abyss AIO (sidenote: I would love to get my hands on that hype train and see if it lives up).
This is designed to allow airflow from a tight mouth to lung, through to a loose restricted direct lung.
If you want to learn more about the different styles of vaping you can look here.
Incidentally, Ether means "the upper regions of space, the heavens".
Is it heavenly? I'll let you know!
Suicide Mods say that this is designed to bridge the gap between affordable and high end products.
To my mind there's not much that sets apart "high end" tanks (other than the price!), they tend to just be well made, well constructed, and have attracted a bit of a following.
So if the Suicide Mods Ether RTA can deliver on that quality, without having to break the bank, then I'm all for it!
This was sent over free of charge for the purpose of this review (thank you) as usual freebies do not affect my opinion, and I will report back honestly with what I find.
Inside the Box
Ether RTA
Clear Glass (Preinstalled)
Replacement Smoked Glass
Replacement Ultem Section
Short, Wide Bore Drip Tip (Preinstalled)
Short, Narrow Bore Drip Tip
Long, Narrow Bore Drip Tip
2x Under Coil Airflow Restrictors
Extension piece for optional extension glass
Spare O-rings and deck screws
User Manual
Specs
Dimensions – 24mm diameter
Capacity – 2ml
Coil – Single Coil Rebuildable
Airflow – Bottom Airflow
Material – Stainless Steel and Glass
Design and Build Quality
The Ether RTA comes in 4 colours.
Stainless (which I received), Gunmetal, Black and Electric Blue.
I've got to say, on first impressions it's a smart, stumpy looking little tank!
Suicide Mods Ether RTA – Drip Tips
You get two short drip tips, and one long drip tip.
The short one that comes preinstalled has a wider bore, more suited to direct lung, and the other two have a thinner bore.
The best I can say here is that it's nice that they give you options! In all honesty, I didn't get on with any of them.
I found the short ones too short for me, so I'd have my lips against the top of the tank.
And the longer one with a narrow bore didn't feel focussed enough for the intense mouth to lung this is capable of.
Obviously you may feel differently to me, but it does use a standard 510 connector, so if you don't get on with the included drip tips, it's easy to swap out to one that you prefer.
Suicide Mods Ether RTA – Top Cap and Fill Ports
The top cap is a simple bayonet fit design.
Quarter turn and it lifts out easily, very easy to use, and I never found it hard to open despite having nothing to give you any extra grip on the top.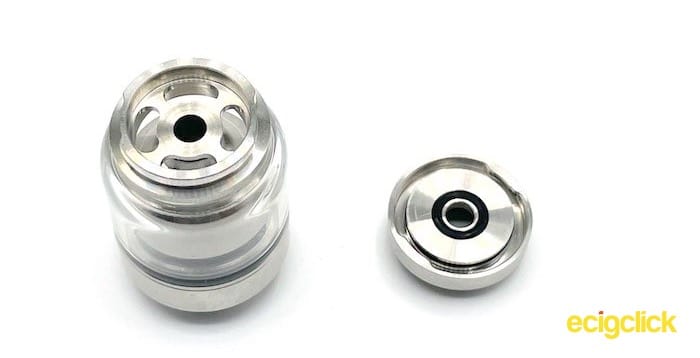 Underneath that, you've got four fills ports that are all plenty big enough.
Suicide Mods Ether RTA – Body
There's a couple of things that stand out looking at the Ether., the first thing to hit me was the total lack of branding!
In fact, when your RTA is on a mod, there's no text, logos, or anything else visible at all, so this will definitely appeal to the minimalists out there.
The build quality on the tank is very high, everything that's threaded is super smooth.
The finish of the metal is free of any scratches, and it just feels like a quality tank.
Glass Section
The other noticeable feature of it is the unusual bell shape to the glass.
There's a positive and a negative to this.
On the one hand, I really like the way it looks, I think bell caps can look great.

They also give you a choice of the clear that comes preinstalled, or a smoked glass, or an ultem version, so you can change up the look of your tank.
On the down side, if you ever break it, it's not the sort of simple glass that you can just steal from another similarly sized tank.
Also the bell shape means there's less protection to drops than you would have were it a straight glass.
So it's probably a good thing that you get spares in the box with it! But it's something to be aware of if you're a butter-fingered vaper.
Extension Glass
The standard glass gives you a 2ml capacity, which is fine for a single coil mouth to lung tank.
Though you may end up going through it quite quickly if you're running a direct to lung coil.
You don't get any extension glass in the box. That's a separate purchase for a pack of 3 in the same colours as the standard glass called the "Glass Pack".
Alternatively you can get tall acrylic tank sections in black, clear, blue, green or purple.
In the box you will get the extension piece for your chimney, you need to use the extended glass.
This is important as it means that it can be colour matched to the rest of your tank. Obviously don't lose this if you think you're going to want to expand the capacity in the future!
Disclaimer. I bought the extension glass out of my own money, because I was interested to see how it looked and I'm a sucker for a larger capacity. It also means I can show you what the tank looks like with it on!
Not bad, but it loses some of the stumpy appeal that it has in it's standard configuration. On the plus side, I didn't notice any loss in flavour.
Suicide Mods Ether RTA – Airflow Control
This is lovely example of something that Suicide Mods didn't need to do, but they did it anyway.
The airflow control ring has click stops, which really adds to the feel of quality.
Does it add anything to the vape? No not really. But I like it.
At it's most open you have 4 holes open. Spinning the ring round you'll find there's also two holes, and one hole on it's own, all of the same size.
The final position is 1 tiny hole, for a super tight mouth to lung.
The nice thing about this design is that if you like it with two holes open, you're not reliant on closing down the four holes to two holes. Meaning that if it gets jostled and the ring moves slightly, you're still going to be on two holes because of how they're positioned, rather than opening up to 3 or closing down to one.
The Base
So this is where they put the branding! As you can see it's quite… busy.
You've got your regulatory marks, the Suicide Mods logo, and Bogan's logo.
You can also see the gold plated 510 pin, that protrudes enough that I'd be very comfortable using this on a hybrid mech.
Suicide Mods Ether RTA – Deck
The deck reminds me a lot of a Kayfun. It's a simple, two screw deck, but there are a couple of things that make it particularly nice to use.
The screws are cross headed, and they will back out quite a long way before coming out. So it's easy to open up the gaps to fit in your coil legs. The screw heads also go right up to the side-walls, so they will trap even thin coil legs with ease.
You also have the option of using a little insert (supplied) to restrict the amount of air coming up under your coil. It's a small metal disk, held in place by an o-ring.
How To Build The Suicide Mods Ether
Decide whether you want to use the airflow reducer (I did in this build) and put it in place, loosen the screws from the deck

Place your coil legs under the screw heads, and tighten then down to trap it

Use a coiling jig or screwdriver to straighten your coil and make sure it's lined up over the airflow hole, sometimes the screws on this type of deck will try to pull it out of position

Snip the coil legs close to the deck as you can, happily there's plenty of space to work here

Glow your coil and strum it with ceramic tweezers to remove hot spots and get it glowing evenly

After it has cooled, feed your cotton through the coil

Trim your wick so that it will reach down into the juice wells, I found that lining up my scissors to the edge of the base made them the perfect length
Depending on the inner diameter of your coil you may need to thin out your cotton, 2.5mm is pretty much perfect and just required a light fluffing. Then place your cotton tails down into the juice wells. They shouldn't be stuffed in, too tight and they'll choke off the e-liquid supply

Prime your coil by liberally soaking it with e-liquid

Reattach the main tank section, keep an eye on the resistance at this point, as if it jumps around massively, you may be sorting out against the chamber. There's plenty of space above, but a long coil leg could cause a short

How To Fill The Suicide Mods Ether RTA
Simply remove the top cap with a quarter turn, and fill up with your preferred e-liquid.
How Does the Suicide Mods Ether Perform?
I've been using this tank for a couple of weeks now, I've tried various builds and various e-liquids.
For mouth to lung, I was usually using my favourite Berry Ice by SVC labs, which is a 50/50 VG/PG e-liquid.
For Direct Lung, I've used thicker e-liquid, usually 70/30. Like Bango Mango by Large Juice, or Bule Bolu by Coilturd.
Suicide Mods Ether RTA As a Mouth to Lung Tank
Airflow
Using the airflow reducer makes a massive difference to the tank, and for mouth to lung it sets it up just right.
Having a tiny pin prick hole on the outside is great for getting less air in, but if you have a huge hole underneath your coil it disperses and isn't concentrated enough.
I will say that none of the included drip tips really suit my style of mouth to lung vaping, so I quickly replaced it with something more to my liking.
With that done, the smallest airflow gives a really nice, tight mouth to lung. On a 1 to 10 scale, where 1 is unbelievably tight, and 10 is fully open, this is a 2.5.
Opening up the external airflow it will become a looser mouth to lung, but once you have two holes open that's about as unrestricted as you're going to get, as the air is bottle necked by the reducer under the coil.
Fully open and it opens up to around a 4.5.
Suicide Mods Ether RTA Flavour
Flavour was very good for mouth to lung.
Whilst it's not what I would consider absolutely top tier, it was very good. I did find that using simple round wire and very low wattage (10-20W) was probably it's weakest point.
Putting in a mouth to lung focused complex coil like a fused Clapton, running at 25-30W definitely seemed to be it's sweet spot.
Flavour was definitely punchier in this configuration, and up against some of my personal favourite tanks, it can hold it's own.
As a (restricted) Direct Lung Tank
Airflow
I've got to make an admission here, that I don't actually like restrictive direct lung inhales all that much. Give me mouth to lung, or wide open, any day of the week!
Having said that, the airflow is definitely in the restrictive category. On the 1-10 scale, fully open it's somewhere around a 7.
You can easily close this down further, and most of the time I was using it without the airflow reducer, I actually found it worked really nicely as a very loose mouth to lung vape.
The only thing I would say is that there's really no point closing it down to the tiny pinprick hole.
1 or 2 holes open gives a nice loose mouth to lung vape. But there's just not enough air pressure at the smallest hole without the reducer, and everything feels a bit flat.
Flavour
Again it's managing to pull really nice flavour, the size of the deck means you're not going to fit in anything huge and complex.
3mm is about your limit.
Below is a photo of a 3mm fused clapton and you can see that it's just fitting in there.

Also if you do use a 3mm ID coil, you will probably find that you need to thin out your wick quite a lot, as otherwise it will totally choke off the juice flow.
The point is, that this tank doesn't need a crazy complex build to give great flavour. Running a single coil around the 35-45W mark, and I was happy as Larry. Good flavour in both fruit and desert style e-liquid.
Any other thoughts or issues?
I've been using this tank quite extensively and there's only two things that have irritated me about it (which is pretty good going, I'm very picky!).
Firstly, there's quite a lot of threading. The top piece is threaded onto the chimney, the chimney threads on to the base, and is also sealed with an o-ring.
Because these are all threaded the same way (I wish reverse threading was more popular!) if you try to take the base off to access your deck, there's a very real possibility you'll end up unscrewing the chimney from the top cap.
This isn't helped by the extra o-ring down where the chimney and base meet, as it just adds a little bit more friction there and makes that bit less likely to unscrew.
It is possible to mitigate this by making sure that the chimney is really tightly screwed into the top cap, but it's something to be aware of. Obviously adding the extension piece with more screw threads, only adds to the issue.
The other thing that I found is that, especially with thicker e-liquid, air bubbles have a nasty habit of getting trapped where the liquid flows into the deck. It's no big deal getting one or two small ones stuck there.
But when I was chain vaping on it with 80/20 e-liquid, I did end up getting a dry hit, as the cotton couldn't be resupplied with liquid fast enough due to the air bubbles cutting off access.
So long as you're tilting your tank when you vape though, it shouldn't be a major issue.
Pros
Great build quality (and zero branding!)
Goes from tight MTL to restricted Direct Lung
Good Flavour
Cons
Can sometimes unscrew the tank when trying to remove the deck
Drip tips are aren't great for MTL (subjective)
Final Review Verdict
So as you can probably tell I was pretty impressed with the Ether.
It's an extremely well finished tank, that looks just a little bit different due to it's bell shape.
Being able to provide a proper mouth to lung experience, and a (restricted) direct lung in the same tank is always a challenge. So I'm really impressed with what Bogan has accomplished here. Just goes to show that controlling the air coming up under your coil is really important for mouth to lung!
I'm sure some people will grumble about having to buy the extension glass separately, especially when they put the adapter for it in the accessories. #
But as I say, I think this is a clever way of being able to offer an extension option for those that want it. Whilst making sure that the metal is colour matched to the tank you have.
It's got bags of flavour, and is an absolute doddle to build on, there's really not much to not like about.
Have you bought and built the Suicide Mods Ether RTA?
Let me know how you got on with it in the comments below!