In for review is the cute little Suorin Air Mini kit!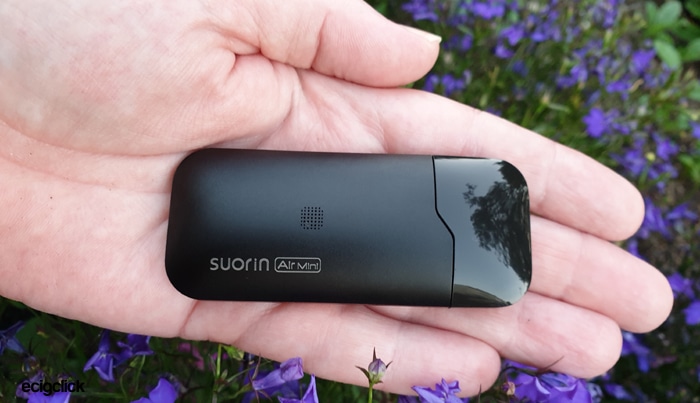 Other Air devices include the original Air pod kit, Air Plus, Air Pro and Air Mod.
What Can We Expect From The Suorin Air Mini…
As you can see this is another pod kit with a fixed coil pod (cartridge) and a battery section (mod).
The mod section comprises of a 430mAh battery which you recharge using the USB Type C port.
Apparently you can charge the battery in only 30 mins so that is good going! This claim will be tested!
An LED indicator displays the device status and it is a breathing (pulsing) style light which shines through a square shaped series of holes on the mod body.
The output is specified as 14W maximum so I am not sure if this is regulated (output stays constant) or is just what the battery will supply (this could decrease as the battery discharges).
There is "Auto draw activation" (i.e. when you inhale the device will automatically fire) so should be super simple to use.
The pod section is where you add up to 2ml of your e-liquid and the drip tip mouthpiece is removable to access the fill port. Apparently these components are a tight fit to be child resistant and leak resistant.
This has a disposable pod – which means you can't change the coil. So when the coil performance has deteriorated you swap the pod for a new one and keep the main body.
The pod holds a 1ohm mesh coil which should give good coil life and flavour.
There are 10 colour options to choose from: Mint Green, Silver, Black, Star-Spangled Red, Star-Spangled Blue, Red, Diamond Blue, Light Blue, Rose Gold and Gold.
Kit Includes
Suorin Air Mini device
Pod
Silicone pod cover
USB Type C cable
User manual
Suorin Air Mini Specs
Size: 32x75mm
Output: 14W Max
Battery: 430mAh (internal)
Display: RGB breathing LED indicator
Resistance range: Not specified
E-liquid capacity: 2ml
USB Type C – charge fully in 30 mins
Pods: Refillable fixed coils
Coils: 1ohm Mesh coil
Top fill
Suorin Air Mini Design and Build Quality
I received this in the Black colour which is not the most exciting version to be honest.
The packaging was fine and the device arrived in a pristine condition with a bonus silicone mouthpiece cover installed.
I did find the box a bit fiddly to open and trying to lift out the internal tray was a challenge too!
The instructions are good and showed everything you would need to be aware of using this kit.
Oh and a special mention for the ribbon style USB cable – although quite short it is a thing of beauty!
Suorin Air Mini Device
In the Black colourway this is very dull to look at. But it is surprisingly small and cute. It is approximately the same height as a 10ml e-liquid bottle!
The body of the mod is a kind of matte Black finish and the pod is a gloss Black.
This has a shape of a very worn bar of soap – with lovely smooth contours and no uncomfortable edges.
On the front of the device is the square shaped LED indicator which consists of rows of small holes to give the impression of a dot matrix display.
Also on the front in a Grey print are the "Suorin" and "Air Mini" logos.
On the rear of the device are the required legal logos in the same Grey print.
The base of the device houses the USB Type C port, which does mean the device will have to be laid down to charge.
The pod feels extremely loose when installing and removing however it does not fall out when shaking the device. But if I did a "fling" motion the pod did come out. I dropped this a few times onto carpet and the pod stayed in place. But when dropped on a hard floor the pod and mod did part company.
Inside the pod port are 2 spring loaded contacts and 2 magnets.
Suorin Air Mini Pod
This has a dark gloss Black mouthpiece so you will have to remove the pod from the device to check e-liquid levels unfortunately.
The lower 1/3rd of the pod is clear and features a minimum fill line, Suorin Logo and legal logos.
You pull off the mouthpiece to access the fill ports, this isn't too bad to remove – and I always struggle with such methods, so I was happy with this system. My grip is not great so I found using some material to help grip was useful.
On the top of the pod are 3 ports, the two outside ports are for filling and the centre port is the coil output. You would not like the effects if you accidentally added e-liquid to the centre port as it is likely to cause spitting.
Suorin say to replace the mouthpiece within 5 seconds of filling – which initially confused me. But I found out why!
I removed the mouthpiece to write the description above and I found e-liquid pouring out the base of the pod. So bear that in mind – I was not happy at me and my desk being covered in e-liquid! Lesson learned!
See the photo below for an example – with the mouthpiece removed I had quite a leak just in the time it took to take a couple of photos! Hence why the pod is resting on tissue!
Also a card gives tips for use and it says to shake the pod after filling and keep an eye on the minimum fill level.
Plus the Suorin website provides the video below and it is prominently located at the top of the Air Mini product page – which tells me there have been people having an issue.
The base of the pod features 2 contact points and the rest of the base is metal to attract to the magnets in the mod.
I am surprised to see that Suorin say to change the pod every 7 days after the first filling? That to me seems wasteful so I would only replace when the coil performance has deteriorated or if a burnt taste appears.
Quick Start Guide
The device comes with a pod cover installed so remove that. You can re-use the cover to keep the mouthpiece clean when not in use.
Also a protective sticker is located on the base of the pod to prevent accidental firing before the pod has been filled. Remove this to start vaping.
Charge battery, fill pod and away you go!
Basic Operation
Power On/Off: there is no on or off function.
Vaping: inhale on the mouthpiece and the device will fire automatically.
Battery indicator: Red = 0-40% charge, Blue = 40-75% charge, Green = 75-95% charge, Green stays on = 95-100% charge.
Protections
The LED indicator will stay the colour of the battery status but will flash as below in the case of any issues…
Battery Low: light will flash 3 times
No atomiser: light will flash once – clean pod base and contacts. If this does not rectify use a new pod.
Resistance too low: light will flash 5 times – clean pod base and contacts. If this does not rectify use a new pod.
Time Over – if vaping for longer than 5 seconds the light will flash 10 times and the fire will cut out.
How To Charge The Battery
Insert the small end of the included USB Type C cable into the charge port of the device.
Insert the large end of the cable into a suitable USB outlet.
Leave to charge. The light will pulsate and change colour to indicate what stage charging is at. The Green light will stay solidly lit when fully charged.
Charging took under 30 mins every time I charged it – so nice work Suorin!
How To Fill the Pod
Make sure to put the pod on a tissue as there will be a leak when you remove the mouthpiece.
Remove the pod from the mod.
Pull off the mouthpiece. This can be a bit tricky, I found using some material to grip the pod and mouthpiece helped.
Only use the two outer holes for filling, the centre hole is for the coil and filling that will make vaping unpleasant.
Fill the pod whilst watching the e-liquid level.
Replace mouthpiece – this will only fit one way around.
Leave pod to stand for 10 minutes to allow the coil to soak up the e-liquid before using.
Replace pod into mod – again this will only fit one way around.
Suorin Air Mini Performance
I will be using my own 50/50 VG/PG e-liquid which is based on the IVG Bubblegum Concentrate at a 20% flavour ratio with 6mg Nic salt.
1ohm Pod Performance
This is beautiful. I left the pod to stand for 10 mins after filling as this is a Mesh coil – and a dry hit from a mesh coil is like kissing the devils arse – really.
From the first vape on this pod I was instantly impressed, there was no delay in the flavour coming through strong.
I love the airflow, flavour and heat you get. The flavour is super pure and you still get a good throat hit too. The output of the device seems perfect for the coil resistance.
The vapour output is not huge – as expected with a higher resistance, lower powered kit. But this is not a kit a cloud chaser would even consider.
No complaints at all here – in fact this gets a rare 10/10. Suorin usually nail flavour and they have done it again with this kit.
If you want to know what a perfect MTL vape feels like – then this kit is exactly that. If you wanted to stop smoking the sensation of the airflow and throat hit of this kit would give you a perfect replacement with something which tastes far nicer than a cigarette!
Sadly the firing cuts out after 5 seconds (a safety protection) which does mean sometimes you get a shorter inhale than you would like.
Airflow
This is a very very tight airflow, but this doesn't cause any issue for the Auto Fire system.
I would say on the airflow scale (0=closed, 10=no restriction) this falls around 2-3.
Does It Leak?
When you remove the mouthpiece – even for filling, unless you are super turbo speedy you will start to get e-liquid dripping out of the base of the pod.
I assume there is some kind of pressure increase when you remove the mouthpiece which then pushes e-liquid out of the pod.
Not a huge deal breaker, but it almost makes filling a race against the clock – tick tock – leak o'clock.
Mod Performance
This is such a simple device there should be little to go wrong.
The only weak point could be the auto fire system, but I have not encountered any issues at all and it fires up super quick.
I did find the 5 second cut out annoying as I do take long drags on MTL devices and several times it moaned at me for taking too long.
As the battery depleted the output did not seem to drop, but I had moments when the light was on Red, of the vape being cut off after 2 or 3 seconds with the battery low light signal flashing. So it does seem to be a regulated output and when the battery is too low to supply the power it just cuts the vape off and the light flashes 3 times.
Battery Life
Obviously this varies according to your vaping habits. But I found I got around 3 to 3.5 hours of regular vaping. I am quite a heavy vaper though, so if you were only vaping in short bursts on work breaks etc it will obviously last you longer.
Pros
Airflow is a great MTL resistance.
Quick and responsive auto draw.
Kit is way tinier than you would expect.
Easy to use.
Lovely feel in the hand.
Good battery life indicator – but I didn't notice it pulsing or tiding. It would stay on solid when vaping and then gradually fade until the light went off.
Output is regulated so stays constant until the battery is discharged.
Less than 30 minutes to fully charge.
Cons
E-liquid level not visible when pod is installed.
Pod leaks when you remove mouthpiece.
5 second cut off is too short – especially if you are someone who takes long drags.
Needs frequent refilling to keep above minimum liquid level – minimum level is around 0.5ml of the full capacity – so in real terms you only get 1.5ml each time you top up.
Minimum liquid level is not very clearly marked on the pod.
Pod feels loose in the mod body and can fall out.
Only 1 pod included in kit – which is a shame as a new vaper may damage a pod by accident.
Suorin Air Mini – Final Review Verdict
The flavour and ease of use of this kit score big points for me.
However there are flaws – not being able to see the e-liquid level and the vape cutting out after 5 seconds are bloody annoying.
Also refilling is very messy I have to make sure I have some tissue around – so not very convenient if you are out and about.
A few tweaks could really elevate this kit to 10/10 scores.
As it stands – it would be OK for a new vaper, but I worry the leaking may put someone new off. Also they may not remember to keep checking the e-liquid level. Which is very important with this kit as it needs frequent top ups.
To one battery charge cycle I needed to top up 4 times. Plus you need to make sure it doesn't drop below the "minimum" level on the pod – which is not that easy to see. So really you only have about 1.5ml capacity as you can't let the level drop to the last 1/4 (0.5ml) of a pod.
Such a shame these annoying little grumbles spoil what could be a wonderful simple little pod kit.
Have you tried the Suorin Air Mini? If so let me know your opinion in the comments below!