FDA THC Warning | Oregon Bans Flavours | Massachusetts Ban Upheld | Cops Raid Vape Shops | Minnesota Next? | Pro Vape Rally | JUUL Tumbles | IQOS HNB Hits America | Canada Vaping Association Statement | Vaping Video Of the Week
FDA Issues Warning To STOP Using Illegal THC Cartridges
It's been over a month since the first reports of deaths and serious respiratory illnesses sweeping across America and finally the FDA has issued a warming to STOP using street bought THC cartridges.
The warning issued on Friday is a little too late for those affected but could of course save others. The toll now stands at 18 deaths and over 1,000 cases brought on by users vaping on contaminated illicit cannabis cartridges bought from drug dealers.
The FDA announcement said the warning was specifically for:
Consumers and family members of consumers who use vaping products containing tetrahydrocannabinol (or THC), a psychoactive component of the marijuana plant.
Consumers who have used vaping products of any kind obtained off the street or from unknown sources.
Consumers experiencing symptoms such as cough, shortness of breath or chest pain after using vaping products.
Health care professionals treating patients who use vaping products.
Despite a battery of tests being carried out, the FDA says it still can't link the problem to one specific source adding:

The FDA's Forensic Chemistry Center is using state-of-the-art technology to analyze hundreds of samples submitted by a number of states for the presence of a broad range of chemicals, including nicotine, THC, other cannabinoids, and opioids along with cutting agents/diluents and other additives, pesticides, poisons, heavy metals and toxins.

No one substance has been identified in all of the samples tested. Importantly, identifying any compounds that are present in the samples will be one piece of the puzzle but will not necessarily answer questions about what is causing these illnesses.
And it offers this advice to the public:
Do not use vaping products that contain THC.
Do not use vaping products—particularly those containing THC—obtained off the street or from other illicit or social sources.
Do not modify or add any substances, such as THC or other oils, to vaping products, including those purchased through retail establishments.
No vaping product has been approved by the FDA for therapeutic uses or authorized for marketing by the FDA. The agency recommends contacting your health care provider for more information about the use of THC to treat medical conditions.
No youth or pregnant women should be using any vaping product, regardless of the substance. Adults who do not currently use tobacco products should not start using these products. If you are an adult who uses e-cigarettes instead of cigarette smoking, do not return to smoking cigarettes.
If you choose to use these products, monitor yourself for symptoms (e.g., cough, shortness of breath, chest pain) and promptly seek medical attention if you have concerns about your health.
If you are concerned about your health after using a vaping product, contact your health care provider, or you can also call your local poison control center at 1-800-222-1222. Health care providers also can contact their local poison control center.
As to if this will have any effect on the current flurry of vape and flavour bans across America, time will tell.
Read the FDA's full THC warning release.
The State Of Oregon Bans Flavours For 6 Months
Oregon's Governor, Kate Brown has banned flavoured vape products for 180 days and is calling for tougher vaping regulations both state and countrywide.
As I reported in last week's vaping news, the Governor was 'reacting' to the current THC related deaths and illnesses, but was also pointing to the vape industry 'targeting the youth'.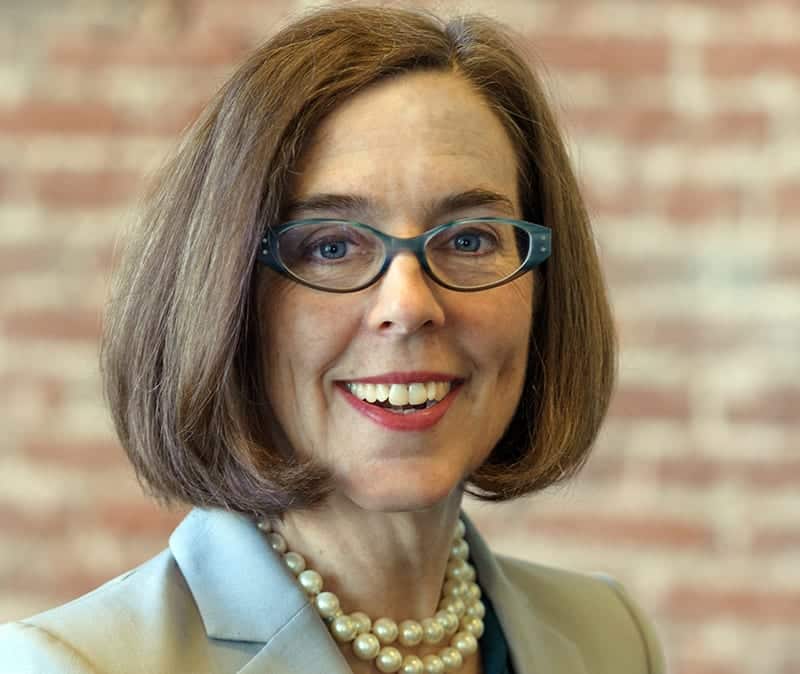 Like most of these bans, the actual reading of what can still be sold is ambiguous to say the least. As I've said before they seem to have no idea of exactly what constitutes a flavour or indeed 'flavoured product'.
In Oregon the new ban order means 'un-flavoured products' can still be sold! As to the definition of what they are God only knows and as a rider IF it's found those products [whatever they are] contribute to the current health scare, they too will be banned!
As I've said before, they're banning stuff they have little or no understanding of!
She also called on all vapers to stop vaping immediately:
My first priority is to safeguard the health of all Oregonians.

By keeping potentially unsafe products off of store shelves and out of the hands of Oregon's children and youth, we prevent exposing more people to potentially dangerous chemical compounds, and help lessen the chance of further tragedy for any other Oregon family.

I want to be clear though: the safest option for Oregonians right now is to not use vaping products of any kind.

Until we know more about what is causing this illness, please, do not vape. Encourage your friends and family members to stop vaping immediately.

Talk to your children about the dangers of vaping.

The risks are far too high.
No they are not – if vapers use regulated shop bought industry standard e-liquids!
The Executive Order 19-09 has also created a Vaping Public Health Workgroup to advise the Governor on all things vape – it might be a good idea to add people from the industry who know what the hell they're talking about if I'm being brutal.
She's also given the workgroup just 90 days to implement a six step plan:
Consumer warnings about the dangers of vaping
Ingredient disclosure for vaping products
Testing of vaping products to determine product safety
Improving health care provider reporting of vaping-related lung injuries to OHA
Increasing access to FDA-approved cessation services and methods
Establishing a statewide prevention and education campaign aimed at discouraging the use of vaping products
That last one leaves the door open for vapers to return to smoking…there's your public health emergency just waiting to happen Mrs Brown.
For the record, and taken directly from the Oregon Health Authority Tobacco Facts document, smoking in the state has dropped by more than 50% over recent years but there's still upwards of 8,000 deaths per year from lit tobacco related diseases.
Expect those figures to change following this ridiculous vape ban.
Shocking – ignorant and down right criminal IMHO.
Read Governor Brown's vape ban statement.
Massachusetts' Vape Ban Upheld – For Now
The 4 month vape ban in Massachusetts will remain in place for at least another two weeks.
Earlier this week the Vapor Technology Association [VTA] had challenged Governor Charlie Baker's ban in court, however a federal judge ordered the ban to remain in place.
The VTA lawyers had argued the ban would in effect destroy local vape businesses, however U.S. District Judge Indira Talwani denied the stay saying she had to put the potential 'risk' to public health above that of businesses, at one point saying:
You're saying I ought to be more concerned about the economic harm to businesses for a two-week period than the potential people who will end up in the hospital during this two-week period?
Whilst I can see her logic – the fact that regulated vape products have NOTHING to do with public health seems to have passed her by.
The next hearing is on October 15th when both sides will be able to strengthen their arguments and offer evidence.
Cops Clamp Down On Michigan Vape Shops
The Michigan vape ban came into law this week and cops have been seen 'visiting' vape shops.
And not to buy donut flavoured juices either as thanks to soccer-mom and vehemently anti-vaping Governor Gretchen Whitmer, anyone selling flavoured products could find themselves locked up in jail for six months – a $200 fine or both!
WTF!!!
Brian Miller, Westland deputy police chief said the department was taking it very seriously:
From a law enforcement standpoint, it's a law on the books and we need to make sure we enforce it.

The new law that came out today prohibits the sale of flavored vape products.

I know the dangers of vaping was a big push behind why the Department of Health and Human Services came out with the emergency rule.
Apart from the shocking murder rates across the state, maybe the cops could, oh I don't know, arrest the f***ing drug dealers selling the main cause of the deaths – CONTAMINATED THC CARTRIDGES.
As I've said before, the politicians over there are bat shit crazy.
Minnesota Could Be Next To Ban Flavours
The Governor of Minnesota, Tim Walz, is calling for new legislation to ban flavoured e-cigarettes.
Unlike other Governors his powers are limited, so will need new laws to bring the ban in effect – old school democracy if you like 😉
Walz said he was calling for immediate action to…yeah you've guessed it…protect the kids:
We can't play both sides on this and think things through. Sour Patch Kids flavor is aimed at children, so quit pretending there is a free enterprise component of this.

If I have a message: Shame on them.

This is clearly meant to addict our children.
No sir, shame on you for not gleaning the full facts.
Pro Vaping US Rally Planned
The newly formed United Vapers Alliance [UVA] is calling on vapers from across America to attend a pro-vaping protest planned for next month.
They plan to take the vaping argument direct to the politicians with the event scheduled on and at:
November 9, 2019: 12p-4pm
Where: The Ellipse @ 1450 Pennsylvania Ave NW
The group says:
The time for silence is over.

The time to be heard is NOW.

For too long, we have waited for our politicians to do the right thing. No more.

Now is the time for the vape community, to come together, in one voice, and make our presence known.

We are thirteen+ (13+) million strong, with families and friends, who have seen the positive change, that vapor products have provided.

If our politicians will not listen to our voices, then our voices will be heard at the Ballot Box this 2020 election.
Let's hope the event is a huge success – BTW they are looking for donations so checkout the UVA website.
Meanwhile Vapouround magazine here in the UK is calling for support for its campaign Together We Are Vape.
The idea is to raise upwards of £25,000 to donate to the USA vaping advocacy groups and vape shops affected by the vape bans.
JUUL's Valuation Tumbles
One of e-cig giant JUUL's major investors has slashed its valuation of the company.
I wouldn't get to excited though, it's fallen from a high of $36 billion to $24 billion.
However things could get a lot scarier for JUUL as Big Tobacco's Altria, that owns 35% of the controversial brand may also drop its paper valuation on – some might say fittingly – Halloween.
Tobacco industry analyst, Garrett Nelson, said:
It's no secret that Juul's valuation has taken a hit since the start of the vaping crisis, but this is the latest data point to support that.

The odds of Altria announcing a write-down have increased as well, which we think is well understood by the market.
My heart bleeds…
IQOS Launches In America!
And as if by magic and amidst the current 'war on vaping' in America, the IQOS Heat Not Burn device has just launched in the USA!
This particular IQOS device uses tobacco sticks, but rather than combusting it heats – hence the name – and many say with no combustion the risk is less.
The IQOS Mesh on the other hand is a pre-filled vape kit using e-liquid.
The timing one could say is nigh on perfect for a product that the vape world is split over – is it vaping and should it be classed in the same category?
Do read the lively debate EcigClick had on this with poles apart UK YouTube award winning reviewer Vic Mullin [Vaping With Vic] and Trustee of the New Nicotine Alliance Sarah Jakes.
The two interviews were shall we say feisty and actually led to Vic quitting the NNA – like I said well worth a read 😉
Anyway, the IQOS Heat Not Burn has received full FDA approval [insert conspiracy theory here lol] and went on sale in the US on Friday.
Will be very interesting to see how that sells and is received in the US – particularly among anti-vape politicians and groups…
Canada's Vape Advocates Support Tight E-Cigarette Regulations
There's been rumblings for a while about the need to ban vaping and flavours in Canada.
Responding to the crisis in America, the Canadian Vaping Association [CVA] says it welcomes tougher controls in the country.
It uses the stance taken by the state of Utah that has not banned flavoured products, but instead has allowed them to be sold in vape shops only – with a proviso all such shops carry prominent warnings about the dangers of street bought THC cartridges.
Darryl Tempest, the Executive Director of the CVA said:
We applaud the state of Utah for its newly announced rules around vaping, whereby only tobacco specialty shops will be allowed to sell flavoured e-cigarettes, and they will be required to post notices on the dangers of vaping unregulated THC products.

Limiting the sale of flavoured e-cigarette products to age restricted retail environments, which are regulated and inspected by local health departments, is something we believe in strongly and has been a key message in our recommendations to Health Canada for addressing youth uptake.

We are strongly in favour of tighter regulations surrounding the sale and promotion of nicotine e-liquid vape products, including removing them from all convenience stores, gas stations or any retail location that is not age-restricted, as the entry of vape products into these environments directly correlates with the large spike seen recently in youth uptake.
Wise words.
and finally…Vaping Video Of the Week
This pro-vaping video is well worth 20 minutes of your time and needs to be shared far and wide – especially in America.
Produced by TRT World, a popular news website, it features Professor Robert West – Health Psychology and Director of Tobacco Studies at UCL, Deborah Arnott, Chief Executive of the Action on Smoking and Health [ASH], Dr Gan Quan Director of Tobacco Control a lung disease specialist and New Nicotine Alliance Trustee, Sarah Jakes.
The UK team do a great job promoting e-cigarettes and blow away many of the current fake news stories and myths about vaping in general:
Great stuff among all the absolute BS coming out of America and the media over there and indeed here.
OK, more vape news on Wednesday and let's hope there's even the tiniest slither of good news.