The Wall Crawler Mod Kit by Vaptio Previewed
The Vaptio Wall Crawler mod kit comes with a Vaptio Throne tank and some funky looking spider web inlay panels.
Read Our Full Vaptio Wall Crawler Review Here
The Vaptio website – like the Voopoo website can suffer in translation. The Wall Crawler is described as an "affectionate uncle" and a "protective guardian always being there for you keeping you away from harmfulness". So you do have to read between the lines a lot to get as much info as you can. My head hurts a bit now – but I will decipher it for you!
A maximum output of 80W from one 18650 battery (which is not included) – the battery fits under a cap on the top of the mod – iJoy Captain 100 Style.
Apparently this mod has a super quick fire of 0.005 seconds – which is faster than the Voopoo Drag at 0.025 seconds!
The mod has Variable Voltage, Variable Temperature, By-Pass and High/Soft/Normal vaping modes.
A large bright 1.3in colour screen really makes this stand out and one of my favourite features in this mod.
Included in the kit is the Vaptio Throne tank. The tank has a 2ml capacity and includes 2 coil heads – the D1 coil which is 0.25 ohm and the D2 coil which is 1.2 ohm. Therefore I think the kit is marketed to DTL and MTL vapers. The coil is a simple pull out coil.
The kit has a top fill system and like the Vaptio C2 when you unscrew the top cap it automatically closes the juice flow holes – saving you getting a leak. You do need to make sure when you replace the cap that the flow holes are fully open before vaping. This system worked really well on the C2.
Four colours are in the range – Black and Stainless Steel, Black, Black and Red and Black and Blue.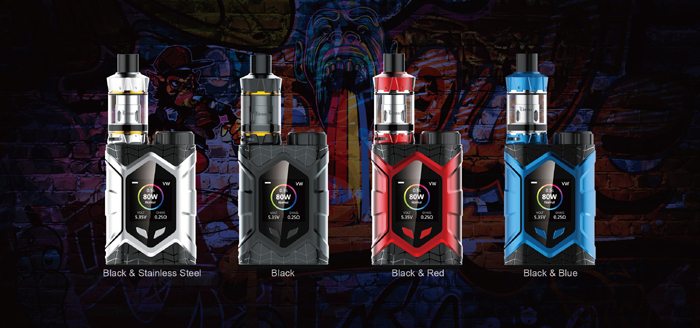 Kit Includes
Vaptio Wall Crawler Mod
Vaptio Throne Tank
User manuals
USB cable
Throne D1 coil head (0.25ohm)
Throne D2 coil head (1.2ohm)
Vaptio Wall Crawler Mod Specs
Size: 73x50x28.5mm
Max power output: 80W
Resistance range: 0.05-2.0ohm
Temperature control range: 200-600°F/ 100-300°C
Battery: 1x 18650 (Not included)
Thread: 510
Battery : 18650
1.3 inch colour screen
Fast fire up
Firmware upgradeable
Vaptio Throne Tank
Size: 23.5 x 54.9mm
Coil: D1 (0.25ohm), D2 (1.2ohm)
Thread: 510 thread
Top filling & bottom airflow
Automatic liquid flow prevention when filler cap removed.
Capacity: 2ml
At Ecigclick we have reviewed some Vaptio devices recently. I found the Vaptio C2 to be an excellent sub ohm vape and Laura-ann really loved the Vaptio N1 Pro. So they can make an excellent vape tank in the C2 and an excellent mod in the N1 Pro. So will the Wall Crawler follow in their footsteps?
Let me know if this is the kit for you in the comments below!