The Voopoo Vinci II Mod Pod review and it seem like only five minutes ago we were reviewing the original Vinci pod kit.
Fellow Ecigclick reviewer FlatCap Vaper took a look at that one and was impressed with the flavour, battery life and overall build quality.
Of course Voopoo has released other Pod kits such as those found in the Argus and V range. They've even combined traditional external battery mods such as the the Drax X Plus with what's effectively a PnP tank.
Yet for me personally, it's always been about the Vinci range. The Voopoo Vinci Pod kit is just about as pocket friendly as they come, has decent airflow and an auto draw to entice the new vaper.
Then there's the Voopoo Vinci R Pod Mod. It may well be the poor mans version of the original Vinci Pod Kit but the VM1 mesh PnP coil performed admirably.
Guess what?
It's back again and included with the Voopoo Vinci II Mod Pod.
So how does it perform in this latest upgrade?
Let's get into it..
What Can We Expect From the Voopoo Vinci II Mod Pod?
When comparing to the original Voopoo Vinci Pod kit, expect an increase in tank capacity from 5.5ml to 6.5ml, a radical change to airflow design and an increase in wattage from 40W to 50W.
The micro USB port has been replaced with faster more convenient type C charging, the larger display is identical to that of the Drag 3 dual battery Mod and the menu buttons are now horizontal as opposed to vertical.
Yet the internal battery capacity remains the same.
Although the pod only fits two ways gone is the fixed airflow, making way for adjustability via an incorporated slider mechanic.
Please note: The pod isn't compatible with the original Vinci Mod.
Expect to make use of many Voopoo PnP coils allowing for an output range of between 10 – 40W.
Despite the VM6 0.15ohm mesh coil being touted as compatible – it won't be. It craves more power than the device can handle.
Something that the Voopoo Vinci X II is capable of, more on that later.
However let's not forget the option of being able to use an RBA section.
The poor mans choice. Hell – My choice!
Voopoo Vinci II Mod Pod – Inside the Box
It comes in an easy to open slip case with the Mod Pod resting inside a moulded plastic tray complete with thumb cut outs.
Underneath the tray a slim rectangular box contains a few extras.
Vinci II device
1 x TM2 (0.8ohm) PnP coil
1 x VM1 (0.3ohm) PnP coil
Vinci II cartridge (6.5ml capacity)
Type C USB charging cable
User manual
What's interesting is the carton states the inclusion of a TM1 (0.8ohm) PnP coil when in fact it doesn't.
The TM1 coil does exist, is actually 0.6ohm rated and ironically enough is still compatible with the Voopoo Vinci II Mod pod.
It's no doubt a typo but with some of the confusion over PnP compatibility an unnecessary one in my opinion.
Voopoo Vinci II Mod Pod – Key Features
Before moving on to the features let's actually take a closer look at PnP compatibility.
From what I can gather, the VM1, VM3, VM4, VM5, TM1 and TM2 all work within resistance ranges safe for use with this Mod Pod.
I'm reviewing the standard version which is identical to the US one. There's also a TPD edition which reduces the pod capacity down to regulatory 2ml.
It comes in a choice of five colours. Pine Grey, Dazzling Line, Carbon Fibre, Neon and Velvet Blue (under review).
The Voopoo Vinci II Mod Pod gives the user the choice of auto draw, manual draw or both. The infinite airflow system is now included which allows a multitude of vaping styles from MTL to cloud chucking airy direct lung pulls.
The inbuilt Gene A1 2.0 chip is more intelligent than previous versions, boasting a smart and RBA mode, pushing the mods capabilities to the limit.
The battery capacity hasn't been improved but fast type C charging means you won't be gasping for a vape for too long.
Two PnP mesh coils have been included, catering for the MTL user as well as the direct lung vaper.
This will give us the chance to really test that fully adjustable infinite airflow system.
Voopoo Vinci II Mod Pod – Specifications
Dimensions 27 x 28 x 110mm
Weight 115g
Material Zinc alloy
1.08in TFT colour screen
Output power 5-50W
Output voltage 3.2 – 4.2V
Resistance range 0.15 – 3.0ohm
Battery capacity 1500MaH built in
Pod capacity 6.5ml / 2ml (TPD)
Pod material PCTG
Again, the resistance range seems a bit skewed, suggesting the VM6 coil's compatibility.
OK! It may well work but it's going to be very under-powered with a rating of between 60-80W. Just saying!
If anyone does get the chance to try this PnP coil please feel free to use the comments section.
Voopoo Vinci II Mod Pod – Design and Build Quality
The Mod Section
The front panel utilizes the same single grain, single coating of the Voopoo Vinci Pod Kit.
Indeed it does refract and reflect the light, giving the appearance of different textures albeit in a rather linear fashion.
The colour itself is said to be non fade, wear proof and shock proof whilst also protected against oil, dust and fingerprints.
That's simply not the case however as the working front panel has a shiny, glossy black finish that – yup! – attracts finger print over finger print.
The front panel is home to a circular fire button which is slightly raised and makes a very audible click when pressed.
There were no signs of it sticking and got the job done, responding to the demands placed upon it.
At the lower part of the panel is the horizontal left – right rocker button used to control the menu functions.
It too sits firmly in its housing with no movement which is always pleasing.
Voopoo Vinci II Menu Functions
Anyone familiar with the Voopoo Drag 3 dual battery mod will already be a master manipulator of Menu's!
Five short presses of the fire button turns the device on or off
Three presses of the fire button changes a manual draw into an auto draw. There's also the option of using both if you really are that lazy!
Hold down the fire and left menu button to clear the puff counter
Hold down the fire and right menu button to lock/unlock the device. When the device is in lock mode it's not possible to vape
Press the left and right menu buttons together to enter vape mode or theme mode. Toggle between the two with a short press of the fire button. Holding down the fire button selects the desired mode.
R (RBA) mode allows the device to be used freely to a maximum of 50W
S (SMART) mode detects the optimum wattage parameters of the coil
Theme mode switches the display between Iron or Core themes
The adjustable sliding pin has one side of the mod all to itself. I have to be honest and state it's one of the crudest designed airflow adjusters I've come across.
It's on a par with the Aspire Tigon AIO Kit – and if you read the review you'll know how that went down!
For a start it sticks out too far, reminds me of a panel pin and to make matters worse has been placed in at an angle of around 30 degrees.
Granted, I'm able to make finely tuned adjustments to the airflow but it feels a little too stiff and leaves an impression in the thumb.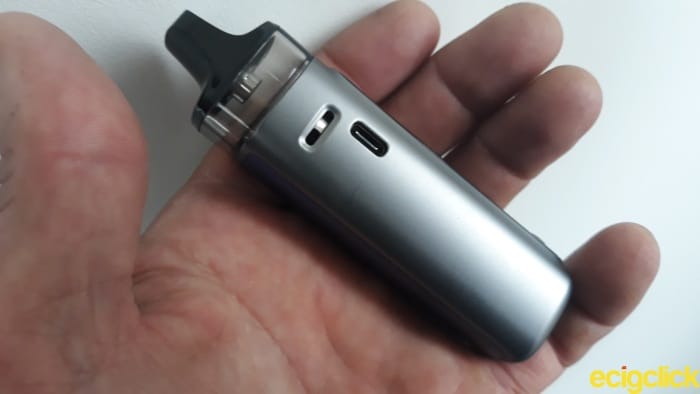 Whatever airflow adjustment is made on one side is replicated on the other and that other side also incorporates a type C USB charging port.
While it's great that it sits at a height to accommodate vertical charging, I think it's a little too close to the airflow port. One can only hope that no e juice leak or condensate finds its way into those pins.
Luckily, the Voopoo Vinci II Mod Pod has an array of safety features so let's take a quick look at them.
Safety Features
The Voopoo AI Gene 2.0 chip incorporates seven protection measures.
8 second vape cut off
Short circuit
Overcharge
Over discharge
Output over current
Reverse battery
Maximum power
Facilitating vertical charging is a rubber insert encircling the underside of the mod.
As an example, this allows the device to sit on a glass table without fear of scratching or tipping over.
That extra level of grip is very much welcomed and something to be applauded.
The pod attaches to the mod by magnets and a strong connection is made. It's impossible to shake out even with the added weight of e juice.
I'm inclined to think the entire upper plate of the mod is magnetized.
As with the previous Vinci, the pod only snaps into place one of two ways, so don't go forcing it!
The Pod Section
As previously mentioned it's not possible to use this with the original Vinci Mod Pod.
It's a predicable statement to make but it's made of the industry standard toughened PCTG – meaning it's able to stand up to many a mishap.
The silicone stopper does include a lift tab that even my clumsy fingers are able to manage without too much frustration. If you've got finger nails you're quid's in and will have zero issues.
On the underside of the pod are four magnetic contacts helping to make a secure connection to the mod section.
The inner chimney is devoid of any rubber washer, fully dependent on those included around the PnP coils.
Neither PnP coil is installed straight out of the box so here's how to get up and running.
Lift the pod out of the mod section
Push a PnP coil up inside the pod ensuring the rubber washers make a firm seal
Pull the silicone stopper out of the pod
Turn the pod at an angle and squeeze e liquid in. Avoid overfilling
Push the silicone stopper firmly back into place
Drop the pod back into the mod section
Always let e liquid soak into the wicking ports for around five minutes before vaping.
Voopoo Vinci II Mod Pod – How Does it Perform?
PnP TM2 Mesh Coil 0.8ohm (12-18W)
This coil has been specifically created for those that enjoy a mouth to lung vape.
In fact the new vaper will appreciate the higher nicotine ratios it's designed for use with.
Given the narrow bore (4.5mm) of the mesh coil it puts out quite an airy vape. Consequently with airflow wide open it doesn't deliver the MTL experience very well.
In fact I spent all of my time using this setting to replicate a damn good restrictive direct lung vape.
The flavour from the 88 Vape Peach Dream was absolutely spot on bringing out lots of sweetness along with creamy sub notes.
Believing the coil to offer a true MTL vape I went for a 50VG/50PG juice ratio but unfortunately the freebase nicotine content was a little raspy on the throat when direct lunging.
Chalk that one down to a school boy error! lol
Other Airflow Restrictions
Reducing the airflow slider to mid position didn't really offer anything different. The level of restriction felt the same as wide open with flavour quality remaining extremely good.
I had to close the slider down completely to get a satisfactory mouth to lung vape. Even then I wasn't able to hold back the vapour as much as I would have liked.
So the TM2 PnP coil doesn't quite work for me as a mouth to lung vape. Yet for a coil that maxes out at 18W it's extremely good at producing vapour and flavour with airflow wide open.
It's also a very quiet, cool and smooth vape with next to no turbulence passing through the coil.
Use E liquid ratio's of either 50VG/50PG – 60VG/40PG with this coil. It's ideal for nicotine salts with a high nic content.
PnP VM1 Mesh Coil 0.3ohm (32-40W)
The coil is designed for a direct lung vape.
For this reason I don't recommend freebase nicotine content of anything stronger than 6mg.
The wicking ports are larger than the TM2 mesh coil and so is the bore at 5.5mm.
This takes instantly effect with airflow wide open. There's very little restriction (around 10 – 15%) and cloud production is phenomenal for a coil pushing 35W.
Yes, it's a cool vape but all the nuances of Wick Liquor Carnival are in place. The sweetness already punches through in the form of icing sugar.
I thought I might have been tempting fate with this 80VG/20PG juice ratio but the coil responded like a trooper wicking perfectly every time.
Mid Airflow Restriction
More restriction – more heat generated and that's reflected by an increase in bakery content. The fried doughnut blends seamlessly with the sugar now and this semi restrictive direct lung vape is fantastic.
Right up my vaping street!
In fact the balance of flavour, vapour production and airflow meant this was the way I continued to vape for the majority of the test period.
Tighter Than the Proverbial Crabs Rear
The flavour does intensify under the tightest of restriction but it's too uncomfortable on the throat for any kind of direct lung vape yet still too loose for anything other than an airy MTL experience.
So I found this direct lung coil to offer plenty of versatility and under mid restriction worked consistently well.
As with the TM2 mesh coil it was very quiet, turbulent free which lead to a very smooth vape overall.
Use E liquid ratio's of 60VG/40PG, 70VG/30PG or 80VG/20PG.
If using nicotine salts my own suggestion would be no higher than 10mg and for freebase nicotine nothing stronger than 6mg.
Real World Performance
The battery lasted for nine and a half hours while using the TM2 PnP mesh coil maintaining a steady 3.4V output. During this time I had periods of chain vaping and estimate draining around 5ml of the 6.5ml pod capacity.
The battery lasted for a mere 3 hours when using the more powerful VM1 coil. To be quite honest how much can we expect from a 1500MaH internal battery?
I estimate having vaped around 4.5ml of E liquid during this period.
I did notice odd readings from the battery percentage icon. It seemed to stick around 90% charge for quite some time before dropping to 50%. A further drop to 10% seems to happen right out of the blue.
By the time the battery needed recharging I'd racked up 300 hits using the TM2 coil – doubling that achieved with the VM1 mesh direct lung alternative.
On the subject of charging it took just under an hour to fully revitalize the internal battery.
I did notice, however, that it's not possible to vape while the Voopoo Vinci II is plugged into a wall socket.
Pros
Amazing flavour from both mesh coils
Excellent battery life using the TM2 0.8ohm mesh MTL coil
Leak free pod
Easy to charge in a vertical position with the rubber base providing grip
Fast type C USB charging (less than an hour)
Cons
Auto draw function leaves a lot to be desired
Unable to flip the vertical Core screen theme (subjective)
Internal 1500Mah battery discharges erratically
TM2 PnP mesh coil isn't the best at providing a true MTL vape (subjective)
Display not great in direct sunlight
Unable to vape while charging
Voopoo Vinci II Mod Pod – Final Review Verdict
Voopoo simultaneously released the Vinci X II Mod Pod as the bigger brother to the Vinci II.
Using a single 18650 battery it's simply taller and more powerful – capable of a maximum power output of 80W.
.. Ideal for that VM6 PnP coil, which just so happens to be included.
It uses the same pod and carries the same display.
The only thing missing is the auto draw feature of the chip. Any other alterations are purely cosmetic in that the menu rocker is vertically placed instead of horizontally.
The Voopoo Gene A1 2.0 chip auto draw function didn't seem to respond very well to thinner liquid ratios. Airflow restrictions need to be extremely tight before it will work.
That wasn't the case when using an 80VG/20PG mix with the VM1 direct lung coil. I had no issues with functionality whatsoever although I did notice turbulence from the coil when using.
Infinite Airflow?
So what about the changes to airflow?
They're not bad. I can't say I'm a fan of the airflow adjuster dial – It's something that could be improved upon.
As seems to be the case with many a pod kit there's no drastic difference until restriction passes around mid setting. So no real surprises – I'm experiencing nothing new.
In other words I don't think the adjustable airflow design is dynamic enough to suggest improvements of any kind.
Other Observations
The screen doesn't respond too well in direct sunlight and the battery seems to take a nose dive rapidly once half spent.
Yet once again I feel the saving grace is not with the change to airflow design, not to any cosmetic differences but with those PnP coils.
I think they're fantastic.
It's very hard to separate them for performance. Just remember to use an appropriate liquid ratio and nicotine content. That way, they'll deliver consistently for a good few weeks or more.
Does the Voopoo Vinci II Mod Pod do enough to warrant an upgrade?
There's fast type C charging and the smart mode is a real plus especially for new vapers but if I'm completely honest? No. Not really.
An increase in 10W isn't exactly earth shattering and the same, albeit excellent PnP coils are used.
However, for someone completely new to using pod based systems?
Heck.. That would have to be a resounding yes!
The Smart Mode alone, designed to suggest optimum power settings, flavour and vapour production are going to be a real plus for the new vaper.