The SIII 80W SIII / S3 Gold Edition TC MOD by WoodyVapes Previewed
The WoodyVapes SIII / S3 80W Gold Edition TC Mod is a gold version of their popular SIII mod.
WoodyVapes as their name suggests specialise in Wood or Stabilised Wood Mods. Their products are designed in California and built in China.
They use Stabilised wood on the SIII mod and this will give it a unique appearance as two panels will never be the same. Stabilised wood is treated to make it more durable and less prone to warping and cracking. The stabilisation process usually involves the wood being saturated with resin. The resin used can vary and mixed together to give the pretty and unique designs you see.
To compliment the beautiful wood the rest of the mod is a gold finish which I think looks beautiful.

The gold side panel contains the display, fire button, + and – buttons and USB port.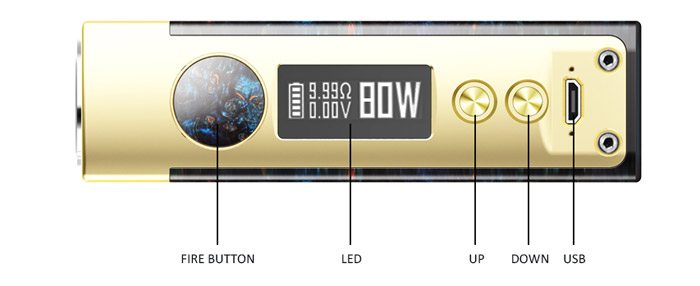 The WoodyVapes SIII / S3 uses a GENE chip which is the same chip as found in the very popular Voopoo Drag. In fact Voopoo now own the Chinese branch of WoodyVapes.
This has a width of 27.5 meaning you can use some of the bigger tanks up to 27.5 diameter all being well!
The mod can output from 5-80W using a single 18650 battery. The battery slides into the body with a screw on gold finish cap.
Kit Includes
WoodyVapes SIII 80W Temperature Control Mod
USB charging cable
User Manual
WoodyVapes SIII / S3 Specs
Size 96.5 x 44.5 x 27.5 mm
Model: 80W Temperature Control
Chip: Gene Chip
Material: Wood
Modes: Temperature Control, VV/VW
Wattage: 5 – 80W
Temperature Control Range: 200 – 600 °F / 95 – 315 °C
Battery type: 1×18650
Battery Cover Type: Screwed
Over temperature protection: 75 °C
Spring loaded 510 connector
Firmware upgradeable
This is a real stunner. The prices are pretty high for this but it is a very classy mod.
The Gene chip means the performance should match the beautiful appearance of this mod.
I think I would be pretty smug carrying one of these around – do you think it's worth shelling out for?