The Geek Bar Disposable pod – as the name suggests is a simple to use kit which is disposable.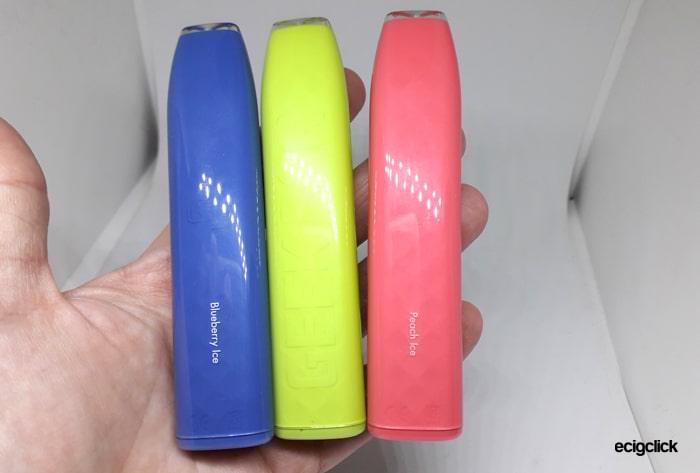 Geek Bar are an offshoot of Geekvape so I am hoping the great design they are well known for carries forward to this company!
What To Expect From The Geek Bar Disposable Pod…
Basically this is a device perhaps for those who want to try vaping without having to invest time or money on all the separate bits of kit like coils, batteries, liquid etc.
You open the pack, remove the protective packaging and vape away until the device is empty.
Therefore these are not refillable or rechargeable. This keeps down the cost and "maintenance" aspects.
As always it is a concern about how much waste disposable devices cause – the internal 500mAh battery is basically scrap when the pod is empty which does seem such a shame.
But if a device like this will tempt smokers to at least give vaping a try and move up to more eco-friendly kits in the future this does have a place on the market.
This is filled with either 2.4ml or 2ml (TPD regulated areas) of Nicotine Salt E-liquid. The strength also varies 5% (standard) or 2% (TPD Regulated areas).
I did get a bit confused with the nicotine level markings – I assume 5% = 50mg and 2% = 20mg. Obviously in the UK due to TPD Regulation 20mg is the maximum strength allowed by law. As I am in the UK I was sent the 2% strength versions.
There is a huge range of flavours – 10 in total and the colour of the device represents the flavour inside:
Blueberry Ice
Sweet Strawberry
Mango Ice
Watermelon Ice
Menthol
Tobacco
Sour Apple
Lychee Ice
Banana Ice
Peach Ice.
June 2022 Update
I was also given some new flavours which are…
Dr Vapes Purple (Red, Dark and Green Grape).
Dr Vapes Blue (Blue Raspberry).
Blueberry Cotton Candy.
Inside the Box
Geek Bar Specs
Size: 105x23x15mm
Battery: 500mAh (internal)
Display: LED on base of device
E-liquid capacity: 2.4ml (non TPD) / 2ml (TPD)
E-liquid strength: 5% (non TPD) / 2% (TPD) Nicotine Salt E-liquid
Coil resistance: Not specified
Pre-filled (not refillable)
Sealed – not rechargeable
Organic cotton wicking
575 puffs stated device life
Design and Build Quality
Each Geek Bar comes in its own box with the flavour and nicotine level clearly marked.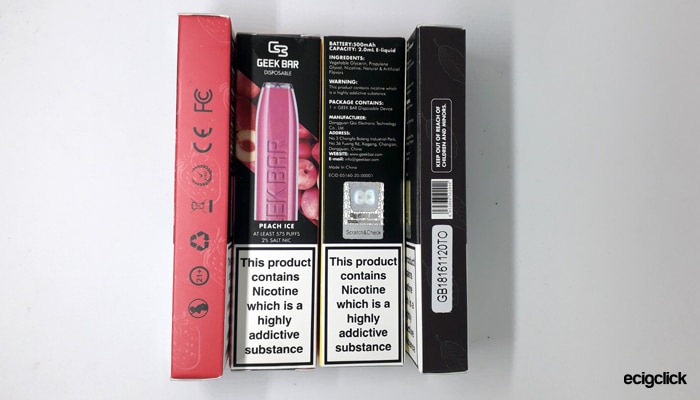 The base and the mouthpiece have a silicone cover and the whole thing is encased in a sealed plastic bag to keep everything fresh and protected.
The device itself is very plasticky looking but under the outer clear plastic layer are the graphics of the Geek Bar logo and a slight diamond pattern.
For me the Lychee Ice one in its flesh pink colour does remind me of an "Ann Summers" adult toy…

On the rear of the device the flavour is stamped in white ink.
An LED is provided on the base – which you can only just see when vaping. This is also the airflow inlet which you can accidentally cover with your hand sometimes and then the device will not work as it is draw activated – i.e. a sensor senses when you are inhaling and triggers the fire system.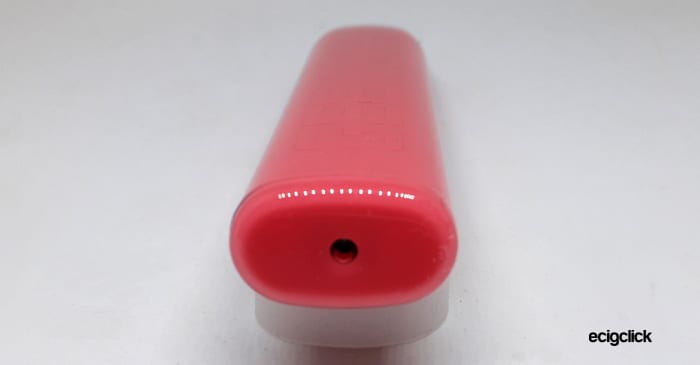 The mouthpiece is a great shape and sits comfortably in the mouth when vaping.
Size wise it is bigger than the palm of my hand – but I do have little girly hands and it isn't light enough to just hold in your mouth like a cigarette.
Geek Bar "Guts"…
In an uncharacteristic act of savagery I decided I really wanted to know what was inside a Geek Bar!
I decided it was only right to sacrifice the Tobacco flavour!
Yes it took a great deal of butchery to perform such intimate surgery and to be honest there was nothing surprising once I was inside it.
The coil is in fact a standard wire coil but I am none the wiser about the resistance or material sadly. I did think later on I could have tried a magnet on the wire and also tried it on a meter but it was in the bin after stinking the place out!

What I will say is though it was a toughie and took a fair bit of a mauling before it came apart so it definitely is well built.
Geek Bar Quick Start Guide
This kit is sooooo simple it is hardly worth including this section – but basically open the package, remove the protective caps and vape away!
Device Functions
Empty – when the device is empty of e-liquid it simply will not fire – to prevent you getting a burnt taste.
To vape – a sensor detects when you inhale on the mouthpiece and the device automatically fires. The LED will light up when it is firing.
How Does the Geek Bar Perform?
I will go through each flavour and report on how well it performs and if it meets the flavour description!
Always bear in mind we all have different tastes – thank god or else we would all only eat Marmite, Oysters and Rice Pudding which are all very divisive flavours.
Blueberry Ice
Wow this is lovely!
Not as cold as some of the other Geek Bars but there is some cooling there.
The exhale is where the flavour kicks in – it is a mixture of a minty blueberry. I do wish the mint was a bit toned down as it is predominant but unlike some of the other pods this does mix well.
I find if you brush your teeth and then drink a citrus juice the mixture is vile! However these two flavours sit together quite comfortably.
If the mint was toned down this would be a 10/10 for me. As it stands it is still a nice combo and I could vape this all day.
Sweet Strawberry
Strawberry flavour Chewits – is exactly what this tastes of. Also one of my favourite sweets so as you can tell this one is a winner with me!
I don't get any ice in this one but what I do get is an almost sherbet like sensation on my tongue whilst inhaling.
This again is not a pure strawberry – like eating the fruit, this is more of a recreation that you would find in a sweet packet.
However it is not overpowering or synthetic tasting and is easily an all-day vape.
Lovely job Geek Bar!
Mango Ice
Sorry but out of all of them this was the flavour I was dreading…
I am greeted with the now familiar ice cold inhale followed by an earthy mango exhale.
It reminds me of all other Mango vapes I have had so is pretty spot on flavour wise.
But I really hate it – it does go to show it is a pretty accurate Mango flavour though or else I would love it!
I have given this high marks even though I think it's vile as it does live up to the description.
Watermelon Ice
Again ice cold inhale as expected.
It's when you exhale the flavour comes through.
Even then this is very minty. With some of the other fruit flavours you did get the cooling sensation without mint flavour but the mint is prominent here.
Below the mint is the watermelon flavour – this does feel very perfume-y and synthetic to me. It is neither sweet or sour and I am not finding it particularly pleasant. Almost has a "cleaning product" vibe to me.
Menthol
Phew Menthol fans will love this! Super cold and minty.
In fact it feels like I have just brushed my teeth and swilled my mouth out with ice cold water! Ooh my mouth is minty fresh, without the hurty sensitive teeth pain too!
If the toothpaste vibe is not your thing then sadly you should give this version a miss.
But in a "does what it says on the tin" kind of way – this is spot on and menthol lovers will be more than pleased!
Tobacco
I really am not a fan of tobacco vapes nowadays – the only flavour of tobacco I really enjoyed was from the Apollo salt nic range.
Anyway as it stands this is not the worst I have tried. There is some caramel and chocolate in the background but as always there is that chemically flavour.
You do get the smoky flavour which is also mixed with a tinge of "ashtray".
As expected with the nicotine strength there is a good throat hit but the vape is cool and not warm like you would expect.
I think a smoker would not enjoy this flavour and it would put them off vaping sadly – so this is not the first flavour you should pick up. Unfortunately most smokers are drawn to tobacco flavour first and it really is such a shame as vaping is a lot better than this!
Sour Apple
Wow this one is a winner!
There is some cooling in there – even though this one is not one of the "Ice" flavours.
This is more real tasting than some of the synthetically flavours in this range and really tastes like the first bite of a cool fresh apple.
I enjoy this one a lot – very realistic and a lovely flavour!
Lychee Ice
Ok so I have zero concept of what "Lychee" should taste like – let me get that out in the open to start with!
This is definitely very cold, a massive icy blast to the tonsils is the first sensation, followed by a very perfume-y exhale flavour.
It has taken me a few days – honestly – to work out what this flavour reminds me of, and I eventually came to a realisation when in the bath…
This tastes like getting shampoo in your mouth. A very fruity shampoo though but still shampoo.
Sorry Geek Bar this one really isn't for me! But there is bound to be someone who likes this!
Banana Ice
I am not normally a banana fan unfortunately – but this is quite nice!
There is the strong cold hit on the inhale but the exhale is exactly the same as the Banana foam sweets you would eat as a child.
Again not a true representation of eating an actual banana but more of a created flavour.
But I being a banana hater could happily vape this all day!
Peach Ice
This one does not feel as icy cold as some of the other ice range but there is some cooling there.
This is a very gentle peach flavour with a minty tinge to the exhale.
Definitely all-day vape territory as quite mild and soothing to vape on.
Not a flavour banger this but I could happily vape all day on it – but it does seem very "mellow" compared to the strong hit of all the other pods in this range.
Updated Flavours – June 2022…
Blueberry Cotton Candy
Even the smell unwrapping this is making me salivate!
It is a similar smell to a Drumstick Lolly – and tastes exactly the same too!
I was trying for years to find a convincing Drumstick flavour and I accidentally find it in a disposable!
Needless to say with me being a retro sweet addict I am absolutely in love with this flavour.
There is a slight amount of cooling but nothing over the top and I could vape this all day long. I might even need to buy some of these – that is how delicious I think it is!
Dr Vapes Geekbar Flavours
These have been produced in collaboration with the e-liquid brand Dr Vapes!
I met the main man Sunny at Vaper Expo and he was an absolute gent!
Dr Vapes Purple (Red, Dark and Green Grape)
The smell when you unwrap this is a mixture of Pot Pourri and Parma Violets sweets.
First sensation I get when inhaling is a very strong icy blast – be lovely if you had Tonsilitis.
After that it is a perfumey Grape flavour – I still get the Parma Violets scent too.
There is no doubt it is absolutely delicious, it is very sweet initially then you get a sour tang at the end.
I would say this is more of a synthetic flavour than replicating real fruit, but it is proper yummy and smells amazing!
Dr Vapes Blue (Blue Raspberry)
Usually when you open the plastic wrapper you instantly get your nasal passages flooded with the aroma of the Geek Bar.
Weirdly this one has no smell? Odd!
Blue Raspberry is usually one of my go-to flavours so I was glad to get this version.
This isnt as icy cold as the Purple version but there is still a slight chill on your throat.
But an icy feeling is all I get? No flavour in here – hence why it doesn't smell of anything – sadly I think I have a duff Geek Bar!
However I picked this up again today and it has flavour? Not sure if I was at fault or the device was?
But I still get the cold blast followed by a subdued Blue Raspberry flavour. Again this could still be faulty as I am sure it is meant to output more flavour than this? The Purple version was bursting with flavour?
I haven't given this a points rating as I am sure I have a faulty device.
Battery / E-liquid Life
I chose a couple of bars at random (well the ones I liked anyway) to test how long they lasted. If the battery discharges or the e-liquid becomes empty the device will stop working and it is disposed of.
Please remember I am menopausal and have a brain like jelly right now so I have tried my best to be accurate, recording every 5 vapes on a note in my phone. But it is likely my counting is a bit out but pretty close I would say.
So firstly I tried the Banana Ice and I got around 309 puffs. By the time I had only 9 puffs left this was very weak – I had to really suck hard (oooh matron) to get a vape.
Also I did notice the LED wasn't very bright – you cant see this when vaping I had to hold my hand or object by the LED to see if it was lighting up.
So for me it appears that the battery ran out before the actual e-liquid – that might be down to my style of vaping. I will try and run down some others to get an average as Geek Bar do promise 575 puffs out of each device.
The results are of course just from one pod so keep that in mind.
Pros
Simplicity
Ideal for those experimenting with vaping or if you are caught without a vape somewhere
Well packaged and flavours / Nicotine strength clearly marked
Plenty of vapour
If you have a sore throat or tonsillitis the "ICE" flavours are soooo soothing!
Great build quality – all arrived in perfect condition and working perfectly
Airflow is spot on for MTL vapers and the automatic trigger fire worked quickly
Output was good down to the last 9 vapes.
Cons
Obvious waste concerns – can these be recycled easily?
PG / VG proportions not mentioned
Coil type and material are not specified
Some of the flavours were quite synthetic.
LED isn't easy to see when vaping
Final Review Verdict
The first question is "Who is this device for?"…
Well in my eyes it is ideal for someone who normally buys tobacco products and just fancies giving vaping a try for little expense.
Also someone out and about who has broken a vape or has run out of something they need – if they could buy some of these disposables rather than smoking it has to be a good thing. I think Music festivals and large gatherings would be a great place to market these.
Most vapers will not see the point in these, and will be annoyed at not being able to refill or charge these little pods. But equally unless in a vape emergency they would be unlikely purchasers of disposables anyway.
For an inexpensive disposable device this functions really well and is great quality. Some of the flavours are a bit suspect which is a shame.
I would like to know the best way to dispose of this too. For instance the one I took apart is easy – the outer body will go in my plastic waste bin and the battery will go in the little bag I get off the council for batteries. But what about the full device – Battery bag again or is there some other easy way of recycling this?
I also would like a bit more information as to coil resistance, coil type and e-liquid PG / VG Proportions – some people are sensitive to different coil materials / liquid types and might buy this and struggle.
But the Geek Vape build quality is evident here and I have had no malfunctions or leaks and every device apart from 1 arrived in perfect condition.