The Innokin Klypse Pod Kit is the latest release from a company who knock out some epic starter kits.
I regularly recommend the Endura range including the T18, T18-2, T20, T22 and T22-Pro to people who want to start vaping as they are so simple, inexpensive and perform really well.
Can this new release from Innokin add to this reputation – well time for me to find out!
What Can We Expect From The Innokin Klypse Pod Kit…
As the name suggests this is obviously a Pod Kit comprising of the pod (or tank) and the mod (battery section).
This is super simple to use with an LED battery indicator and no buttons or adjustments! You simply inhale on the mouthpiece and the auto draw fire system will activate.
Inside the mod is a 700mAh internal battery which is not removable.
A USB Type C port takes care of the charging at up to a 1A charge rate and Innokin say this should be charged within an hour.
The mod body is apparently made from Premium Grade Aluminium and is designed to be pocket friendly.
There is only 1 pod available for this which has a 0.8ohm Kanthal Mesh coil and the output is tailored to this at 16W.
You do not need to replace the coil when the performance deteriorates over time, simply chuck the old pod in the bin and replace with a new one.
Included in the kit is a magnetic dust cap to keep yukky stuff from out of the mouthpiece and when in use this can be attached to the base of the device to save it getting lost.
There are 6 colour options to choose from: Indigo, Blush, Scarlett, Mint, Charcoal and Graphite.
These were provided free of charge for review purposes and I will report back honestly on my findings of the devices in my possession!
Inside the Box
Innokin Klypse Device
0.8ohm pod
USB Type C cable
User manual
Innokin Klypse Pod Kit Specs
Size: 94x29x15.2mm
Output: 16W (0.8ohm pod)
Battery: 700mAh (internal)
Display: LED indicator
Resistance range: Not specified
E-liquid capacity: 2ml
USB Type C – 1A charge rate
Pods: Refillable fixed coils – 0.8ohm mesh coil
Side fill port
Magnetic dust cap
Draw activated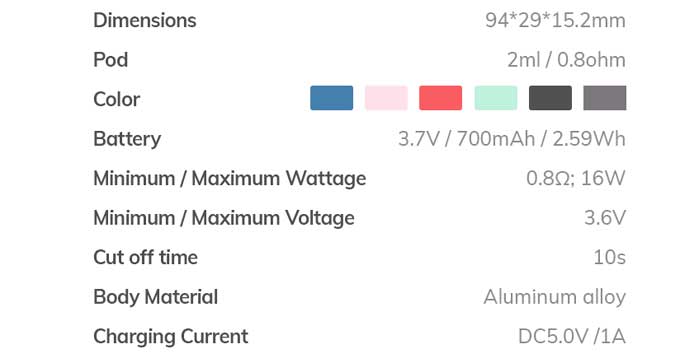 Innokin Klypse Pod Kit Design and Build Quality
I received the Mint and Graphite colour kits.
As usual the packaging is super environmentally friendly being recyclable cardboard.
When you open the top of the box the device sits pretty in a cardboard surround and both devices arrived in a pristine condition.
The fact you get a USB Type C cable is good and seems to be a novelty nowadays as a lot of low price kits do not include them!
A large fold out instruction booklet is included but there are only 3 pages per language. Things like fault conditions and display are not covered sadly.
One other great feature is the isolating sticker on the base of the pod to prevent accidental firing before you have filled it. Firing an empty pod will knacker it and you only get 1 pod in the kit so treat it nicely!
Innokin Klypse Mod
As expected this is a super sleek looking device with a lovely metallic glistening finish. So sorry about the photo quality of the Mint version – it is very shiny and metallic – very hard to photograph!
With the cap installed you wouldn't actually assume this was a vape!
The front is plain with a Black chamfered panel with the Innokin logo in silver.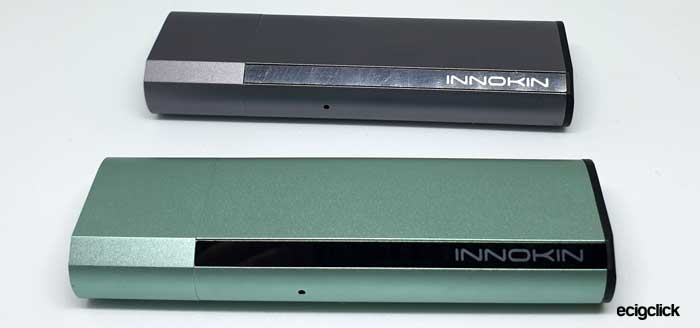 The LED is concealed within this black panel – you won't see it until it lights up!
On the rear of the device another chamfered panel has "Klypse" written on it. It is easy to see on the Graphite version but blends in on the Mint version.
One side of the device houses the USB Type C port and each side has what appear to be airflow inlet holes.
The base features the required legal logos and battery capacity, they are etched into the black plastic so not easy to see and neither do they stand out.
The top cap is the same material and colour as the device with a plastic black top panel.
I was wondering how this held on the base – but the black panel on the base and the top of the cap are the magnets so they hold together easily and the magnet is really strong. I keep getting things stuck to it off my desk!
The pod port contains 2 spring loaded contacts, 2 magnets and a prong (not spring loaded) that I can't identify!
If you shake the kit about vigorously there is zero wobble from the pod or top cap on the base. Nice work Innokin!
Innokin Klypse 0.8ohm Pod
The pod is held into the mod with a super strong magnet and does take a bit of a tug to remove, but that is a good thing and proves that the pod won't just fall out.
On the base of the pod are 2 contacts, 2 magnets and some airflow holes so you can install the pod either way around in the device.
This has a tint to it but the e-liquid level is clear to see, sadly 2/3 of the pod is concealed in the mod body when installed. There is a "minimum" e-liquid level mark but you have to remove the pod to see this.
On the front of the pod is the "Klypse" text and the rear of the pod has the Innokin logo and legal markings.
The mouthpiece is kind of a thin flat "Duck-bill" style – but not as chunky as most mouthpieces in this style.
The fill port is located on the side with a lift up cover which is pretty easy to lift thankfully. Plus you can turn to cover around rather than have to hold it out of the way.
Being around 4mm in diameter the fill port hole has not posed any filling issues so far for me. But I do recommend turning the pod upside down when you fill.
Quick Start Guide
The pod has an isolating sticker on the base so once you have filled the pod remove this.
Charge up and away you go! I tell you how in the section below!
Basic Operation
Power On/Off = there is no on/off switch so the device is on "stand-by" until you vape.
Vaping = inhale on the mouthpiece to trigger the auto fire.
Battery indicator = Over 10% battery remaining = white LED, under 10% battery remaining = blinking white LED.
Battery indicator when charging = LED is white and when fully charged the LED will turn off.
Installing / removing pod = LED will light up briefly.
Protections
Low battery – White LED will flash 10 times and device will cut out.
Sadly the instructions do not specify any other protections or fault indicators.
How To Charge The Battery
The charging rate is specified as 1A.
Using the included USB type C cable connect the small end into the USB port on the mod.
Connect the large end of the cable into a suitable USB outlet.
The LED will display white and will turn off when fully charged.
The charging time for me using a 1A mains plug was a couple of minutes either side of 1 hour every time I charged it. When charging on my PC USB port (0.5A) it took an extra 15 mins (1 hour 15 total) to charge fully.
How To Fill the Pod
Innokin recommend keeping the pod at least 1/3 full at all times to prevent coil damage – so keep an eye on this! You will have to remove the pod to view the liquid level when it drops below the mod port.
Remove the pod from the mod.
Lift up the cover of the fill port and add e-liquid through the port.
Watch the e-liquid level through the clear side of the pod.
Replace the fill port cover firmly.
If this is the first fill allow the pod to stand for 10-15 mins to allow the e-liquid to soak into the coil. This is called Priming and is a very important step. If not fully primed you could burn the coil out and your throat lining in the process!
How Does the Innokin Klypse Pod Kit Perform?
I used my own e-liquid mix which is 50/50 PG/VG made from IVG Bubblegum Concentrate at 20% ratio. This is quite high a flavour ratio as I prefer plenty of flavour, but sadly this means it can be a coil killer sometimes.
I add nic salt to approx 6mg strength.
If any of these terms are over your head – have a read of our handy guides below!
0.8ohm Pod Performance
Right from the first vape the flavour kicked in but seemed to get stronger with a few more refills.
The power output seems to be perfectly matched to the 0.8ohm coil and the flavour and vapour are both very impressive.
I get a great throat hit and the vapour is slightly warm too which always makes the flavour sing in my opinion.
So far I have refilled this 8 times (approx 12ml – as I tried to keep the pod 1/4 full) and the flavour is still excellent. My e-liquid is not kind to coils at all so this is pretty epic coil life!
Airflow
This is a perfect MTL airflow for me. I would say it's pretty tight but not eye bulgingly so.
If on an imaginary scale – 1 was enough to make you pop a haemorrhoid and 10 was breathing fresh air – I would place this airflow around 4. Plenty restricted to get the cigarette sensation but still easy enough to not leave you gasping for breath!
The auto draw system kicked in easily and didn't miss a beat, I had no miss-fires or irregular firing at all it was spot on.
Mod Performance
I had zero issues with the mod at all, the draw activation was super quick and required very little effort.
My major problem is with the LED indicator.
It only "alerts" you when the battery level is below 10% charge remaining.
By this time the output is pretty weak and you only have a few more vapes before it conks out totally. I also didn't notice the LED flash a couple of times and carried on vaping thinking that the performance had gone very weak and then wallop – it shut down and needed charging.
Innokin you really need a better indication system than this – it is not much use at all. Why not use the 3 colour LED system like you use on other devices?
Battery Life
As always this is down to your own vaping habits. Thankfully there are no other variables with this kit – i.e. coil resistance or output setting.
I found I got around 4 refills to each battery charge and just slightly over 5 hours of vaping.
However I am a heavy vaper so if you are just using this every few hours on a break you should find this lasts you most of the day.
Pros
Extremely neat eco-friendly packaging
Very sleek looking kit
Handy dust cap
Beautiful finish to the device
Solid and well built
Easy to fill
Not a single leak or malfunction
Super simple to use
Great flavour and airflow
Auto draw activation was very quick
Cons
Battery indicator LED only shows above 10% or under 10% charge – there needs to be a bit more warning than that.
Some details missing from instructions – such as fault conditions and display.
Only 1/3 of the pod is visible when installed in the mod
Only one pod included in the kit
LED is dim in some conditions
Magnetic cap and base attract everything metal in the vicinity!
Final Review Verdict
This is a crackling little kit, robust and made really well.
It is super simple to use and I had no leaks or malfunctions whatsoever.
The flavour is great and the airflow is spot on. I also found the auto draw firing kicked in perfectly.
The MASSIVE down-point of this kit is the LED indicator – which doesn't really indicate anything apart from telling you in 2 or 3 vapes your device will conk out. Not very helpful at all.
So always be wary this could need charging at the drop of a hat without any warning.
It isn't a deal breaker but seems to be such an oversight on such a well made and designed kit. A decent indicator is pretty basic in the scheme of things and it is such a shame this has been overlooked. A bit more "Attention to detail" in the design process would have brought this kit near to full marks.
Would I Buy This Kit Myself?
It certainly would suit any starter vaper, giving excellent flavour with plenty of simplicity.
I would warn though any users need to keep an eye on the e-liquid level by removing the pod as you can't see much which it is installed in the mod.
Also you would need to be aware it will not let you know the battery needs charging until it is really too late.
So it isn't my first choice of pod kit if I am honest, but if my favourites were lost or damaged I would be quite happy using this at home – near a charger!
I would be wary of taking this out and about if I was not near a charger for a few hours, so this makes it drop points in the "replace if lost or damaged" category. I felt I couldn't rely on it. Which is sad as the device itself has been perfect – not a single leak or problem.
Please take this on board Innokin – it is such a silly little thing to neglect and spoils an otherwise faultless and well performing kit!
I feel like I have been super critical – but as I am used to such high quality and excellent design from Innokin I perhaps hold them to a higher standard?
Have you tried the Innokin Klypse Pod Kit? Let us know what you think in the comments below!