Once more into the breach of disposable vapes we go and this time it's the IVG Bar review.
I Vape Great is a hugely popular and highly successful UK based company with satellite offices around the world making a large global footprint.
Whilst e-liquids and nic salts is it's forte', the company has dabbled with hardware in the past – the IVG sealed pod kit for instance – and the IVG Bar is its first disposable vape.
We've reviewed a number of IVG e-liquids including: the Crushed Range – the 50/50 Vape Juice and the IVG Juicy Range.
So given the company's track record I'm hoping for big things from the IVG Bar.
What Can We Expect From the IVG Bar?
I'm repeating myself I know, but when it comes to disposable vapes I'm after ease of use – leak free and of course great flavours.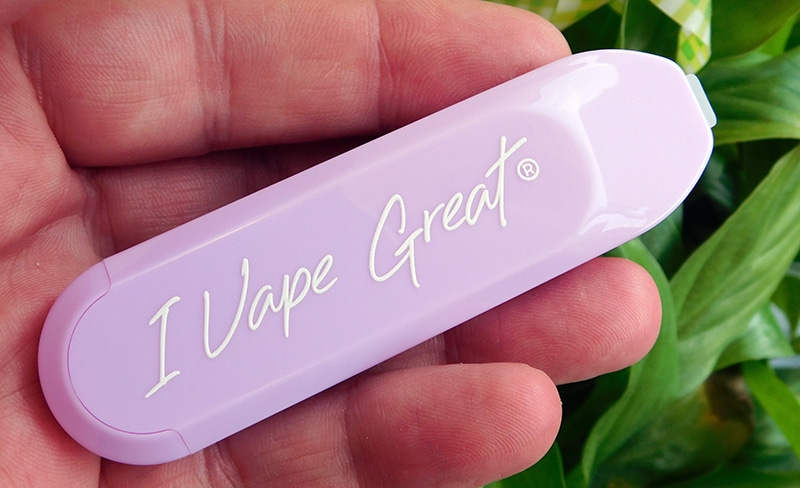 There's now 22 flavours to choose from a mix of fruits, iced, drinks and at least one cookie base – review has been updated with the new half dozen.
The IVG Bar has a 500mAH internal battery and they reckon you'll get up to 600 puffs off each device…
I tired to keep a record but lost count…blame old age.
OK, on with the taste test, but first…
Specs and Features
500 mAH battery
2ml 20mg nic salts
600 puffs per device
Now 22 flavours!
I would normally do an 'Inside the Box' however all you'll find in there is an IVG Bar!
And there's not much point doing a Quick Start Guide either – simply unwrap, remove the bung and vape – easy!
I've received 10 of the IVG Bar range and they came direct from the company – thanks Lilly – and as always my thoughts and opinions are not swayed by freebies.
NOTE: Updated to include 6 new flavours and they're the first you'll see:
IVG Bar Raspberry Lemonade
IVG Says:
A blend of refreshingly fizzy, cool lemonade and juicy, fresh raspberries.
I Say:
Lovely smell once the bung's removed – very fresh 'n fruity.
I love raspberry vapes however the inhale on this one isn't quite as fresh or fizzy as I might like.
I can kind of taste the lemonade, and the fruit is slightly on the sweet side.
That coolant is just about balanced enough, but still almost drowns the flavour.
IVG Bar Fuji Apple Melon
IVG Says:
A crisp flavour of Japanese apples complemented with the juicy taste of melon.
I Say:
A real whack of coolant on the inhale that soon disappears to be taken over by the very strong melon.
The apples I think add the sweetness, but that flavour only appears on the exhale and is very low key.
That coolant arrives again, and takes the apples away even more.
If you like iced melon vapes this one's for you.
IVG Bar Strawberry Raspberry Pink Apple
IVG Says:
This flavour is jam-packed with deliciously fresh strawberries and tangy raspberries, finished off with a sweet, pink apple aftertaste.
I Say:
Definitely a strong whiff of candied strawberries – very sweet too.
Once again you're hit with that bloody coolant with the fruits underneath.
I genuinely can't pick out any of the fruits – it's more of a sweet 'n syrupy flavour.
That coolant remains strong – so yet another if you love icy fruit vapes.
IVG Bar Energy Ice
IVG Says:
Enjoy the electric taste of your favourite energy drink, combined with a cooling sensation on the exhale.
I Say:
I'm starting to see red [bull] at the amount of bloody coolant…
Again it's fresh – maybe too fresh on the inhale with once again the flavour muted because of it.
The flavour of the drink just about comes through on the back of the taste buds.
Things pick up a little flavour wise on the exhale – but that coolant is too much for my palate.
IVG Bar Raspberry Orange Mix
IVG Says:
Zesty hints of juicy oranges mixed with a tarty raspberry taste, the perfect citrusy fruit mix.
I Say:
From the flavour notes I had high expectations from this one.
The smell is promising, but again more sweet than fresh.
The inhale is all about the oranges and thankfully the cooling agent has been dialed down a little.
Can't pick up the raspberries but the exhale does liven up a bit.
Just a tad to sweet for me – but still a rather nice vape.
IVG Bar Peach Rings
IVG Says:
Mouth-watering peaches combined with an extra sweet kick, an old school classic sweet flavour.
I Say:
A very subtle smell and taste from this disposable vape.
Again the coolant is not as heavy, but then neither is the flavour from the fruit.
I can tell it's peach, but it's not 'in your face'.
Not bad but a tad more peach and this would be perfectly peachy.
IVG Bar Pink Lemonade
IVG Says:
Your favourite lemonade with hints of sweet grapefruit and a cool exhale.
I Say:
A wondrous smell from this one with loads of that tart 'n tangy grapefruit coming through.
That's one of my favourite fruits to eat and vape on so I was hoping for big things.
The inhale is a little sweet but then the grapefruit washes in before that iciness tingles the back of the throat.
Almost too much ice for me, but a very refreshing vape with a perfect mix of sweet and sour – lovely stuff.
IVG Bar Blue Raspberry Ice
IVG Says:
Revitalize your taste-buds with the cooling sensation of tangy blue raspberries on ice.
I Say:
I'm getting a definite fruity vibe from this one once the bung is removed.
The inhale is pure blue slush and very moreish it is too.
Quite a cold blast on the tonsils on the inhale and exhale and again the ice is almost too much for my palate.
However that Blue Raspberry definitely keeps it's own making an extremely refreshing vape.
IVG Bar Exotic Mango
IVG Says:
Give yourself a taste of the tropics with fresh mango juices.
I Say:
Yup the smell tells you straight away it's a mango!
I must have tasted hundreds of mango vape juice but this one is definitely one of the better ones.
It really is a crisp fresh and just sweet enough vape that I found myself puffing on constantly!
At one point I rubbed my chin as my brain was telling me I was dribbling those sticky fruit juices lol.
Great vape!
IVG Bar Rainbow
IVG Says:
A blend of mixed fruits and berries, a perfect combination with amazing flavours with each exhale.
I Say:
The most gorgeous fruity aroma from this one – definitely had my mouth watering.
This really is a kaleidoscope of fruity goodness with wave after wave of flavours on the inhale.
There's a slight cooling at the back of the throat, before even more waves of juicy fruits and berries appear on the exhale.
This one is gorgeous and very very addictive.
IVG Bar Pineapple Grapefruit Ice
IVG Says:
A fusion of fruity pineapples and sweet grapefruit with a cool icy blast.
I Say:
Two of my favourite fruits for eating and vaping so does the ice wash the flavours away?
Once again it's an almost lol.
The inhale is a stunning fruit mash up with both equally fresh 'n fruity on the taste buds.
That ice is waiting in the wings though and hits the back of the throat in and out.
Once again it's almost too powerful for me, but those fruits are strong enough.
An extremely refreshing vape.
IVG Bar Mango Lychee
IVG Says:
Sweet ripe mango combined with juicy fresh lychee delivering a sweet intake and a fruity exhale.
I Say:
I had my first bowl of lychees back in the 60's – nan and grandad took me to a Chinese restaurant in Birmingham – great days!
As I kid I loved the sweetness – but as an adult my tastes have changed.
As I expected this one's a little too rich and sweet for my palate.
Yup it's fruity but more of a tinned variety in syrup.
Not for me but those with a sweet tooth will love it.
IVG Bar Strawberry Watermelon
IVG Says:
A summer sensation you won't want to put down, with the sweet taste of watermelon slices paired with handpicked strawberries fresh from the field.
I Say:
The aroma is very summery indeed with the strawberries to the fore as they are on the inhale.
As soon as the vapour hits your taste buds in comes the cooling refreshing watermelon taming everything down.
The exhale is a sheer fruit fusion and very very tasty indeed.
The merest hint of a coolant only made this one better – wow – great vape!
IVG Bar Cola Ice
IVG Says:
Cool your taste buds with your favourite summer refreshment, twisted with a cooling menthol finish.
I Say:
If it looks like cola, smells like cola it must be cola right?
Kind of…
The inhale is all about that brown fizzy drink.
However it's the back of the throat hit and exhale where things get decidedly minty.
This is a bit of a weird one and strangely I kind of like it.
I guess this is what the froth on a Mintos and coke experiment tastes like…[look it up lol]
Interesting I'll say that much…
IVG Bar Butter Cookie
IVG Says:
Satisfy your sweet tooth with the taste of freshly baked buttery cookies in this rich dessert blend.
I Say:
Stunning aroma, like walking into a bakers shop when the cookies have just come out of the oven.
I have been known to enjoy a biscuit flavoured vape, but this one sounds a little too sweet for me.
And yeah, as I expected the inhale is all about the sugar, with the butter adding a deep richness.
The exhale just gets sweeter the more you blow out the vapour.
Those clouds smell bloody gorgeous and those with a sweet tooth will absolute smash this one.
IVG Bar Passionfruit
IVG Says:
Sweet, exotic fruits with a delicious, tart flavour finish.
I Say:
I've saved the best until last – this is a fantastic flavoured vape.
I really enjoy tarty vapes and this is simply sublime.
The inhale delivers that sweet yet tangy fruit with a tiny hint of coolant.
The exhale just builds on the flavour and yup there's a lovely sour twist balanced beautifully by the natural sweetness of the fruit.
I really wish IVG made this in a shortfill or nic salt – though saying that I may become addicted.
An amazing vape and bang on my flavour profile.
Final Review Verdict
As I keep saying, love 'em or hate 'em disposable vapes are now a thing and I'm expecting many more to hit the market.
I did review the IVG sealed pod kit a couple of years ago and wasn't that impressed if I'm honest.
However, the new IVG Bar variety – certainly the ones I've just tasted – are head and shoulders above that set-up.
There's flavours galore and plenty of options whatever your taste preference.
They are slap bang in the middle of an MTL/DTL vape and just tight enough for newbies looking to switch to vaping from lit tobacco.
A couple of flavours were not quite to my personal taste – but even those I can see vapers bloody loving them.
So yeah, a highly recommended set of disposable vapes indeed and absolutely no leaking – bonus!
PS: do check out the bundle deals too – great offers!