The Smoant Charon Baby pod kit is a smooth little device, smooth in looks and in touch.
The only Smoant device I have every used is the Smoant Battlestar Baby, which I reviewed a few months ago.
While writing that review I noticed a few of their devices look similar to devices from other brands. Having said that, I reviewed it on it's own merit and it scored an impressive 9.7 out of 10
Based in China, Smoant launched in 2013. At the time of writing this review, Smoant's website catalogues 5 pod systems, 8 Mods, 3 rebuildable atomizers and 3 other 'Starter kits' (which includes an other mod kit, Squonk Mod, and MTL device).
We've reviewed many Smoant products including: the Pasito pod kit – the Battlestar Squonk kit – the very strange Campbel – the one you vaped drinks on lol – and of course the awesome Cylon mod to name but a few.
So, who are Smoant? Well, their about us page on their website asks that question and their answer is:
Smoant is an integrative high-tech manufacturer specializing in the production, development, research and marketing of APVs (Advanced Personal Vaporizer).
Their goal isn't very specific. Smoants goal is to satisfy vapers, literally every type of vaper, including "Tootle Puffers" and "Mod wompers".
Lets get to it.
What To Expect From The Smoant Charon Baby?
The company's webpage stays it's easy to carry, fast charging, leak proof with 'superb flavour from begging to end'.
All of the above seems like standard expectations so I'm going to ask for more!
Smoant's goal is to satisfy every 'sort' of vaper, and although that is more about the wider company, I'm going to be looking for a broad range of output from this device.
To satisfy all or most vapers, I think the Smoant Charon Baby is going to need a low vapour and high vapour option (it does have different power depending on coil resistance).
The Charon Baby will also have to be competent at handling 50VG/50PG e-liquids as well as 70VG/30PG blends.
It should also be able to provide a decent Mouth To Lung and Direct To Lung experiences.
That's a lot to ask from one device, but it's definitely possible.
The kit charges using USB-C and the cable doubles up is a lanyard, which is something we are starting to see more and more, with pod systems.
The system apparently has 'Fast-Charging', although it only takes 0.8A/5V – however, Smoant specify the charging time to be 45-60 minutes.
The kit was sent to me free of charge for the purpose of this review and direct from Smoant – thank you.
As always my thoughts and opinions are my own.
Hands On Video Review
Inside the Box
1 x Charon Baby System
1x USB-C charger/ Lanyard
1x 0.6ohm Mesh coil -Pre-installed
1x 1.2ohm Ni80 coil
1x pod
1x user manual
1x warranty card
1x certified card
Specs
Size= 73 x 44 x 15mm
Weight = 87g
Battery Capacity = 750mAH
Power output = 10/15W
Charging= 5V/0.8A
Charging port =USB-C
Features
Anti-Leak Design
Ant Chip
CPR design Material
8 second cut off protection
Short Circuit Protection
Low power Protection
Design and Build Quality
Smoant Charon Baby Body and Battery
The Smoant Charon Baby is limited to 3 colours, blue, black and stainless steel.
All 3 look pretty good, I was sent the stainless steel version but I have to say the black looks really smart.
There is a resin sticker on either side, they are really clean and shiny and really well applied with a snug fit.
The Smoant Charon Baby is really smooth, making it quite nice to hold, it's a little bit like a smooth square pebble…
The size and weight of the kit is pretty much perfect, it isn't too light or small but it's definitely not too big either.
I haven't used the lanyard very much, I'm more of a pocket kind of guy and on quite a few occasions I've had a panic moment because I haven't been able to feel it in my pocket, among the other things in my pocket.
I have no concerns about the durability of the device, I can't see what can or would easily break, it's designed quite well.
Smoant Charon Baby CPR Materials
Smoant has made the effort to mention that CPR was used as a design material for the Charon Baby.
So what is CPR? Luckily I've looked into this before so I know the answer… sort of.
Oleophobol CPR is a liquid used on things like glass, ceramic and mobiles to create a finger-print, oil and stain resistant surface that is impervious to dirt, dust, oils, and other particulates resulting in a surface that is easy-to-clean and maintains a cleaner surface longer than untreated products/materials.
Put very simply:
CRP Material is used to give a higher quality finish, providing and high gloss, less fingerprint prone finish.
Smoant Charon Baby Charging Cable and Lanyard
As I stated before, the idea of a dual use lanyard/charging cable seems to be growing in popularity especially with pods.
The lanyard/charger is the same as the one that comes with the Smoant Battlestar Baby.
It is over 80cm long, I know this because the full length of the 'charger cable' has a tape measure print on it… which goes up to 80cm – the opposed side has the Smoant logo.
As I said earlier, I'm more of a pocket kind of person, so although I do always use the lanyards for a little bit, I've never tested one for durability.
I'm sure they will last a fair while, but it does still concern me, surely the charger can't last more than a couple of months before breaking when you're frequently using the lanyard, especially if you're an active person.
Smoant Charon Baby LED Indicator
It may sound strange, but I like the LED Indicator on the Charon Baby.
It's fairly big (3mm) on the side of the system.
It has a white translucent plastic cover, and that's why I like it.
When the LED lights up, it illuminates the cover making it easy to see in broad day light but it doesn't shine like a mini torch at night.
Smoant Charon Baby Pod
Measuring at 42.5 x 20.5 x 10mm, the pod seems fairly big, which isn't really an issue because all of the pod – excluding the mouth piece goes into the system.
That leaves just the 15 x12 x 5mm mouth piece protruding, which is a nice shape and size for a mouth piece.
The pods are a clear see-through black which allows us to easily see the liquid level as well as the internal architecture of the pod including what I believe is an extra airflow tube for the anti-leaking system. That tube goes to the bottom of the pod and connects to the rest of the device.
If you are wondering about adjustable airflow, you're out of luck, it doesn't have it.
Smoant Charon Baby Pod Connection
Inside the system are 4 magnets, which hold the pod into place.
At first I was concerned that the magnet wasn't very strong, but after loosening it for 2 weeks I can safely say, the pod hasn't come out on its own accord, so the magnets are obviously adequate.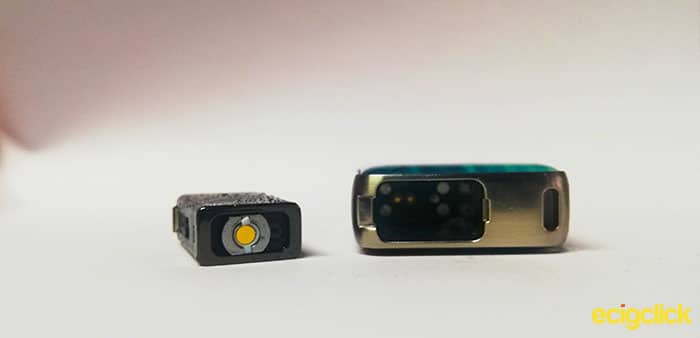 The Pod only fully fits into the system one way and it has interchangeable coils, which is always nice to see, especially while the world is trying to cut down on plastic waste.
Using The Smoant Charon Baby
As always with pods, it's super simple to start. All you really need to do is fill the pod.
How To Fill Smoant Charon Baby Pods
Smoant warns to take extra care not to spill any liquid into the main device.
Remove the pod from the system.
Open the fill hole on the side of the pod by lifting the rubber plug
Fill the pod with liquid
Replace the rubber plug
Place the pod back into the system
The pod goes in to the system with the fill hole facing the same way as the LED indicator.
As always, leave the pod for 5 minutes to allow the liquid to soak into for the coil Especially if coil is new/unused).
Learn more about the importance of priming your coils.
Changing The Coil
Leaking: When you remove the pod from the system, look into the pod.
You will see the coil (silver and metal) meeting the airflow pipe (clear black plastic).
While the pod is upside down whatever liquid is above this joint will leak.
Remove the pod from the system
Turn the pod upside down
Lift and remove the old coil from the base of the pod
Insert the new coil into the pod and press it tight
When inserting the new coil, it will only fit while the white lines are pointing to the narrow sides.
After inserting the new coil, fill the pod and leave the liquid to soak into the coil for 5 minutes.
Smoant Charon Baby LED Light Indicators
If you've took a look at Smoant's website or any official images, you might have seen the image below, that talks about the LED indicator.
It accidentally suggests the LED Indicator might gradually change colour, that's not the case, it goes straight from one colour to another.
While using the system the LED Light will light up in a colour that corresponds to the battery level.
White = 100-60%
Blue = 60-30%
Red = 30-5%
While charging:
Red Light breathing = 5-30% Charged
Blue Light breathing = 30-60% Charged
White Light breathing = 60-95% Charged
White Light Constant = Charging complete
LED Light warning indicators are:
White Light 1 flash = Pod just connected
Red Light 5 flashes = Overtime protection(8 seconds cut-off)
Red Light 3 flashes = Short circuit / Poor pod connection
Red Light 10 flashes = Battery too low (less than 3V)
Using The Smoant Charon Baby Lanyard / Charger
If you look at the lanyard clasp there is a button at either side.
To turn the lanyard into a charger press the buttons and pull the lanyard away, this will release the USB connector and the USB-C connector
You will probably be quick to notice you only have 'half' of a USB, that's how it is supposed to be.
The "Half of a USB" pushes into the USB port with the gold pins facing the block that is inside the USB port (the block is usually white, black or blue).
Don't worry if it is a little bit tight, again, that's how it is supposed to be, just be firm but gentle.
Putting it back together to make a Lanyard again, put the USB-C and USB ends together, with the release buttons facing outwards.
Push the ends into the clasp until the buttons clip into the holes.
This can also be achieved doing one at a time, so don't worry if the come apart from each other while you're pushing them into the clasp.
How Does The Smoant Charon Baby Pod System Perform?
At the time of writing this there are only 2 coils available for the Smoant Charon Baby pods, both of which are included in the kit, so we'll have a look at both.
I spent the vast majority of my time with the Smoant Charon Baby using it with Just Juice- Blood Orange, Citrus and Guava the nic salt version.
Smoant Charon Baby Mesh Coil 0.6ohm (pre-installed)
The system will fire the 0.6ohm coils at 15W.
This coil did a great job at handling both Mouth To Lung and Direct To Lung.
This coil produces great flavour when used both MTL and DTL. The citrusy orange flavour is really prominent, you couldn't really hope for much more flavour.
Using the system MTL with this coil it can produce a nice little cloud, obviously using it DTL produces even more of a cloud, it's really quite impressive for a 15W pod system.
It's important to remember that's what it is, don't be expecting a 50w+ cloud.
I don't think I can choose which I prefer, MTL or DTL. However I have been using it MTL a lot more than I have DTL, so that probably says something.
Smoant Charon Baby Regular 1.2ohm Coil (Ni-80)
The system will fire this 1.2ohm coil at 10W.
Other than less vapour production everything seems the same, or at least very similar.
As you would expect, the 1.2ohm coil provides less of a cloud and more a 'Cig-a-like' amount of vapour.
To recap on my expectations, the Smoant Charon Baby needs to cover all bases, and it was halfway there with the 0.6ohm coil. For it to fully fit the bill, this coil needs to be more restrictive in airflow – unfortunately it has failed.
There might be a difference between the coils in regards to draw restriction, but if there is I can't feel it.
Regardless of if there is a difference, neither coil provides the tight draw that you would get from a cigarette.
Back to reality, the coil does produce really smooth vapour with a great and prominent taste – it may be even better flavour production than the 0.6ohm coil.
High VG
I used both coils with Doozy Vapes Orange Chill, which is a great Orange, Lime and Menthol flavour, mixed at 70VG/30PG.
The Smoant Charon Baby took it in its stride. Handling it very well indeed, the flavour was on top form and the vapour production was enhanced, better still, I didn't get a single dry hit.
Pod Summary
It's a close call, both of the pods work almost equally well. However the 1.2ohm coil seems to provide a slightly better flavour.
But the biggest difference between the coils is the wattage the system will fire them at. Using the 1.2ohm coil, the system will fire at 10W (compared to 15W with the 0.6ohm coil).
So, that's 2 – 0 to the 1.2ohm coil.
Coil Life
I've used the 0.6ohm coil for 7 days and the 1.2ohm coils for 8 days and they're both standing strong.
Smoant Charon Baby Battery Life and Charging
With the 'Fast Charging' Smoant says the Charon Baby 750mAH battery will charge in 45-60 minutes. They were right, from flat to full, was about 50 minutes each time.
Is that really fast charging for a 750mAH battery though? Maybe they mean it's fast for a vape system…
With the 1.2ohm coil (which fires at 10W) the battery lasted me about 10 hours a day.
Using the 0.6ohm coil (15w) it lasted me about 8 hours a day.
I don't think that's terrible when you consider the charging takes less than an hour, especially in this day and age when you can steal a bit of charge from you car, bus or train.
Mathematically, on a fully charge with the 1.2ohm coil, you can expect roughly 510 x 2 second puffs (1 puff a minute, every minute for 8.5 hours).
And with the 0.6 coil you can expect roughly 330 x 2 second puffs ( 1 puff a minutes, every minute for 5.5 hours).
All in all, I think that's pretty decent, a little disappointed in the 0.8A charge rating though, surely 1A isn't too much to ask for.
Anti-Leaking
All pod systems have a bit of excess liquid and/or condensation, and I often mention it and say it's no big deal.
Smoant state the system has an 'anti-leaking' design…well, it doesn't work very well. Through the last 2 weeks, I didn't notice an awful lot of leaking but in the last day or two, it seems to be leaking a little more.
To be fair, it hasn't leaked out of the system but the pod port is certainly wet.
Pros
Awesome Flavour Production
Impressive Vapour Production
USB-C Charging Port
Lanyard/Charging cable in 1
Prominent LED Light
Changeable coils
Simple to use
MTL & DTL
Decent Battery Life & Charging time
Feels Sturdy
Cons
No Variable power
No Variable Airflow
Doesn't have restrictive airflow
Not 100% Leak Proof
Final Verdict
If anybody is thinking this review sounds quite similar, there is a reason.
Recently I have reviewed the Smoant Charon Baby, which is essentially the same system.
No, it is the same system, just in a different case.
I didn't mention it before because I wanted to review it on its own merit.
However the truth is, it is the same system.
Battery size, the same – pod and coils, the same – LED Indicator, the same – Lanyard / charger the same – CPR Materials, the same, and the same chip (Ant Chip).
Lets not cast this into bad light though it is a good system, and technically it is a different kit, it has a completely different shape body – the Smoant Charon Baby V2, if you like.
Regardless of what it is is or what it is called, I'm scoring it on its own merits.
So, have you bought or considering buying the Smoant Charon Baby?
Let us know in the comments below!