Today I have the Suorin Vagon pod system. A device from a brand that is known for it's simple, clean pod mod designs with the previous Drop Pod and iShare getting a lot of interest from vapers around the world.
It was, however, the Suorin Air pod mod that really put them on the map. One of the slimmest vape devices still to this day.
Moving on Suorin have created yet another pod mod device but it is something that little bit different. The Suorin Vagon got my attention strait out of the box (due to its bright vibrant colour).
As far as pod systems go, this isn't a bad little device. It's not the best around, but not the worst either. As we speak I am using this device and I will be throughout this review. So, with that being said let's get stuck in with the Vagon Pod Mod System.
This device was sent to me for the purpose of this review. This review is purely my own views and opinions.
What's in the Box:
1 x Vagon Mod (including Pod)
1 x USB Cable
1 x Warning Card
1 x Caution Card
1 x Quality Certification
1 x Troubleshooting
1 x Safety Warning
Specs and Features
Size: 105 x 20 x 25 mm
Wattage: 15w
Battery: 430mAh (This is according to the manual in the box, I know there has been some confusion over this, so I am going with what the manual says lol)
Charging: Via micro USB
Max USB charge: 500mA
Available colours: Red | Blue | Black | Orange | Green
Design & Build Quality
All I can say is WOW. This build quality of this device has even stunned me (and that takes some doing). This is one device that would attract attention. It is sleek, elegant and has appeal.
The Vagon is what's known as an 'automatic' vape device. By automatic we mean no button presses, simply take a drag, the device recognises this and will activate. Couldn't be any simpler.
Material
The materials used to construct this pod device are decent. It has that study and hard build feel. The pod system itself has a plastic build to it. But that being said it is still sturdy. But I am not too sure that the pod itself could survive to much of a beating!
In Hand
The Suorin Vagon sits nicely into the palm. Due to having no firing button it can be held in various ways (Users choice).
The Clip?
Yes, people you heard right. Suorin has elegantly blended a belt clit into this device. So, it can be clipped to your trousers, even the top of your suit pocket. If you're forever leaving things behind like me, you will never have to worry where you left it!!
How Does the Suorin Vagon Preform?
Now this pod system came with a warning card stating you shouldn't go below 60/40 VG/PG. But for this review I even tried 50/50. The e-liquid I used for this review was: Miami Drip Club: Lemon E11even 50/50 and Lolly Pop Co.: Rock-It 80/20.
Further reading: Guide to VG and PG in your E-Liquid
While i didn't have any to hand when testing, Nic salts are also a good choice for this sort of device and make for a smoother vape while still satisfying that nicotine craving.
Further reading: Guide to nicotine salt e-liquid
How To Fill The Suorin Vagon
To Remove the pod simply pull it off, vice versa for installing it.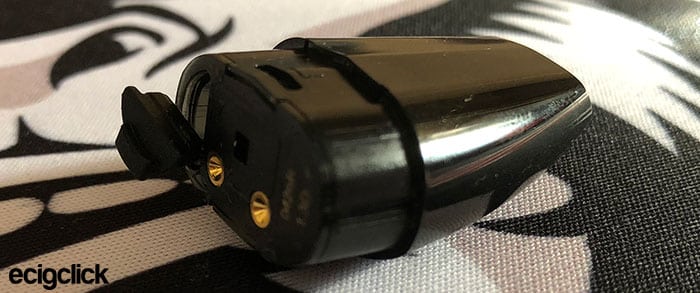 Filling this pod system can be a tricky one. If you have nimble fingers, your laughing. There is a small rubber tab at the bottom of the pod. You have to pull this up, which in turn pulls the rubber bung up. The device recommends that you should allow the pod to sit at least 10 mins before vaping (to allow the coil to soak up the juice)
Air flow
The airflow on the pod is quite restrictive (as expected). I put the airflow up against a MTL (mouth to lung) rta (the Berserker). The airflow was a close match (airflow on the Berserker on the second largest), just right for MTL or resistive direct lung (in my opinion).
Battery Indicator Light
There is a light on top of the device that shows an approximate level for your battery.
Green = Above 70%
Blue = 30% to 70%
Red = Below 30%, needs charging.
The performance
I have one big niggling issue with this device. When you pull on it for the first time it doesn't fire strait away (almost like you woke it up out of a slumber. But after that this little guy preforms fine. The mod has an impressive 430mAh battery, which actually lasted quite some time, I am quite a heavy vaper and this little device lasted over a day.
When it comes to charging the battery takes around 40min to an hour to get back to full power.
The Pod
The pod itself has a recommendation to be changed every 5 refills, however I had started to taste a change in flavor after 6 (I might have just been lucky! Lol). The pod itself lasted me for around an 2hr to 3hrs from full to empty vaping quite heavily. I should add I work out doors so I'm not restricted to when I can/can't vape)
Flavor & Clouds
Ok first of all this is a pod mod vape system. So, don't expect room filling clouds. The flavour for me was just Ok with the e-liquids I used but I have had another main stream pod mod user try this and they enjoyed the flavour.
Pros:
Stylish
Comfortable to hold
Easily portable
Battery capacity is decent (normal vaping)
Flavour (Other pod mod user)
Smooth Air Flow
Cons:
Flavour (for me)
Pod system can be fiddly.
Only comes with 1 Pod
Needs to wake up on first pull
Final Review Verdict
I would recommend the Suorin Vagon pod mod to new vapers who want an easy vaping experience but it may not necessarily be a good match for the more experienced vaper. I believe this mod would suit people who want a stylish device that can latch onto your pocket or can be easily carried around.