This One Can Definitely Be Classed As A 'Proper MTL Vape' – It's TIGHT In More Ways Than One!
The original Vandy Vape Berserker was a huge hit so how does the new 1.5 version compare and has there been any major changes?
Once again this is collaboration between the popular China based company and YouTube reviewer Alex from Vapers MD who it would seem is a MTL specialist.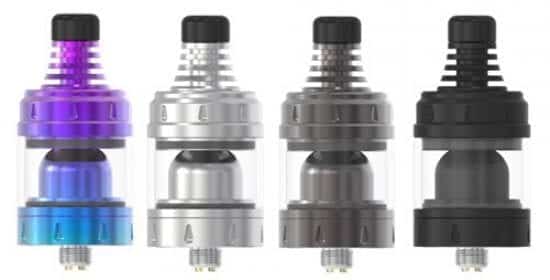 As a regular mouth to lung vaper I was pleased 2018 saw a growth in MTL rebuildables with such releases as the Ehpro True MTL RTA – the GeekVape Ammit MTL RTA and the Vapefly Galaxies MTL Squonk RDTA to name a few.
OK this was sent to me free of charge for the purposes of this review – thank you – and as always my thoughts and opinions are my own.

Inside the Box
The usual sample Vandy Vape packaging – retail will be different – and inside you'll find:
1 x Vandy Vape Berserker V1.5 MTL RTA
1 x Accessory bag
1 x User manual
1 x 3ml metal tank
1 x 510 drip tip
Vandy Vape Berserker V1.5 Specs
Length: 32 mm
Diameter: 24 mm
Glass tank: 2.5 ml
Metal tank: 3ml
Key Features
This is a mouth to lung RTA [MTL] and a collaboration between Vandy Vape and You Tube reviewer Alex from Vapers MD and is obviously the follow up to the hugely popular previous version.
Further Reading: Mouth to Lung Vs Direct to Lung Vaping Styles
It's 24mm in diameter and you have a choice of the glass or metal tank with 2.5ml and 3ml capacity respectively.
I didn't review the original (you can read the Mini version review here) however I did buy one and used it as my go to MTL RTA for quite some time – despite the very tight draw – until the 3Cvape Savour and the GeekVape Ammit MTL RTA came along that is.
OK the airflow on this one looks just as tight at first glance and seems identical to the original. Indeed apart from a few subtle design changes on the outside – there's not a lot of difference with the decks either. However the new version does have flathead screws out of the box which some of you might not appreciate but never fear there is a spare set of crossheads in the accessory bag.
The airflow comes in from one side and flows under the coils. There's a subtle difference between that from the original as the new one is more of a slot rather than a round hole. I'm guessing the idea here is to balance the air over the coil maybe?
The doming on the chamber also looks the same with a very narrow hole to the mouthpiece – of which there's two in the box – one with heat dissipating fins and ultem tip and another plain one.
Design and Build Quality
Even at 24mm the Berserker 1.5 MTL RTA still manages to keep a low sleek profile and I think the new one looks sexier than the previous version which I felt was a little chunky. I really like those fins on the drip tip as well as the ultem tip – not sure if those fins are necessary as I doubt anyone will be vaping this at high temps – but like I said they look good.
The build is OK but with one major flaw…the top cap and airflow.
Good luck in getting that top cap off!
Straight out of the box mine was solid to say the least I've tried everything to get it off! From a few minutes in the freezer – put under a hot tap and then lubed up with juice – nothing is shifting it – mole grips would help but hey I don't have a tool kit lol. Eventually and for the purpose of this review I filled the tank from underneath – with a little spillage just so I could vape on it.
Whilst I'm not the strongest bloke around trust me that cap would not budge and as I was cleaning it for the review photos I had last go using pliers and as you can see I've dented it…I really hope Vandy Vape has sorted this out!!! Apologies for lack of my photos showing it assembled – in future I shall be taking photos as soon as things arrive lol.
I'm hoping that's just an issue with the first run of tanks, otherwise, and trust me on this, you'll be cursing and getting bloody sore fingers lol.
Speaking of knurling the airflow control on the one I received has the exact same issue – it's hard to grip given it's the exact same knurling and when attached to the mod it can be a bugger to move. Definitely a case of more pronounced knurling would alleviate this issue – however at least once you've set your optimum airflow it ain't going to move!
How Does the Vandy Vape Berserker 1.5 MTL RTA Perform?
If you like a tight and I mean sucking a horse through a hosepipe tight then this is for you. This is tighter than the spandex vest and Y-Fronts I wear… [There's a vision for you lol]… But I think you get my drift…this is TIGHT!
There's 5 airflow settings: 1 mm – 1.2 mm – 1.4 mm – 1.6 mm and 1.8 mm with a real noticeable difference between them.
As to the build deck…in a nutshell this is about as simple as it gets – maybe a little tight in there but no worries at all getting the included coils in whatsoever. Simply raise the screws and drop the coils legs in – tighten down and snip off the excess – easy.
Wicking is a doddle too with generous juice ports and I found once more that when it comes to cotton more is less. BTW I found the tails just off the deck was a perfect length giving me good wicking and not one dry hit or leak.
Flavour and Vapour
I used my go to tobacco flavoured e-liquid which is currently the 50/PG 50/VG Amber Blend from Decadent Vapours shake 'n vape range – so a quite runny juice. I know the flavour of this one very well indeed especially off the GeekVape Ammit MTL RDA. If I'm honest and despite the extremely tight airflow the flavour was OK – certainly not popping but just about OK.
I did compare both Berserkers with the same e-liquid and to be honest couldn't tell them apart in flavour or vapour. Cloudage wasn't spectacular but then again that's not what MTL vaping is about…it's about the taste and whilst good it wasn't outstanding in my opinion.
Even wide open that airflow is far too restricted for me and I was getting dizzy at times especially chain vaping which I tend to do in the mornings. However I'm guessing those of you looking for a so called 'proper MTL vape' will be happy. I also reckon new vapers fresh off the fags who can build will, also be happy as it's certainly as tighter than a lit cigarette.
One good point is how smooth and quiet the vape is on this – not a hint of turbulence or a whistle.
Pros
Easy build deck
Sleek design/profile
Choice of drip tips
Choice of glass or metal tank
Decent price
Smooth quiet vape
Cons
Top cap is ridiculously tight to the point I gave up!
Airflow ring hard to move when on a mod
Therefore build quality not so good [see above]
Flavour just OK
Final Review Verdict
If you own the original Berserker [not the mini] then there really isn't much point buying this one unless you really feel the need to upgrade.
Apart from the looks – different knurling [which is pretty much useless for gripping] and the slot rather than hole on the deck, not a lot has changed. I know you can argue why change something that doesn't need fixing but that deck is basic to say the least.
Compared to other MTL RTAs I've tried the flavour off this one isn't up to scratch either as far as I'm concerned – even more so using the metal tank.
I MTL vape every single day and whilst I know they're supposed to be tight this one is far far too tight for me. I don't like to have to 'work' on getting a draw and with this you really do need to suck those cheeks in giving you not only a blue tinge but the look of one of those Instagram 'babes' pulling a dumb duck face.
Indeed the issue with the top cap refusing to budge and the ham-fisted attempt I made of unscrewing it with pliers means sadly this one is now unusable so definitely not one for me I'm afraid.