The Vapeeze Solice Pro pod kit features an ultra violet light to 'clean' germs and bacteria from your mouthpiece.
The first time I heard of the name 'Vapeeze' was the moment I opened a package from EcigClick just two weeks ago, and inside was this really smart looking, fairly large box.
What quickly came to mind was the question 'why such a large box for a pod system?'
Whilst enjoying the next few minutes, opening the packaging I was also googling Vapeeze to see who they are, and what they do – who said men can't multi-task!
After a little research, Vapeeze appear to be designed in Las Vegas, USA, and produced in the centre of vaping manufacturing, Shenzhen.
"The VapeEze core team is a mix of American tech and ecommerce pioneers and Chinese manufacturing muscle and might."
What Can We Expect From The Vapeeze Solice Pro Pod System?
With the box opened and sifting through the relevant manuals and booklets that come in the kit, you immediately understand why the Vapeeze Solice Pro comes in such a large box.
And it's not because of the 280mAh stick style Pod kit, but because of the almost glasses case size 1050mAh Charging case included in the pack!
The Solice Pro kit come with 2 pods which are refillable only and hold 1.5ml of e-liquid and their coil resistance is a tiny 1.5Ω coil.
But the main features of the Vapeeze Solice Pro has to be to do with the charging case.
Not only will it recharge the Solice a number of times, it also doubles up as an ultra violet light which will sterilize the mouthpiece whilst charging – now this, I haven't seen before.
So let's crack on with the review and see what this kit is all about.
This kit was sent to me free of charge for the purpose of review.
All views and opinions are solely those of my own and do not necessarily reflect the opinion of others.
Inside the Box
1 x Solice Device
1 x Charging Case
2 x Refillable Pods
1 x Micro USB Cable
1 x User Manual
1 x Warranty Card
1 x VIP Card
Vapeeze Solice Pro Specs and Features
Size: 93.5×19.0x10.0mm
Battery: 280mAh Internal & 1050mAh Charging Case
Weight: 19.5g
E-Liquid Capacity: 1.5ml
Pod Resistance: 1.5Ω
Output Voltage – 3.3v | 3.7v | 4.0v
Charging: Via the Charging Case
Available colours: Charcoal Black
Vapeeze Solice Pro Design and Build Quality
Starting with the charging case which is approximately 12m long and 4cm wide.
The case itself has that really nice smooth matte black finish, feels quite premium to be honest, and when opened up all that you really see is a small indented shape which can house the device itself, with 2 brass or gold plated contacts on one end.
Secretly hidden on the top end of the insert, is a little LED which is where the UV light comes from.
The charging case isn't really that large or difficult to carry around, its still pocket friendly and fairly lightweight.
The Solice device is like many simple, small pod style devices we've seen. However, it does include a smart looking indicator/button which illuminates brightly and also changes colour depending on battery capacity level and which power setting you have it in.
The Vapeeze Solice Pro, thanks to three clicks of the button, will allow you to switch between 3 voltage settings: Purple is 3.3v, Blue is 3.7v and Red is 4.0v
Vapeeze Solice Pro the Pods
The two 1.5Ω Pods click nicely into the device and have a slightly different filling method to a number of other pod systems I've tested in the past.
Unfortunately this is another one of the Pod systems that doesn't allow you to replace the coil once it goes bad, which means more waste…I'm never a fan of that.
However the Pods, in my experience have been fairly long lasting and generally perform quite well.
How To Fill the Vapeeze Solice Pro
The Solice pods have a clever little latch system at the base, you may need a little screwdriver or at the very least, fingernails to open the latch.
Once you have it open, there is a small filling port which takes the 10ml bottle size nibs no problem.
Here's how to fill the Solice pod with e-liquid:
Remove the Pod from the device
Open the latch at the base of the Pod
Fill with your desired e-liquid
Re-fit the latch and place the pod inside the device
 Vapeeze Solice Pro Pod System In the Hand
The Solice by itself, without the charging case is about as 'pocket friendly' as you can get.
And in the hand its a slender and sleek device with a smooth feel.
In comparison, it's very similar to the Hexa V2 Pod Kit and looks fairly similar too.
How Does the Vapeeze Solice Pro Perform?
Generally, I used a 50VG 50PG Nic-Salt e-liquid that was kindly sent over from Vapeeze called Smoozie – Strawberry, Pineapple & Mango.
I'd recommend not going above the 50VG ratio with this system, the coils are so small and I imagine a thicker e-liquid may struggle with a higher viscosity of e-liquid.
Read more: VG VS PG In E Liquid: All You Need To Know
Vapeeze Solice Pro Pod Kit – Flavour and Clouds
I toyed around with the three voltage settings on the Vapeeze Solice Pro firstly to see if there was actually any difference in the output and the experience, and also to see if it made any difference to the vapour production and flavour.
Most of the time, I was more than happy with the 3.7v Blue setting which delivered good flavour, and a discreet yet satisfying cloud, and with the High-Nic Content, a decent throat hit.
It has to be said, I also experienced ALOT of spit back with one of the two pods, which was very frustrating.
I'm still not quite sure why I had so much spit back, but having slightly warm 20mg Nic Salt enter your mouth just isn't nice at all. However that being said, pod number two was a lot better.
Vapeeze Solice Pro Airflow
The Solice device has no options with regards to airflow adjustment, but the device does deliver a nice, fairly restrictive Mouth To Lung vape.
This is by no means the tightest draw I've had from a pod system but its definitely close to the draw you get from a cigarette. Which is what we're looking for right?
If you want more restriction, you can cover the USB Port at the base which will lead to a tighter draw but in all honesty I never felt the need to do this.
Vapeeze Solice Pro Battery Life
The Solice may only have a 280mAh battery, but there are 2 important factors to consider here.
Firstly, with the 1.5Ω Coils, they really don't require a lot of power, so even at the highest 4.0V setting, I was getting a good 5-6 hours out of the device.
Secondly, It became an easy habit to place the device back into the charging case after use, which meant the larger 1050mAh Case was recharging on-the-go. So generally I was never caught short with regards to running out of battery life.
The case itself is also rechargeable with 4 bright green indicators on one end and a on/off button.
Also, should you leave the case at home, or lose it. You can still charge the device via the Micro USB port at the base.
One more thing, the Vapeeze Solice Pro does not feature 'Pass-Thru' technology so you wont be able to charge and vape at the same time.
Vapeeze Solice Pro the UV Light
As mentioned, when charged inside the case, the Vapeeze Solice Pro will be sterilized thanks to the ultra violet light.
Now there is only so far I was willing to go with testing this, mainly because you really have no idea how hard it is to get hold of test kits right now, thanks to the Covid-19 Pandemic.
However, I done a little research on UV light, and this is what they say:
"UV lights disinfect by disrupting the molecular bonds that hold together microbial genetic material or proteins"
Now we may also know as UV light as the electromagnetic stuff that comes from the sun which causes sunburn and skin cancer among other things.
However there could never be a point where you can use the device and have the UV light on at the same time.
Honestly, I'm taking Vapeeze's word for it that this works, and I think its an excellent idea.
If it's sterilizing the device during charging then surely that's a good thing? Maybe this kind of simple UV technology could be used on more devices? Is it really necessary however?
Now don't think this means you never need to clean the pod, because you should. Our mouths contain around 500 to 1000 different types of bacteria at any one time so as much as the UV does or doesn't work, its still worth giving the device a good wipe over every now and then.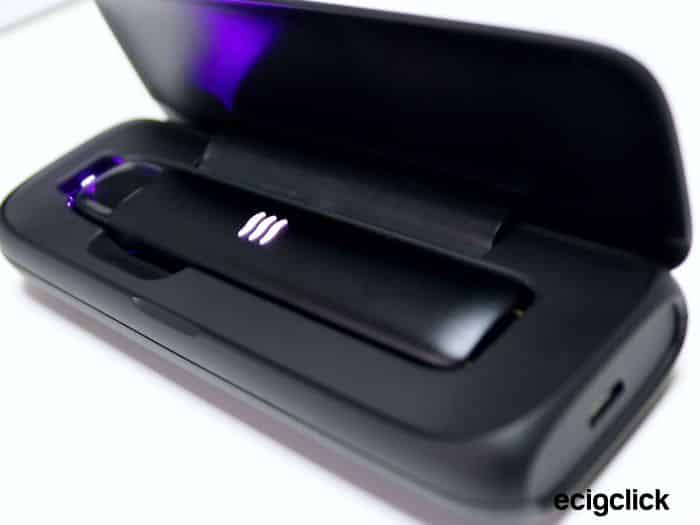 Nonetheless – the addition of a UV light is clever and gives this device a little something extra over the other small pod devices that also come with a charging case.
Does the Vapeeze Solice Pro Leak?
I always ask this question of pod systems, mainly because so far, I have not had one that doesn't leak, and I don't think I'm ever going to find one that doesn't leak.
However, there is leaking, and there is condensation.
The Vapeeze Solice Pro suffers from a small case of condensation, but its very minor. So considering this is a 'bottom filling' pod, the fact it does not leak, is very good to see.
Pros
Almost replicates a cigarette like experience
Good battery life with added charging case bonus
Bright indicator button
Charges fast and lasts well
UV Light to sterilize the pod
Cons
First pod was nothing but spit-back
Flavour could be improved
Final Review Verdict
We've seen pod device after pod device, all claiming to be the best for flavour, draw and general user satisfaction.
The Vapeeze Solice Pro, in my opinion is not the best from a huge bunch, but the added benefits of the charging case, UV Light and also the range of e-liquids that Vapeeze sell, I can see why some users may find Vapeeze a good option as they do everything in house, which makes life easier for a new vaper.
As the pod mod battle for domination carries on and on, I put the Vapeeze Solice Pro Pod Kit deeply in the starter kit category, with the added benefits I've just mentioned.
Considering the recent, and ongoing Covid-19 Epidemic, I think the Vapeeze Solice Pro is an excellent option, especially for those who are very concerned about viruses and bacteria.
Would this device be long lasting and still work 3, 6 or even 12 months from now?
The device, and charging case feel high quality and well made, the 280mAh device may be a small capacity, but with a charging case designed to charge the device, I'm sure this will last quite a while before you need to consider replacing the device.
Does this device deliver the flavour, vapour and general experience I require, in order to be enjoyed?
The flavour could maybe be improved slightly, perhaps a coil with a lower resistance could be possible?
I've seen a number of pod coils recently that feature a 1.2Ω mesh coil. Yes the lower resistance may have an impact on battery life, but it wont be a great deal and if it improves the flavour, then I doubt anyone will argue with that.
With regards to the actual experience, Its certainly 'cigarette like' – not quite the best draw I've had from a pod system to replicate the stinkies, but its good.
Is this device versatile to suit a new vaper, and an experienced one a like?
100% this is designed for the newbies to vaping.
But perhaps might pick up a few sales from those keen to limit the spread of germs. We'll have to see.
Have you bought the Vapeeze Solice Pro pod kit?
Or have you given it a try?
Let me know your thoughts in the comments below.