Lately we have seen an explosion in the "Box Pods" – basically pod mod systems which are a box shaped. We compare the SMOK Trinity Alpha, Lost Vape Orion Q, Zeltu X, Geekvape Frenzy and the Smoant Pasito to see which are the best.
Where it started is difficult to pin down but either the Zeltu X or the Lost Vape Orion DNA Go were the first devices to use this shape and style of device.
Then Lost Vape released the cheaper 'non DNA' version, the Quest. Smok followed with the Trinity Alpha and now we also have the Geekvape Frenzy and Smoant Pasito too to name a few!
Which Box Pod Should I Choose?
So I thought it would be great to gather a few of these together and basically do a comparison. We have used devices which are all in a similar price range – the Orion DNA kit is more expensive and targeting a different market so would be unfair to compare it to cheaper rivals.
This comparison guide is to help you decide which of these devices are best for you. We all have different priorities when choosing a vape so I will try and cover all the features of each kit to help you decide.
For instance I prefer to be able to change just the coil head rather than whole pod and different coil options are also something I like.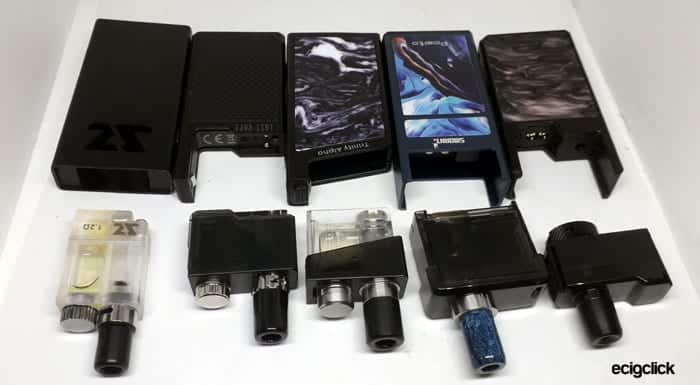 However for others it may be one of the following that makes you choose a device:
Price
Direct to Lung (DTL) or Mouth to Lung (MTL) performance
Airflow adjustment
Battery capacity
Power level etc.
I also roped two of my good buddies Beth and Grant into helping me trial all these devices to get another viewpoint and we pooled our opinions together.
For an explanation of some of the terms used in this review please read the following guides…
Box Pods Used In Comparison
Links to the full review of the devices on Ecigclick if we have reviewed them are below:
As for the Zeltu X I have not reviewed this as this was my own purchase but I have used it extensively!
Spec Comparison
With a few devices (Geekvape Frenzy, Zeltu X and Lost Vape Orion Q) I could only do MTL tests with 50% VG / 50% PG e-liquid due to the supplied coils. I used 3 different e-liquids:
For the Smok Trinity Alpha and Smoant Pasito I was also able to use thicker e-liquid in addition to the liquids stated above. I used IVG Bubblegum which is 70%VG and had 7mg Nic Salt added.
| | | | | | |
| --- | --- | --- | --- | --- | --- |
| Model | Smok Trinity Alpha | Lost Vape Orion Q | Zeltu X | Geekvape Frenzy | Smoant Pasito |
| Battery capacity | 1000mAh | 950mAh | 1000mAh | 950mAh | 1100mAh |
| Replaceable coil? | Yes – Nord Push In Coils | No – replace full pod | No – replace full pod | Yes – Flint compatible | Yes |
| MTL coil options | 1.4ohm regular, 1.4ohm ceramic, 0.8 ohm Mesh | 1ohm pod | 1.2ohm or 1.6ohm pod | 1.2ohm NS coil SS316L, 0.7ohm NS Mesh KA1 | 1.4ohm Ni80 |
| DTL coil options | 0.6ohm Mesh, 0.6ohm Dual regular | None | None | None | 0.6ohm Mesh |
| Power output | 6-30W | 17W (up to 40W with software) | Not specified | 2.5-2.9V | 10-25W |
| Adjustable power? | Soft, Norm, Hard | No | No | 2.5V (420°F) / 2.7V (440°F) / 2.9V (460°F) | 10W, 13W, 16W, 20W and 25W |
| MTL Flavour /10 | 8 | 9.5 | 5 | 10 | 5 (dropped off after 2 days) |
| MTL Throat Hit /10 | 8 | 9 | 8 | 10 | 3 |
| DTL Flavour /10 | 8.5 | – | – | – | 10 |
| Airflow adjustment | No | Yes | Yes | Yes | Yes |
| Rebuildable coil? | No | No | No | No | Yes |
'Best Box Pod For…' Verdict
After testing and comparing these Box Pods this is what I would recommend, depending on what I want from the device:
| | |
| --- | --- |
| Best For?: | Model |
| Battery Life | Smok Trinity Alpha |
| MTL Vape performance | Geekvape Frenzy |
| DTL Vape performance | Smoant Pasito |
| Switch between DTL / MTL and liquid types | Smok Trinity Alpha |
| Economy | Smok Trinity Alpha |
| DIY coil builders | Smoant Pasito |
| Ease of use | Zeltu X or Orion Q |
Why I Chose the Box Pods Shown Above
Best Box Pod For Battery Life
Battery life will depend on many things – the coil resistance, power levels, nicotine strength (you will vape less on higher nic!) and your own vaping habits.
To give you a rough idea of my vaping habits I usually use two Smok Nord kits. One charging and one in use and together they both last me a full day of vaping.
For me the Smok Trinity Alpha seemed to give the best battery life with 9.5 hours of vaping with the 0.8ohm mesh coil on the normal power mode.
The Zeltu X also did impressively with 8 hours vaping time!
I found with the 0.7ohm coil in the middle power setting (2.7V) I got 6.5 hours of vaping with the Geekvape Frenzy which was good.
The Smoant Pasito gave me 5 hours but that was in the highest power mode. It may have a better battery life in a lower power mode.
The Orion Q gave me 5.5 hours and there are no variables of coil resistance or power modes.
All the above were tested and timed by me – so my own vaping style should be consistent between all the devices.
Best For MTL Vape Performance
The Geekvape Frenzy with the 0.7ohm coil and high nicotine / nic salt liquid is a beauty.
For me, the best for flavour, throat hit and quality. You can adjust the power too.
I found the 1.2ohm coil performance a bit weaker and using higher VG e-liquid in here might struggle as the coils are so tiny. But this is a great little kit!
We did have a bit of a debate about the Frenzy as me and Beth both agree it is 10/10 for MTL.
However, my friend Grant thinks the Orion Q is the best. He was of course out voted but I will say the Orion Q is a very close second!
Also worth adding here that the Orion Q is super economical with e-liquid use – I am rarely having to top this up!
I usually use my Smok Nord for MTL vaping but I still keep picking up the Frenzy as it is such a great throat hit.
I haven't a clue as to coil life yet as I have had to keep changing the coils to test different e-liquids but will try to update with coil performance at a later date.
Best For DTL Vape Performance
I have loved using the Smoant Pasito for DTL and high VG (70%) e-liquid. The flavour is beautiful and it is a nice little kit.
I found it performed poorly with the 1.4ohm coil so I wouldn't buy this for a MTL device and the airflow control isn't great.
When I am out and about I take the Pasito with the high VG e-liquid in – so I don't over-do the nic and get the vaping voms. This is the first kit I choose from this selection for that purpose.
The coil life so far has been great for the 0.6ohm mesh coil – over 2 weeks – although this isn't my main device.
Best For Those Who Use DTL and MTL Vaping And Change E-liquid Types
For this category the Smok Trinity Alpha is the most versatile. You can choose now between 5 different coil heads and 3 power levels for this device.
I found the 0.6ohm Mesh coil to give lovely flavour for higher VG, the 0.8ohm mesh MTL was pretty good and my favourite 1.4ohm regular coil is similar performance with higher nicotine strengths as my beloved Nord!
There is also a ceramic 1.4ohm coil – which I have heard is poo and a new dual 0.6ohm regular coil. I haven't tried either of these!
Best Box Pod For Economy To Maintain
I have picked the Smok Trinity Alpha here – as you can just change the coil head without buying a new pod each time.
Plus when you do buy a new pod it comes with two coils too!
I found with the 1.4ohm coil with nic salt I was getting a good 7 days of extremely heavy usage before the flavour started to drop off. It wasn't burnt out but the flavour did drop.
Also using the 1.4ohm regular coil in my Smok Nord I have just had 2 weeks from the same coil. I had ran out of them and was waiting for Vape Mail! The flavour had weakened a lot but no burnt taste and I still was getting plenty of throat hit!
The coils come in packs of 5 for around £10-15 – so for that price you have at least a months worth of coils.
The coils are also interchangeable with the Smok Nord Kit and the Smok Nord AIO devices.
Obviously the RBA deck in the Smoant Pasito will ultimately be the cheapest to maintain but this does require the skill and motivation to be able to build this yourself.
Best Box Pod For DIY Coil Builders
Well that is easy – Smoant Pasito. No brainer as this is the only kit with a rebuildable coil option that I have tested.
The RBA deck is really fiddly and badly designed however the performance surprised me a lot!
The Vapefly Jester is another pod mod which has an actual RBA deck fitted to a pod so that may be less fiddly but I haven't tried that to know!
Best Box Pod For Ease Of Use
I think the Zeltu X or the Orion Q are the simplest.
No coils to change or power levels to adjust. The pods have set coil resistances so you just use the same liquid and all the same settings.
All you then have to contend with is filling, charging and airflow adjustment!
But replacing the entire pod does make these slightly dearer to run – especially the Orion as the pack of 2 pods can be as expensive as 5 coils for the Smok Trinity for instance.
Plus of course there is extra waste. But for some this is the kind of zero hassle style kit they really need.
Again as for pod life I haven't been able to thoroughly test one pod at a time as I have been changing e-liquids and using new pods.
Will update the guide at a later date with how both pods perform for coil life.
Box Pod Alternatives
Well there are some box pods and pod mods which are not included but really do deserve a mention for being outstanding.
Have a read of our Top Rated Pod Mods article for some more ideas – I personally highly rate the Smok Nord, Innokin EQ and Innokin EQs.
Also for starters and MTL vapers you don't necessarily need a pod device.
Other alternatives which performed well are the Geekvape Flint, Innokin Endura T18-II and others listed in our Top Rated Vape Starter Kits article.
So it's down to you!
Have you used the SMOK Trinity Alpha, Lost Vape Orion Q, Geekvape Frenzy, Zeltu X or Smoant Pasito? How do you find they perform?
Let us know in the comments below.