The OXVA Xlim Pod Kit is the latest release from a really popular vape brand that has only been around since 2019.
In fact I have never used an OXVA product myself… yet!
However in that short time there has been some excellent vape gear with the OXVA badge including the Origin, Origin X, Arbiter RTA, Velocity and the Arbiter Solo RTA.
All the above have been real crowd pleasers and helped to get the OXVA name well known in vaping circles.
What Can We Expect From The OXVA Xlim Pod Kit…
Yes I know – another pod kit…I can hear everyone yawning from here!
However this has more features than just your basic pod kit yet is designed to be simple enough for the most technophobic vapers.
The main feature to offer simplicity is the actual pod, this is refillable but has a fixed coil.
Basically when the coil performance deteriorates over time – you just discard the pod and replace with a new one, no messing about changing coils.
There are 2 different pod types – both included in the kit – the 0.8ohm pod has an 0.8ohm Kanthal Coil and is best at 12-16W.
There is also the 1.2ohm pod – again with a Kanthal coil and is rated 10-12W.
The fill port is located beneath the removable mouthpiece, in standard pods this has a simple silicone check valve. If you have the 1.6ml PTF pod this has a push to fill valve to make it more childproof.
Inside the device is a 900mAh battery which you charge using the USB Type C port at a fast 1A charge rate.
The output is variable – which is what takes the OXVA Xlim a league above the standard fixed coil pod kit.
You can adjust the wattage from 5-25W and your vaping data is displayed on the 0.42in OLED screen.
Another great addition is the slide airflow control which should mean you can tailor the incoming airflow to suit your preference.
There are 6 colours to choose from: Silver, Rose Blue, Green, Dark Blue, Gunmetal and Black.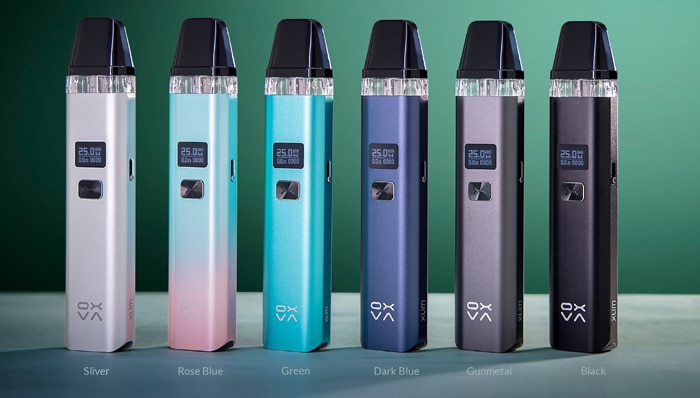 As always I will report back honestly on my findings on the devices I have in my hand – that is all I can do! Your experience may differ to mine.
Inside the Box
OXVA XLIM device
0.8ohm pod (installed)
1.2ohm pod
USB Type C cable
User manual
OXVA Xlim Pod Kit Specs
Size: 111x24x14mm
Output: 5-25W – VW (device limits output range to suit pod installed)
Battery: 900mAh
Capacity: 2ml (standard) / 1.6ml (childproof Push To Fill – PTF)
Display: 0.42in OLED Screen
Resistance range: Not specified
USB Type C port – 1A charge rate
Pods: Refillable, fixed coil disposable pod
Coils: 1.2ohm, 1.8ohm mesh coils
Adjustable airflow
Auto draw or button activation
Top fill
Airflow sensor protection cover
OXVA Xlim Design and Build Quality
I received 2 of these kits in the Rose Blue (my favourite) and Gunmetal colours.
I got the 2ml versions which do not have the PTF (Push To Fill) childproof system so I am not able to test that function.
The packaging was excellent with generous contents including a Lanyard, USB Cable, extra pod (not all manufacturers include a spare pod!) and a spare "sensor protector" – more about where that goes later on!
Despite being quite thick the instruction leaflet only has 4 pages per language and my first issue was trying to get the mouthpiece off to fill the pod. The instructions were not exactly helpful for this!
Inside the Gunmetal coloured box I got a "Lucky Box Sticker" which I think is a wrap for the mod?
I looked around and apparently only 30% of the first batch of the Xlim contain a sticker! I feel lucky!
OXVA Xlim Mod
The mod body is made from Aluminium Alloy with a metallic coating.
The colour gradient effect on the Rose Blue version is absolutely stunning!
On the front of the mod is the small screen which is actually super cute and lovely resolution – even with a little "OXVA" graphic when you switch on!
On the screen is the Wattage, battery capacity icon, resistance and puff counter.
Below the screen is the fire button which is clicky and responsive and houses the cute "X" logo which is a coloured LED.
At the base of the front is the "OXVA" logo.
The bottom of the mod includes the USB Type C port and the required legal logos, this is a black plastic material I think.
The rear of the mod is completely plain.
On the side of the mod is the airflow selector slide switch. This has a pin head style knob which doesn't protrude massively and the slide feels super smooth without being too loose.
At the top of the mod is the pod area with 2 magnets and 2 contacts which connect to the pod whichever way around you install it.
There are no rattles or wobbly bits and it just feels like a quality item!
Even the included Lanyard is a thing of beauty and fits the mod like a glove!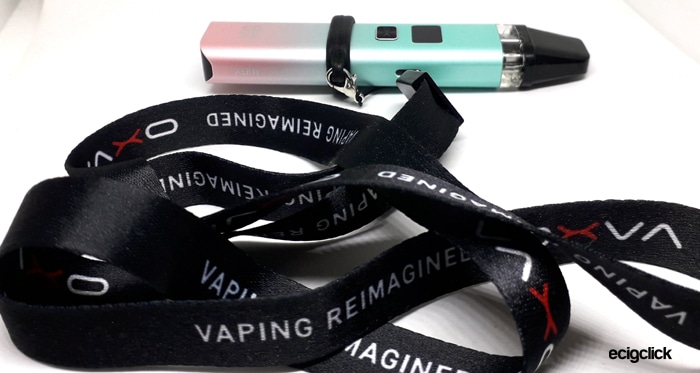 Nice one OXVA!
OXVA Xlim Auto Draw Sensor
As mentioned above there is a spare "Sensor Protector" included in the kit.
This did intrigue me as to what it was for.
If you have a leaky pod on auto draw devices it can damage or short out the draw sensor and either prevent it firing properly or constantly fire.
Now this little cover is there to protect the battery and contacts from damage due to liquid ingress, there is already one installed and you get a spare in the kit.
OXVA Xlim Pod
The pod sits inside the mod and about 5mm of the clear pod section is exposed to help view the e-liquid level.
You won't be able to see that much when the level drops below this but you can tip the mod to at least make sure there is liquid present in the pod.
The base of the pod has the resistance and the recommended power limits printed on and there are 2 contacts and 2 strong magnets.
I have found the pod to be secure and no rattling or falling out!
The 0.8ohm pod has a red seal band to help tell the different pods apart quickly.
OXVA Xlim Filling
I have had real trouble removing the mouthpiece to access the fill port.
The instructions were pretty useless and my first attempt included biting the mouthpiece to try and pull it off and also wedging a nail file in the little lip below the mouthpiece.
Both of these did not work. Somehow I got it off but I can't remember how!
The second refill is much easier and you need to wedge your nail in the little lip to pop the mouthpiece off, but for the first removal I found this super tight.
I am even trying again with the other kit I have and I can't even get the mouthpiece off – I have tried the nail in the lip, nail file, teeth and still it won't budge.
In the end I resorted to a screwdriver and got it off. Now that first removal has been done it is easier to clip on and off. I wouldn't like to be out and about for that first refill!
The 1.2ohm pod is worse, I have refilled 5 times and still struggle to get the mouthpiece off! Resorting to whatever metal pointy thing I can find nearby.
So as you can tell I really dislike the refill port access, I do have dodgy hands so I might be finding it more complicated than everyone else.
The fill port on mine has a silicone check valve plus an air vent to prevent airlocks when filling. I had no issues with my e-liquid bottle nozzles fitting into the port and it works well.
But you can get an airlock, and when you stop squeezing the e-liquid in it can suck some of the liquid back out into the bottle.
Also it makes the liquid very slow to flow around the pod and can sometimes have uneven levels on either side of the coil.
OXVA Xlim – A Tale Of Two Halves…
So this has not been the easiest review I have ever done – it has been a long road to get this finished.
The reason being – put bluntly – was the pods.
Originally I received 2 kits both with 0.8ohm and 1.2ohm pods.
Now these were terrible – with the original pods this kit was a stinker.
I had leaks, I had a pod burn out after only 5 refills and so on. They were lovely to vape on but the hassle with refilling and the other faults made me dislike this kit a lot.
Anyway we had been contacted by OXVA who are aware of this issue on early kits.
They said they would send replacement pods and also wanted us to add this advice to try to prevent the leakage – I quote…
Because of atmospheric pressure, it will cause leaking if not covering the cap immediately after filling.

So after filling, must cover the mouthpiece tightly and immediately.

Recommend liquid PG:VG is 60:40 and 50:50.
OXVA Xlim – Replacement Pods Sent From OXVA
I got no leaks from the new pods – there was a slight amount of condensation on the pod base / mod contact area but nothing compared to how badly the original pod leaked.
At times the mouthpiece removal was slightly easier but it still could be a total git at times – so this has only slightly improved.
OXVA Xlim Pod Kit Quick Start Guide
This arrives with the 0.8ohm pod installed but this does have a protective insulator sticker on the base to prevent firing it before you fill the pod.
If the pod is empty when you fire the mod – it will knacker up your coil and therefore the pod is totally scrap.
So fill up the pod, remove the protective insulator sticker, charge up and away you go!
I tell you how to do all these things in my guides below – so don't panic!
The pod is held into the mod magnetically – so is easy to pull out.
OXVA Xlim Basic Operation
Power On/Off = Press the fire button 5 times quickly.
Vaping = either press the fire button for manual firing or inhale on the mouthpiece to trigger the auto draw firing.
Battery indicator = The screen will display the battery charge remaining.
Battery indicator when charging = the screen will display the progress of the charging. When fully charged the screen will go off.
Adjust airflow = move the slide switch on the side of the mod to increase / decrease the incoming airflow to your preference.
Adjust the wattage = press the fire button 3 times – when the screen is flashing press the fire button to increase the output. Each press = 0.5W increase. If you want to speed this up hold the button down. The output available will match the coil installed – for the 0.8ohm coil you can adjust between 5-18W and for the 1.2ohm coil it is 5-13W. Once the maximum output is shown the next button press will return it to the minimum power level again.
Puff counter = this resets when the device is turned off.
OXVA Xlim Protections
Low battery – "battery low" displayed on screen – charge up the battery.
Short circuit / too low resistance – "short" is displayed
No Atomiser / open circuit – "no atomiser" is displayed.
Over time – "timeout" is displayed if the fire has been activated for longer than 8 seconds. The fire operation will cut off to prevent overheating / damage.
High temperature – "temp high" will display if the device overheats.
How To Charge The Battery
The charging rate is specified as 1A.
Using the included USB type C cable connect the small end into the USB port on the mod.
Connect the large end of the cable into a suitable USB outlet.
The screen will display the charging progress and will turn off when fully charged.
The charging time for me using both my 0.5A PC USB port and my 1A mains charger was 1 hour give or take a few minutes which is pretty quick.
How To Fill the OXVA Xlim
This is tricky but insert a nail into the lip area and flip up the mouthpiece. The first time you remove this is it very tight!
With the mouthpiece removed add e-liquid to the fill hole as shown.
Watch the e-liquid level through the clear side of the pod.
Replace the mouthpiece firmly.
If this is the first fill allow the pod to stand for 10-15 mins to allow the e-liquid to soak into the coil. This is called Priming and is a very important step. If not fully primed you could burn the coil out and your throat lining in the process!
How Does the OXVA Xlim Pod Kit Perform?
I used a 50/50% VG / PG e-liquid in here – Bubblegum Nic Salt 11mg from Crazycloudzzz.
These e-liquids have been very kind to my coils in other devices so I do not anticipate any coil burn-out due to e-liquid.
If any of these terms are over your head – have a read of our handy guides below!
Originally the performance of this kit was pretty terrible.
OXVA did contact us (before I had finished this review) to inform us that some of the earlier pods had faults.
They promised to send 2 new pods so I have had to rewrite this section as the update to the pods was (in the case of the 0.8ohm) a huge improvement.
OXVA Xlim 0.8ohm Pod – 12-16W KA1
I started off at 12.5W and already this is a beauty of a pod. The flavour is perfect – warm vapour and great throat hit!
At 14W the vapour is warmer and even more taste – this has a slightly drier throat hit but again is still lovely.
I went up to 16W and this gets really intense – the heat and flavour increase loads and is still a beautiful vape! However for my delicate lungs and throat I did find this to be pretty harsh with 11mg Nic salt.
It is worth noting the mod will only let you go up to 18W with this coil – which should help protect the pod and coil from damage.
The setting which suited me was 12W – still better for battery life but no compromise on flavour or warmth!
As for coil life I have filled this 10 times so far (approx 20ml) and the flavour is still spot on.
I do find this pod very thirsty for e-liquid – for 502 puffs I had refilled this 10 times. Plus the fact it is not an easy job to refill this got quite tedious.
Now the leaking situation has improved I have really enjoyed using this pod.
OXVA Xlim 1.2ohm Pod – 10-12W KA1
When you install the pod the mod automatically sets the output to 12W.
I first tried this at 10W and this is a lot milder vape than the 0.8ohm pod as expected and very very smooth.
I found the 0.8ohm could be a bit harsh at the higher end of the power limits.
Initially I did prefer this pod – as I use nic salts the 0.8ohm pod I felt dried my mouth out. Whereas this is just all flavour with a bit of warmth.
With the output at 12W for this pod, there is slight warmth, tons of flavour and a great throat hit!
This pod is so smooth and doesn't leave me needing 4 gallon of squash to re-hydrate my mouth after a chain vape!
The original pod burnt out after 5 refills approx 10ml which was terrible really and I never left the pod empty.
With the replacement pod it has again had 5 refills at 343 puffs and I am detecting the odd harsh dry hit already. This really should not be the case.
Actually scrap that just had a couple more vapes all burnt and revolting.
Sorry OXVA this is not acceptable coil life at all.
I am using an e-liquid which is friendly in all other kits and I have never let the pod run dry or exceeded the maximum power limit.
Such a shame as I was enjoying this pod.
OXVA Xlim Airflow
With the airflow fully closed it is super tight! I mean sucking a melon through a straw tight!
You can still get the draw fire to work but you are turning blue a bit by then.
Even with the airflow fully open it is still a very restricted MTL draw on both pods.
I tend to have my MTL devices in the sort of mid restriction setting – but the fully open on the Xlim is similar to a medium airflow on another device.
If you want a tight MTL airflow this really is the kit for you!
If you favour a restricted direct lung then this is probably going to be too tight for you.
Mod Performance – Good
The mod limits the maximum output you can have for each coil to protect from burning the coil and your tonsils out which I like.
I love the little screen – the resolution is great – you even have a little OXVA icon graphic when switching on! The display is clear and was far better than I expected it to be.
The USB port worked perfectly – it is a shame it is placed on the bottom as it does mean lying the device down to charge – which when you have a leaky pod is not great.
OXVA Xlim Mod Performance – Bad
I did have a brief fault on the Gunmetal kit.
After I had refilled the pod for the 2nd time it would no longer recognise the 0.8ohm pod.
It kept saying "No Atomiser" or when it did register the pods existence it was displaying 1.2ohms??
I then tried the 0.8ohm pod from the Rose Blue kit and it recognised that fine. When I replaced the original 0.8ohm pod it was fine and this issue did not happen again.
I tried this pod on the Rose Blue kit and it recognised it – so it is a weird issue to diagnose and as it hasn't happened again I didn't look into it any further.
I am unable to establish if this was a mod or pod fault, but it did rectify itself.
It is worth noting I had no leaks on the Gunmetal kit so it was not due to e-liquid ingress.
The wattage adjustment is a bit clumsy – there is only the one operating button so you have to do multiple clicks and only move up in 0.5W increments.
Obviously as I am reviewing this kit with different pods and power levels it is more of an issue for me.
In general day to day use you will probably find your sweet output and not have to adjust it again.
I will say it is quite noisy in use – not the airflow or the liquid crackling – it is the actual buzzing noise of the mod when you are vaping – not quite stealthy enough for a sneaky vape in a quiet place.
Battery Life
These things are always difficult to report back on as it will vary according to your own vape habits, coil installed and power level selected.
However this does have a puff counter which may help your judgement.
I timed the battery life with the 0.8ohm pod twice at 12.5W, both times it was around 9 hours, and the puff counts were 279 (1st run) and 241 (2nd run).
With the 1.2ohm pod at 12W I got 8.5 hours and 261 puffs (1st run) and the 2nd run (with updated pod) 9.5 hours and 332 puffs.
Pros
Gorgeous looking device
Two pods, USB Cable and Lanyard included (not all kits offer these!)
0.8ohm pod has immense flavour, warmth and throat hit even at the lowest recommended output setting!
0.8ohm pod was still full of flavour at 10 refills (around 20ml of e-liquid)
1.2ohm pod still has incredible flavour but is far smoother and less throat hit.
Mod limits the output selection to suit the coil to prevent damage
Airflow is super tight – even quite restricted on most open setting – perfect for MTL vapers
Auto draw fire is quick and responsive – best I have found on a pod kit!
Beautiful screen display and cute LED indicator
Great battery life
Cons
Mouthpiece removal is tricky – especially for the first time
Gunmetal kit stopped recognising the 0.8ohm pod at one point – but it did rectify itself.
Wattage adjustment with just one button might be off-putting to some who are not very technology savvy.
0.8ohm pod thirsty on e-liquid
1.2 ohm pod burnt out after only 5 refills – on two pods!
Airflow is super tight – might be an issue for those who like a less restricted airflow.
Mod buzzes when vaping – which might be a problem if you want a sneaky stealth vape somewhere quiet!
No pods available to use the full 25W maximum output.
Final Review Verdict
Sadly I have had to drop marks as removing the mouthpiece was really difficult for me – especially the first time.
Also add to this the greedy 0.8ohm coil and I found in day to day use this kit was a bit annoying as topping up was not an easy procedure.
If I was leaving the house for hours I would pick up my Innokin Sceptre or Caliburn AK2 as they are just less hassle.
Sitting in a car trying to do a quick refill is not possible with the OXVA Xlim in a hurry!
The actual vaping part of this kit is lovely.
The flavour and warmth is amazing and the airflow is tight even on the more open airflow setting, perfect for restricted MTL lovers!
Would I Buy This Kit Myself?
The answer is "Hmmm".
I think there are a better pod kits out there for a similar price although this is by no means a stinker.
Initially I would have 100% said "No" as the original pods made this virtually unusable.
However OXVA redeemed themselves by updating the pods and fixing the majority of issues I had with them. But the coil life of only 5 refills in the 1.2ohm pods is not acceptable at all.
My huge gripe is still the removal of the Mouthpiece for refilling, it is not something you can do easily out and about as sometimes it is impossible to remove without tools. I am slightly disadvantaged with poor grip so this may have been more of a problem to me than others.
The 0.8ohm pod was pretty thirsty on e-liquid so I could only really take it out and about with me when I didn't anticipate needing a refill. Hence why the majority of the time I picked up other pod kits when I wasn't at home.
Otherwise the flavour, warmth and throat hit this kit provide are wonderful and at home I did enjoy using it – until it was top up time!
So is this a pod kit you're using or thinking of buying?
Please let me know your thoughts and opinions in the comments below…especially if you know an easy way to get the top off!