The Smok RPM160 pod mod review and yeah it's another pod system from this prolific vape manufacturer!
What is it with Smok being possibly the most annoying, yet one of the most interesting manufacturers in the vaping industry.
They somehow created a brand which at times, took over the mainstream vape scene but slowly plummeted due to poor quality coils, and poor quality products as a whole, yet they always bounce back.
And the Smok brand continues to be seen on every high street, I for one have personal friends who love their Smok devices and tanks, regardless of coil life and product quality.
When it comes to pod mods, don't get me started on Smok! We had the RPM40, the RPM Pro, the RPM Lite, the Fetch, the soon to be released Scar-P3 and Scar-P5.
And now… The RPM160.

All in less than a year.
However, I just knew dual battery pod mods would become a thing.
Pod systems in general were getting larger and larger with a lot of them offering a decent, powerful Direct To Lung vape.
So to me, it was clear that dual battery options would soon be available – and here we are!
What Can We Expect From The Smok RPM160 Pod Mod?
Whats different this time round, is Smok has gone BIG!
The RPM160 is a dual 18650 device and capable of fixing up to 160 watts, a colour display and a pod which can hold 7.5ml of e-liquid (Non-TPD).
The RPM160 maintains Smok's reputation for design, style and finish – arguably cheaper looking and feeling products. But I'm pleased to say that's where all the negativity will end with this review!
So let's crack on with the review and see what the Smok RPM160 Pod Mod kit is all about.
This kit was sent to me free of charge for the purpose of review.
All views and opinions are solely those of my own and do not necessarily reflect the opinion of others.
Video Review: See The SMOK RPM160 In Action
Inside the Box
1 x RPM160 Device
1 x RPM160 Pod
2 x RPM160 Mesh 0.15Ω Coils
1 x Micro USB cable
1 x User Manual
Specs and Features
Size: 125.0×45.0x28.2mm
Battery: Dual External 18650
E-Liquid Capacity: 7.5ml (TPD Version 2.0ml)
Output Wattage: 5-160w
Display: 0.96 TFT Colour Screen
Suitable Resistance: 0.1Ω-2.5Ω
Airflow – Non Adjustable Dual Slot Airflow
Charging: Via Micro USB with Battery Balancing or Externally
Available colours: Red | Rainbow | Black | Silver | Blue | Gold
Design and Build Quality
I received this very loud Silver Carbon Fiber variation of the RPM160.
It's super shiny and the silver carbon stickers are exactly what you expect to see on an 18yr old's Vauxhall Corsa, so the RPM160 would match the owner quite well…Positive thoughts Gaz, Positive thoughts…
The RPM160 Pod
Included in the kit is 1 very large pod, capable of holding 7.5ml of e-liquid, with a non removable mouthpiece, a side fill port and massive magnets that clip the pod to the device very well indeed.
The pods will hold the RPM160 push-fit coils and included in the kit are 2 of their 0.15Ω Mesh Coils.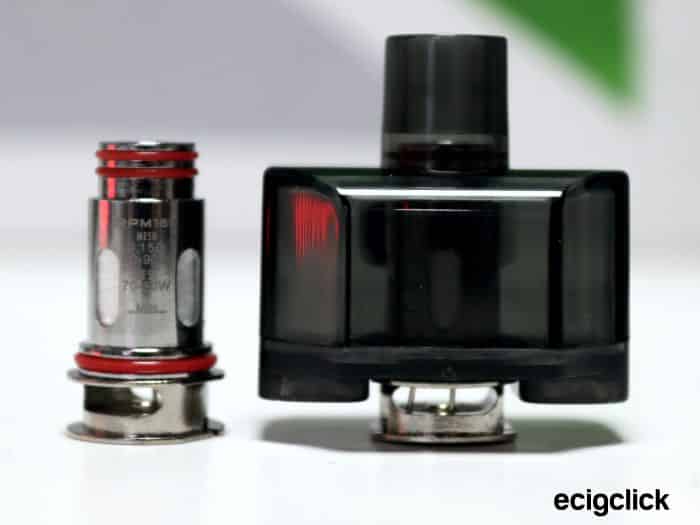 The coils are recommended at 40-90 watts and best at 70-80w
Now at this point I'm unsure if the coils are manufactured by OFRF who Smok happened to partnership with last year.
You have the usual fire button and 2 adjustment buttons, and between them is a fairly bright colour screen. Below the adjustment buttons is the Micro USB port for charging and firmware upgrades, but charge those batteries externally if you can.
At the base is the battery door, and as always, Smok's special flippy floppy battery doors are used. But its not too bad. Certainly better than the battery door on the Smok R-Kiss kit. It latches in fairly well and doesn't feel like its coming loose.
Smok RPM160 RDTA Pod Accessory
Smok's release of the RDTA Pod further broadens the scope of this device. I've been fortunate enough to be sent the RDTA so lets do a little build.
The RDTA has a massive 8ml capacity and makes use of steel rods for wicking, extremely difficult to photograph so you will have to take my word for it. In most ways its identical to the Standard Pod, with a Top filling system and magnets to click into the device nice and snug. But what's new is what basically looks like a miniature RDA on top.
Included in the packaging is some spare grub screws, tools and a strip of organic cotton.
The RDTA strips down quite nicely into a handful of sections, meaning cleaning is easy enough. The RDA style on top also features adjustable airflow and can house an 810 drip-tip, as long as it includes O-Rings.
Building on the Smok RPM160 RDTA Pod
The RDTA comes Pre-Built with two small round-wire coils, but personally I preferred to use a slightly larger set of fused Clapton for my first build to really test the device.
The Dual post deck is small, but fairly easy to work with, I decided to do something I never do, and space the coils to take it easier to fit between the posts.
Coil size is a challenge with the Deck, at first I was hoping to use a larger, more complex coil with a lower resistance but I feel it would be pretty challenging and probably a little painful but it is possible if you want to get a build lower than 0.10. I was happy with using a set of Spaced Fused Claptons 2x26g with 38g on the outside 3mm Inner Diameter.
Once in place, pulse the coils at a low wattage to ensure no hot spots.
Because you're going to have to rely on the steel rods, you can be fairly light on your cotton, cutting the ends fairly short just to touch the top of the rods.
Once cut and teased into place, you can fairly easily fill the RDTA, along with soaking the cotton in e-liquid.
Putting the Deck sections back on top, you're ready to adjust the airflow to however you like and vape away.
Smok RPM160 RDTA Pod Summary
Practically, the RPM160 RDTA is fairly easy to build on, you do have the option to build small, or fairly large along with going for a single, or dual coil set up.
With regards to wicking, it wicks fairly well considering you rely on the steel rods to saturate the cotton.
Even with the fairly decent sized coils I used, I still got ALOT of airflow from this RDTA so feel free to try using some larger coils if you decide to give this a try. Flavour is very good from this RDTA and of course, in Smok style its a Cloud-Chucker.
 Smok RPM160 Pod Mod In the Hand
The Smok RPM160 is a concoction of portability and uncomfortable angles.
In the hand, this is a very obscure device, its compact and fairly light even with 2 batteries. Yet its length and funny angles make it a little odd in the hand but thanks to just how slender it is, its pocket friendly and not too much bother to carry around.
The actual feel of the device is extremely smooth, almost slippy, even the sticker sections offer no extra grip.
For some, the silver colour variant I received may be a little too blingy, but it certainly flows with regards to style if you stand it up against any other Smok device, at least they're consistent in that category.
How To Fill the Smok RPM160 Pod Mod
I always like it when you can fill a pod without having to remove it from the device, and that's exactly what you can do with the RPM160 pods.
Here's how to fill the pod with e-liquid:
Pull open the silicon bung
Fill with eliqiid
Re-fit the bung and ensure the pod is cleaned if you happen to over fill or spill any e-liquid.
Simple as that!
How To Fit the Smok RPM160 Coils
The 0.15Ω Mesh coils are fairly large!
A single mesh coil which utilizes a push-fit connection with double O-Rings at the top, and a single large O-ring at the bottom.
Included in the box are two of the same coils, which is a bit of a shame but also means you don't need to rush out to buy new coils once the first one packs in.
Smok RPM160 Pod Mod Display Functions
The Smok RPM160 has a fairly decent display, everything is on the one screen.
The battery percentage of both batteries, current set wattage, voltage and coil resistance along with puff counter and puff time.
There are no other options when it comes to power output other than variable wattage and this can be altered in the usual way via the lower left and right buttons.
Here's a couple of operations for the Smok RPM160:
Fire Button 5 times = On & Off
Fire Button 3 Times – Fire Button Locked
Right Button = Wattage Up
Left Button = Wattage Down
Fire & Left Button = Puff Reset
Left & Right Button = Wattage Locked
With only variable wattage to worry about, the display scrolls from 5 – 160 watts in just under 6 seconds and does so in 1-watt increments.
How Does the Smok RPM16 Pod Mod Perform?
I've been finding devices are working really well with my favourite e-liquid of late – Code Red by Darkstar.
Maybe coils are improving, or maybe my taste buds are. Either way The RPM160 coils are following the performance of other brands of late.
For some reason, Code Red doesn't always come through very well in sub-ohm tanks and pod systems that are designed for Direct Lung Vaping, so it's always a good one to use, especially on a Smok product.
The e-liquid is Max VG so around the 80VG/20PG, so a good option to really test out the coils ability to wick.
Read more: VG VS PG In E Liquid: All You Need To Know
Flavour and Clouds
Being a little skeptical of Smok's coils, I started off at a measly 55 watts on the 0.15Ω coil and at that wattage, you get a very cool, not so saturated vape and mediocre flavour.
After letting the coil bed in for a while, I soon upped that wattage to a little over the best recommended to 85 watts and the flavour jumped massively.
At that wattage, the Smok RPM160 delivers a mouth filling vape, and a house filling cloud.
These RPM160 really are very good. During my tests they coped very well with high VG e-liquids along with some more cake-based flavours.
So along with dishing out good flavour and a serious plume, they're also very diverse regardless of your favourite type of e-liquid.
As much as I like to keep to the recommended wattage, which I think Smok has got it pretty much bang on.
I always like to push things to the limit as well. Going 10 watts over the recommended maximum wattage, the RPM160 0.15Ω Mesh coil coped extremely well with 100, and even 110 watts.
However I wouldn't do that too often… You may get a little burnt flavour if you over do it. My advice… Stick to the recommended.
Smok RPM160 Airflow
The Smok RPM160 offers no airflow adjustment.
Located on the front and back of the device, just below the pod is two large slots which suck in plenty of air. Fortunately not too much, but the RPM160 definitely offers a very loose Direct To Lung experience.
However, As I've been mostly holding the RPM160 as a thumb firer, I've noticed my index finger quite frequently blocks off the airflow slot at the back which leads to a nice restrictive Direct-Lung vape if you're into that kind of restriction.
Smok RPM160 Battery Life
For those who enjoy Smok for cloud chucking, at 90 watts, the 0.15Ω coil will probably give you around 5-7 hours life.
But yes… you will be chucking those clouds.
Knocking that wattage down to 80 watts, I've been able to make it through an 8-hour day before having to swap out the batteries. But of course, this really does depend on how much you vape.
I didn't receive anything other than 2 0.15Ω Mesh coils. I kind of wish a higher resistance coil was available, maybe a 0.30Ω coil would be ideal.
At 55-70 watts on a 0.30Ω coil would certainly stretch that battery life more so and I doubt you will loose much with regards to flavour and clouds.
Battery Balancing
Smok state that the RPM160 is capable of balancing the installed batteries.
I'm guessing what they mean is that the RPM160 can balance the 'charging' of the batteries as during my testing.

The batteries haven't balanced themselves during use, which is something the Geekvape Aegis X does very well.
However, always charge your batteries externally if you can.
Does the Smok RPM160 Pod Mod Leak?
I've been fairly pleased with the Smok RPM160 when it comes to leaking.
Yes, you do get condensation from the base of the push-fit coil, and yes if you're an idiot like me and you fill the pod to the point its spilling out of the fill port, you may notice that spilled e-liquid will find its way to the contact point of the device.
My advice is just to regularly check the pod, and the device and clean out any excess condensation and e-liquid.
Apart from that, considering the Smok RPM160 uses push-fit coils, its performed very well.
Pros
Good flavour
Clouds for days
Coils last fairly well
Massive e-liquid capacity
Simple clear Display
Pocket Friendly
Cons
Non-Adjustable Airflow
Average Build Quality
Low-Res Coil Requires High Wattage = Battery Drain
Feels a little odd to hold
Final Review Verdict
As the pod mod battle for domination continues, I'd say Smok has entered the dual battery category of pod mods with a fair contender.
Putting aside my personal opinions on the look of the Smok RPM160, I cant deny the performance, for a dual battery DTL device, it is very good.
The RPM160 0.15Ω Mesh coils perform very well with decent flavour, fair durability and a super cloud.
This device wont be for everyone, certainly not for a new vaper. But for a Smok enthusiast or even for someone who is comfortable with pod systems, and isn't interested in the classic tank & mod setup, the Smok RPM160 would be a very good option.
There's a number of features that I look at when trying out a device, and for something to score highly, it needs to meet certain demands, especially with pod style systems as they're primarily designed for someone looking to quit smoking, and start vaping.
However I really don't see the Smok RPM160 Pod Mod as a device designed for a new vaper, but I still feel its worth answering the below questions.
Would this device be long lasting and still work 3, 6 or even 12 months from now?
The Smok RPM160 maintains the usual Smok build quality. It's certainly not an extremely well built, high quality device but I feel with good general maintenance and keeping on top of the contacts under the pod, you should be able to get over 12 months use out of this device. But that really does depend on how you treat it.
Does this device deliver the flavour, vapour and general experience I require, in order to be enjoyed?
I've really enjoyed the Smok RPM160 as a daily banger. Taking it to work with me most days and also enjoying it in the evenings. The coils dish out decent flavour, especially at around 80 watts. Its a bit of a shame you cant adjust the airflow. But for someone after an airy Direct To Lung vape, it does a lovely job.
Is this device versatile to suit a new vaper, and an experienced one a like?
Certainly not one for a new vaper. But either for someone wanting a portable cloud chucker, or a backup device to their large regulated device with large tank, I'd say the RPM160 wouldn't be a bad option.
Have you bought the Smok RPM160 pod mod kit?
Or have you given it a try?
Let me know your thoughts in the comments below.