The Vaporesso Barr pod kit review and today we're looking at something of an extreme vaping device, you'll know what I mean when we start going over sizes, weight and in particular, dimensions.
As well as being known for the Luxe, Gen and Target series of mods, Vaporesso now firmly has its foot in the vaping door of the pod world.
The XROS pod kit features adjustable airflow with a dual firing mechanism. The Target PM grew from a 1200mah internal battery into the more powerful PM80 featuring a single external 18650 battery.
With it grew the manufacturers reputation for designing decent quality pod based systems. We've also reviewed the Vaporesso Osmall and although very unassuming in appearance performs like a trooper!
Now we have the Vaporesso Barr – and we're really going back to basics!
What Can We Expect From The Vaporesso Barr Pod Kit?
I'd say limited fuss from the included disposable pods and a battery that's likely to last for around a day or so.
A device that firmly focuses on a new vaper thanks to the included MTL coil.
We can expect one of the lightest, most portable and strangely ergonomic vape pens currently on the market. Yes!
This does all sound very familiar doesn't it given the mountain of similar devices available?
So something has to make it stand out from the crowd, Vaporesso has attempted to do just that.
Let's get on with the review to find out, shall we?
Inside the Box
The packaging is quite basic and you're offered a tantalizing glimpse of the device through a very thin vertical window on the box.
The contents sit in a very rudimentary plastic tray that may or may not do the device justice…we shall see.
Vaporesso Barr device (including 1.2ml pod – 1.2ohm coil pre installed)
Spare Vaporesso Barr 1.2ml pod (1.2ohm coil pre installed)
Type C USB charging cable
User manual
Warranty card
Reminder card
Specifications and Features
The Vaporesso Barr comes as a standard version (under review) and also as TPD compliant.
The only difference is in the standard EU warning that adorns the front of the packaging.
Dimensions 110 x 13 x 13mm
Weight 22g
Pod capacity 1.2ml
Pod resistance 1.2ohm mesh
Battery capacity 350mah
Output power 13W
Charging current 5V/0.5A Type C
The device is available in Green, Blue, Pink, Black, Silver and the one under review which is Red.
Four Airflow options
Built in mesh coil for improved flavour
Fast type C charging capability
Auto draw activation
Compatible with 50VG/50PG E liquid ratios
Design and Build Quality
The Battery Section
Being a mere 13mm wide (or cubed) this is an ultra slim device. It's not much thicker than a crayon and about the same height and weight as a cigarette.
Without doubt, Vaporesso had the new vaper in mind while designing this pod kit.
The material used is zinc alloy and the spray coated finish has an effective dark to light colour gradient.
It pretty much reflects devices such as the Gen and Gen S Mods.
There's a series of small fixed airflow slots on one side the battery section – and one side alone for good reason.
More on its significance shortly.
A small LED indicator is included on the opposite side. It illuminates white during auto draw and also flashes to warn of potential safety issues.
Low resistance – LED blinks 3 times
Short circuit – LED flashes 25 times
Low battery – LED will blink 5 times
Over charge – The LED flashes 20 times
Over 10 seconds vaping – The LED will blink twice
In each case the device will cease to function until safe to use again.
Vaporesso Barr Pod Section
I measured it to be 35.5 x 11.8 x 11.8mm.
The semi transparent PCTG pod simply snaps into the top of the battery section, no magnets are used.
I noticed a minor degree of play between the two but was unable to shake the pod from the battery which is good news.
The drip tip has a diamond shaped appearance and the opening on the mouthpiece measure 4mm in circumference, and I found it quite comfortable to use.
Each side of the pod offers an alternative degree of airflow through the fixed air port of the battery.
Restrictions range from tight at 1mm, a little less with 2mm, normal restriction at 6mm and quite loose at 8mm.
How this translates to an effective vape we shall see very shortly.
Now we move onto my gripe of the year! Yes…the dreaded silicone stopper lol.
Vaporesso can now be added to the list of thoughtful manufacturers…why?
They've actually provided some space to get a finger nail (even a well bitten finger nail) beneath it.
It was an absolute doddle to remove and just as easy to plug back into place, so major kudos!
The fill port measures 4.5mm so more suited to 10ml TPD compliant bottle nozzles. Wider ones should be fine but just take extra care if using them.
This leads me nicely into..
How To Fill the Vaporesso Barr Pod
If installed, pull the pod out of the battery section.
Lift the silicone stopper out of the pod
Gently administer E liquid into the exposed fill port taking care not to overfill
Replace the silicone stopper ensuring a snug fit
Snap the pod back into the battery section
Leave the juice to soak into the cotton for around five minutes before vaping – known as priming the coil.
Important! When you first get the kit, a pod will already be installed. Since the Vaporesso Barr has no on/off feature it's ready to use out of the box and via auto draw.
Do not attempt to draw from an empty pod, for example to test airflow. That will only lead to a dry hit! And yes! I am that voice of experience lol!
How Does the Vaporesso Barr Pod Kit Perform?
I tested the disposable 1.20ohm mesh coil with some Double Drip Menthol Mist E liquid. It's a 50VG/50PG ratio with freebase nicotine.
For a coil that maxes out at 13W, I got some incredible flavour when using the most restrictive setting on the pod.
This is your classic mouth to lung vape – a very comfortable experience. The menthol steals the show with an icy cold blast and the peppermint is crisp and very flavoursome.
That flavour is only marginally diminished when turning the pod to a less restricted setting and cloud production is suitably stealthy. Again the pod offers a satisfactory MTL pull.
Vaporesso Barr – "Normal" and "Loose" Sides
It's the "normal" and "loose" settings where further airflow kicks in. I'm not personally inclined to vape this way as it becomes a little uncomfortable.
Yes, it's still possible to MTL vape as is the intent of the coil but you may start to feel your cheeks pull against your teeth lol.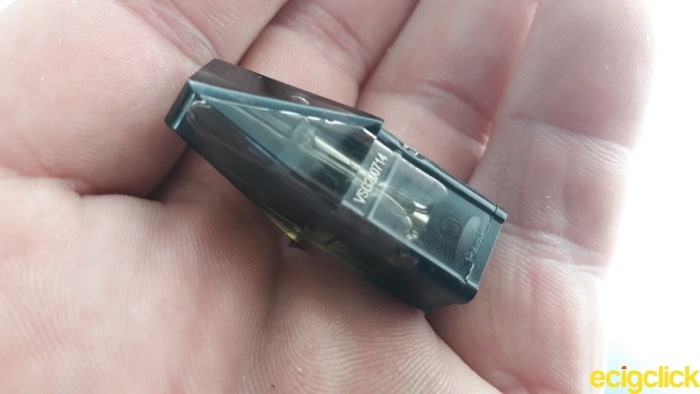 All joking aside, you almost feel tempted to take a direct lung vape, it's just about possible to achieve and flavour is still good.
The menthol dominates with an icy blast that cuts into the throat.
The spearmint also tends to get fuzzy and lost in translation. I wouldn't recommend DTL vaping nicotine salts anyway unless you like the associated buzz it provides.
So the coil clearly isn't suitable for a restrictive DTL hit and I feel it was only possible thanks to the thinner 50VG/50PG ratio I was using.
Pros
The perfect MTL vape using the most restricted side of the pod
Amazing flavour production with stealth like vapour output
No leaking
Reliable auto draw feature
Lightweight and extremely portable
Easy to use silicone stopper
Fast type C charging
Cons
The pod feels a tad loose in the battery section (subjective)
Final Review Verdict
I honestly think Vaporesso has nailed it with the Barr pod kit.
On the tightest airflow setting the perfect MTL vape is achieved in my opinion.
The flavour intensity experienced from the 1.2ohm mesh coil was excellent. The normal and loose settings aren't really for me but they may well be to others.
It's certainly worth experimenting with the four airflow settings on the pod.
The device is also incredibly light and portable. I had no trouble carrying it in a shirt or trouser pocket.
The auto draw feature works tirelessly. It's very sensitive to airflow which is a huge plus, and it never failed.
Changing airflow style is simply a matter of lifting the pod out, rotating to the desired setting and popping back into the device.
Although there are four airflow options I never really found myself straying much from the "restricted" side of the pod.
Why?
Because straight out of the gate I knew it was bob on – the perfect MTL experience. At least certainly for me.
I would only suggest using juice ratios of 50VG/50PG or 60VG/40PG at a push. The coil won't labour under these liquid densities.
It will also help with the life span of the coil and to prevent any dry hits.
I vaped regularly over a four hour time period before the 1.2ml pod needed refilling.
Vaporesso Barr Battery Performance
The battery lasted for eight hours and I was pretty much chain vaping. It's safe to assume the average vaper will get around a full days use.
I never really noticed much loss in performance as the battery level decreased. The LED simply blinked when it was time to recharge.
Charging via type C took a mere 45 minutes.
Vaporesso Barr Pod Kit – Final Thoughts
The Vaporesso Barr pod kit is a fantastic little device.
Why?
Because it packs just the right level of power and punch for a new vaper.
There's no fussy menus or interfaces. It's as light as a cigarette helping to make the transition that little bit easier.
The pods are disposable so no messing around changing coils and filling is mega easy thanks to some thoughtful design to the silicone stopper.
I never once experienced any leaking issues.
Above all the flavour from the 1.2ohm mesh coil is stonking and a true mouth to lung vape can be enjoyed.
Flavour. MTL vape. Ease of use. Portability. You could argue these are the four critical needs of any new vaper.
Vaporesso have certainly provided us with four solid reasons of their own via subtle mouth to lung airflow control.
If that's not a square deal I don't know what is!