Introduction: The Super Bat Kit from Vaptio

The Vaptio Super Bat kit is a crazy looking kit with a "Bat" theme…
There are light up eyes and a caped crusader style bat head on the front! Loosely for trademark purposes based on a shiny black mammal super hero….
The last Vaptio mod I reviewed was the Wall Crawler kit which again had another loose super hero association – this one flings webs out of his sleeves if you get me – so you can see the theme here.
This mod boasts a huge 1.3 inch HD colour screen and you can even select which language you would like.
The maximum power output is 220W and you will need 2×18650 batteries which are sadly not included in the kit.
If you buy the full kit the Vaptio Frogman tank is also included. However the type varies according to your location. Outside the EU you get the Frogman XL tank or within the EU due to the TPD regulations you get the smaller 2ml Frogman tank.
As the Vaptio Frogman XL tank has already been reviewed by our Laura-ann in the Vaptio N1 Pro Kit review I will only concentrate on the Frogman 2ml tank.
There are 3 colours available – Silver, Black and Red.
There is also a firmware update for this, however, when I tried to download it I got an error on the website.
So will this super hero save me from crap vaping? Let's fire it up and see!
This product was sent by Vaptio for the purposes of this review. As always, our views are our own!

What's In The Box
Vaptio Super Bat Mod
Vaptio Frogman Tank
Frogman W2 coil head
Frogman W8 coil head
Replacement glass
USB Cable
User manual
Features
Vaptio Super Bat Mod
Size: 85.5x46x30mm
Output: 1-220W
Display: TFT 1.3in colour screen
Batteries: 2×18650 not included
Firmware upgradeable
Various languages
Fast recharge – 5V/2A
Leak proof 510 collar
Temperature control range: 100-315°C
Modes: Variable Wattage, Temperature Control, Smart Mode and CCW/CCT curve modes
LED bat eyes – 6 colour and 3 light options
Vaptio Frogman Tank
Size: 23.5×54.0mm
Capacity: 2ml
Compatible with wide range of coil heads – even from other manufacturers
Bottom adjustable airflow
Top refill
Build Quality & Design
Vaptio Super Bat Mod
This is surprisingly small. For instance I have shown it below next to my single battery Geekvape Aegis – which is a larger mod to be fair but even so this is tiny.
It is all metal feeling and the shape itself is very plain just a smooth edged rectangle.
However the front of the mod has a mad bat head with light up eyes and the rear has slots which also have LED lights shining through. Don't panic though Sparklyphobes you can turn these off.
The screen is huge and clear it is a great colour display.
The + and – buttons sit above the screen and I have found I sometimes knock them when picking the mod up.
Adjusting this is ace, if you hold down the + or – it will jump in 10W increments – but it is pretty quick. If you just tap the buttons it will go up in 1W increments.
The fire button is actually a bar which takes up the whole side of the mod, is easy to use and you instinctively press it really easily.
I do think the styling is affected by the whole super hero theme though as this makes an otherwise really robust quality mod look a bit tacky if I am honest.
This is so well built and not a rattle or wobble in sight. Battery door is solid and hasn't popped open of its own accord either.
Apart from fingerprints this is proving to be a really robust little mod in the hands of a clumsy ass like me!
Sadly the instruction manual is really lacking in actual instructions. There are a few diagrams which are so small you need a magnifying glass. Vaptio make really excellent quality kits yet overlook the manuals every single time!
Vaptio Frogman Tank
This is a cute little tank, mine was all black to match the mod.
The top drip tip can be removed and replaced with a standard 510 drip tip with O-rings on. Although it looks like it has a non standard drip tip – the whole flange assembly comes off with it and leaves the top of the tank which looks perfectly fine with another tip.
One great feature of the Frogman Tank is it was designed to be able to use a range of coils from other manufacturers.
From what I can see online the following tank coils are compatible…
I have a Smok TFV8 coil in my possession so am going to try it out!
In The Hand
How Does the Vaptio Super Bat Kit Perform?
Basic operation
Turn on/off – press fire bar 5 times quickly.
Enter the Menu – press the fire bar 3 times quickly
To make adjustments – use the + and – buttons
Confirm a selection – press the fire bar.
The menu system is pretty simple and clear to use, 3 quick presses of the fire bar enters the menu and using the + and – buttons you can navigate around the options, using the fire bar to select. At the bottom of all the menus is a back or home option so you can always go back to where you were.
The "Smart" menu allows you to adjust the power output of the mod in a certain setting, there are different modes – Soft, Normal, High and Auto. These modes vary how the mod provides power to the tank – i.e. a high initial burst of power or a slow gradual application of power.
There are also custom curve modes (CCW/CCT) and you can choose from 3 memory curve settings and make your own adjustments and store these.
Plus you also get temperature control, however I didn't explore this much I am afraid as the coils supplied are Kanthal so no TC for them.
How To Install And Charge The Batteries
Place your thumb on the battery compartment cover and press and slide it towards the rear of the mod.
The compartment will open.
Install 2x 18650 batteries observing the correct polarity shown on the door.
Replace the door and press and slide it towards the front of the mod to lock.
This displays the charge level of both batteries. It is possible to charge the batteries in the mod however it is recommended to remove batteries and use a suitable good quality charger.
Vaptio Frogman Tank
This is a super simple tank to use, the only other job to do is to adjust the airflow ring to your preference. The ring covers or opens the airflow intake slot so move it to restrict or open the airflow.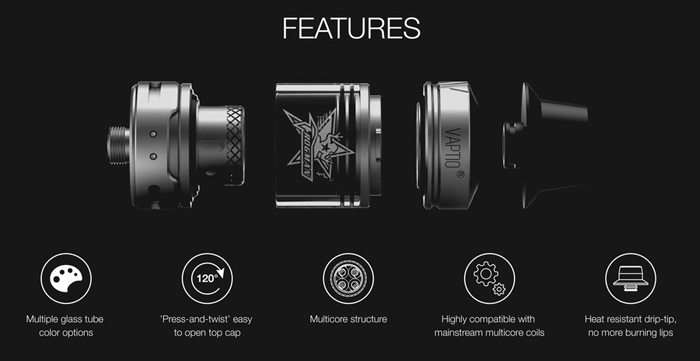 How To Fill The Vaptio Frogman Tank
This has a great locking type top so you only press down and turn half a turn to open or close when you have correctly located the locking lugs.
Press down on the top of the tank and unscrew.
The top will pop off.
Squeeze e-liquid into the slots – not the centre hole.
Line up the lugs on the cap and press down to screw back on.
Keep an eye on the e-liquid level – this is only a 2ml tank and these are big coils. Installing a new coil can soak up almost a whole tank full in one go!
How To Change The Coil Head
The coil heads don't last forever. So if you notice a burnt taste, poor performance, have run the coil dry or are getting errors on the mod you will need to replace the coil head.
Remove the tank from the mod.
Turn the tank upside down and unscrew the base.
Unscrew the existing coil if installed.
Screw a new coil into the tank base.
Apply e-liquid to the bits of cotton you can see.
Screw the tank base onto the tank.
Refill the tank as described above.
Leave the tank to stand for 10 minutes for the coil head to absorb the e-liquid in the tank. You may need to top the tank up again when it sucks up the liquid as this only has a 2ml capacity.
Flavour & Cloud Production
Our reviewer Laura-ann reviewed the Frogman XL tank in detail in her review – this is the 2ml version and is smaller in diameter. This does use the same coil heads as the Frogman XL too.
I used the "Normal" taste mode for the majority of this review.
I used my usual Stika Bombz Fruit Salad E-liquid which is 6mg nicotine and 80%VG.
Further Reading: What is PG and VG in E-liquid?
The kit includes the W8 coil head and the W2 coil head – so I will take them both for a spin.
Vaptio Frogman W8 Coil Head
The W8 coil head is 0.15 ohm resistance and apparently offers "optimal performance for both flavour and cloud".
The recommendations are 50-110W – best at 60-80W.
I have varied the wattage and well within the range stated on the coil it tastes of burnt rubber. I remembered I had got the smart power setting at "High" so I turned this back down to normal and still getting the yukky taste.
There is plenty of vapour and the airflow even in fully open position is slightly more restricted than for instance the Smok TFV12 Prince tank. I found I had the airflow about a third open for a restricted DTL vape.
So this coil head really isn't for me.
Weirdly upon removing the tank base to swap the coil I found this stray O-ring just lying in there, so have removed this and will try again perhaps this is the reason for the odd taste?
Anyway six more tankfulls of e-liquid after removing O-ring and still a weird taste so perhaps the damage has been done. Will try the other Frogman coil and also have a Smok one to try.
Vaptio Frogman W2 Coil Head
The W2 coil head is 0.4 ohm resistance and apparently offers "intense flavour and vapour production".
The recommendations are 30-80W – best at 45-65W.
I fitted this coil and fired it up at 50W to be on the safe side.
So at 50W there is again this odd taste. Not quite as much like burning rubber but must be a taste in the cotton?  At 60W more of the same really just warmer. 65W is getting quite hot now. 70W not much better either. Sad really.
I am hardly tasting my e-liquid. I use this in many tanks and know exactly what to expect. It really shone in the Horizon Falcon sub ohm tank.
Don't get me wrong this is already not as bad as the W8 coil but it isn't great for flavour.
With the airflow fully open this is slightly more restricted than the W8 coil.
There is however a lot of vapour from this.
I ran this at 60W for a few more tankfulls to just see if it got any better. After 3 tankfulls I could take no more – sorry.
Smok TFV8 Baby Q2 Coil
As this can also use Smok coil heads I thought I would give it a bash!
I have the Smok TFV8 Baby Q2 0.4ohm rated 40-80W – best at 55-65W.
I installed the coil, left it to sit for 10 minutes and started off at 45W. Here we are – proof that it must be the Vaptio coils. The taste on this whilst slightly muted (these are more for cloud chuckers these coils) has no burnt rubber tinge to it.
The airflow as expected is really wide open on this coil and tons of vapour.
I am quite surprised that I am actually recommending using a Smok coil head rather than a Vaptio one in this tank. I have used Vaptio stuff in the past and the taste and vape experience has always been excellent. If the Smok coil had the same taste I was going to thoroughly wash the tank out – but the dodgy taste went with the Smok coil.
I am quite enjoying the Frogman tank now!
Battery Life
I used twin Samsung 25R batteries in this, they are a matched pair.
The battery life will always depend on many factors including battery type plus power settings and tank on the mod.
As a guide running the Super Bat mod at 60W I got 6 hours of vaping.
Pros
Surprisingly small for a dual battery mod
Really solid and well made
Lovely sized screen
10W jump increments when adjusting
No rattles or wobbles
Good fire bar
Easy to remove tank top cap
Easy to navigate and use menu system
No malfunctions or leaks during time of review
Frogman tank performed really well with Smok coil head
Cons
Quite an odd design really – this could put people off – not quite as mad in the black version though!
Quite expensive
Odd burnt rubber taste from W8 coil head and poor flavour from W2
Instruction manual again pretty poor – have a word Vaptio!
Greedy on e-liquid which is hard going with a 2ml tank.
Final Review Verdict
The Vaptio Super Bat mod, if you can ignore the styling, is a cracker! The size of it for a dual battery mod is excellent and it feels so good in the hand.
The screen and menu options make this a pleasure to use.
However I wasn't a massive fan of the Frogman 2ml tank – I could quite easily replace this with a different tank and enjoy using the Super Bat mod a lot more.
I have had a look online and there are many mixed reviews for the Frogman. Some people find the taste amazing, yet a few others are reporting this odd taste too. I wonder if it is some dodgy coils? In fact it must be as the Smok coil performed way better in my opinion.