The Lost Vape BTB ( Back To Basic) review, and this is a new 100W starter it that seems to compliment the new Lost Vape Gemini Hybrid pod mod.
Founded in 2014 by Frank Guo, Lost Vape has "unique, high-end devices, designed with functionality, beauty, and ease of use in mind".
Lost Vape was right at the very beginning of the pod boom, in fact it could be argued that they started it.
The Orion DNA GO was the first pod system to have the popular DNA chipset. This caught a lot of attention, the device was very popular and it put Lost Vape straight into the 'limelight' at the start of the pod uprising.
Lost Vape don't only make pods though, both the Lost Vape Paranormal and the Centaurus box mods rated fairly well on Ecigclick.
They even have a mechanical squonk mod Furyan which scored an impressive 9.8/10.
What To Expect From The Lost Vape BTB?
First things first, the Lost Vape BTB comes with the Ultra Boost X Tank and as the name suggests it is compatible with all UB (Ultra Boost) Coils.
I have not long since written the review for the Lost Vape Gemini Hybrid and I have to say the BTB is very similar in regards to features, although it does have a few extras.
The BTB fires upto 100W and is powered by a single 18650. It also has temperature control ranging from 100-300 degrees Celsius (200-600 degrees Fahrenheit).
It has a 0.96" TFT Screen and a mode button for ease of use.
The UBX Tank suits the mod nicely, it has top sliding fill cap as well as a good adjustable airflow.
The Gemini Hybrid was an OK starter kit, but I'm hoping to give the Lost Vape BTB those extra few point that the Gemini just could quite manage to get.
To be honest, I thinking that's going to be possible for the BTB because the Ultra Boost X Tanks has a much more of a flexible airflow than the Gemini Hybrid.
Let's take a look…
LostVape BTB Video Review
Inside The Box
1 x BTB Mod
1 x Ultra Boost X Tank – 2ml
1 x 0.2ohm UB M3 Coil – Pre-installed
1 x 0.1ohm MTL UB Coil
1 x 4ml Bubble Glass (not in TPD Areas)
1 x MTL Drip tip (additional)
USB-C Cable
Spare Orings
User Manual
Warranty Card
Lost Vape also sent me the 0.3ohm UB M1 Coil and the 0.6ohm UB M3 Coil as well as the Ultra Boost RBA.
Specs
Mod Size: 91 x 36 x 25
Tank Size: 24 x 44.8
Mod Weight: 136.6g
Battery: External 18650
Power Range: 5-100w
TC Range: 200-600F / 100-300C
Resistance Range: 0.1-3ohms
Power Settings: Power/ Voltage / TC-SS / TC-Ni / TC-Ti
Charger: USB-C or External
Connection: 510
Body Material: Zinc Alloy
Tank Capacity: 2ml – 4ml bubble glass
Colours available: 7
Features
Sliding Out Top Fill
Adjustable Airflow
0.96 TFT Colour Screen
Magnetic – Side battery door
Compatible with all Ultra Boost Coils
Mode button
Design & Build Quality
The Lost Vape Back To Basic comes in a variety of 7 colours.
Although some of the tank colours look the same on the picture, there is actually 7 colours for the tank too: Black, Gun-Metal, SS, Matt Black, Green, Red and Blue.
The first thing I noticed about the kit is the weight. With the battery in and the tank filled, I weighed it at 250g, which isn't particularly heavy, in comparison the Aegis Boost Legend with the Wirice Launcher tank weighed in at 350g…. I just think it feels heavier than it looks.
Lost Vape BTB Mod
I'm still not quite sure how I feel about the side panels, from a far it looks pretty cool and trendy almost denim like, up close, I'm not quite sure what it is or what it was supposed to look like.
What I can tell you is, it has a light rubber feel to it. And to be fair it feels well placed and durable.
The rest of the mod has a nice smooth satin finish.
There is a bit of branding printed into the panels, BTB on one side and Lost Vape on the other but it is nice and discrete, to be honest on the 'colour' I've got they're barely even noticeable.
On the front of the device, the fire button is on at the top and it's a nice decent size, the screen is just below that.
Then in the bottom corner there is the '+' / '-' buttons, the mode button and the USB-C port.
Lost Vape BTB Battery Door
Lost Vape opted for the side panel battery door, which I approve of greatly, they're just a lot less likely to break or go wrong than bottom doors.
All in all the battery door fits well, looks well and feels good… However, I'm a notorious nail biter, and here lies a problem.
The magnets that hold the panel on are decently strong, there are 2 small magnets on the top and 1 longer magnet at the bottom.
On the bottom edge there is a lip to help remove the panel with ease but the lip isn't very big or deep, so if you have finger nails it's fine.. if you don't have nails it's quite hard to get off, I've often had to use the edge of a key or something.
I did notice the battery ribbon can be left hanging out of the system without a problem and that can help lift it…but seriously, who wants that?
510 Connection
The connection plate on the Lost Vape Back To Basic mod measures at 20.5mm in diameter, it's very slightly raised (by like 0.5mm) and is held down by 3 Torx screws.
The threads on the mod and the tank are nice and smooth.
All in all there's nothing really to complain about it's well designed and well build and for a starter kit.
Even for the more advanced kits the only thing you could really complain about is the connection plate size, but let's be realistic the base of the mod is only 24mm wide!
The Ultra Boost X Tank
I actually like the tank, I mean slide out top fill, adjustable airflow that is designed to easily support Mouth To Lung Vaping and Direct To Lung Vaping, what's not to like?
The tank takes the Ultra Boost coils and if you're familiar with them you will already know that the tanks coils are bottom fed push and pull coils.
It's quite common for coils to have that type of coil these days and personally I don't have a preference between push-pull coils and screw in coils, although they are much less faffy than having the fiddle about with threads.
It comes with 2 drip tips one for MTL (510) and one for DTL (810).
The tank I have has a Matte Black finish, which I like, I do love me some matte finish.
The Ultra Boost X Tank Top Fill
Although, slide out, pop up or swing out top fills are quite common place these days, I'm still always surprised at how many tanks don't have this basic feature.
Even when a tank does have an easily accessible top fill like the Ultra Boost X does, quite often they are fixed units and you can't get to the rubber seal to change or clean it.
However thanks to the little screw in the top of the tank this is possible on the Ultra Boost X.
Slide the top cap open and you will see the screw through the drip tip hole, removing the screw allows the entire top to slide off – just be aware it can be a bit awkward to get it back on.
The slide out top fill is pretty awesome, it's not too tight or too loose and the hole is a decent size.
Lost Vape Ultra Boost X Airflow
It may be basic by name, but it is not basic by nature.
As with all true All In One Systems the Lost Vape BTB has small holes for those of us that are looking for a tight draw and a fully open setting for those of us who want to be away with the clouds, as well as everything in between.
On the Ultra Boost X both setting achieve what they were designed to do, allowing a range of airflow restriction from fairly tight MTL all the way up to fairly loose DTL.
Granted it doesn't go extremely loose, but not very many AIO devices do.
However I think the airflow settings on this tank are ample for DTL and it does go pretty restrictive for MTL.
USB-C Charging Port
The USB-C port is on the front of the device, at the bottom, just below the buttons.
I always feel a bit silly worrying about charging ports, but it does matter if nothing else it matters because it can be in a location that is prone to be damaged or just doesn't look right.
However the Lost Vape Back To Basic charging port is in a fairy safe place and it doesn't stand out, so it gets my approval.
Like the Gemini Hybrid, the BTB does not support pass thru vaping and for some reason Lost Vape don't seen to tell us what input amps the mod can take.
So we'll have to try and work that out for ourselves, but we'll look at that in the performance section.
Screen
The 0.96" TFT screen is the same screen size and display as we had on the Lost Vape Gemini Hybrid and I still think it's is pretty nice.
Up in the top right corner is the coil resistance, which is strange, I don't think I've seen it placed up there before (other than on the hybrid).
You'd usually expect that information to be below the wattage information and often with the other information (such as puff count) and not just stuck up in the top right corner on it's own.
In the top left corner is the battery indicator, displayed in a solid bar format.
Taking up the majority of the screen, the wattage setting is in the middle.
Down towards the bottom we have the puff timer on the left and puff count on the right.
Along the bottom is a sample of all the theme colours that are available, with a very faint square around the current setting.
It's simple but still looks stylish and manages to make good use of its colour ability, with the changeable themes.
The screen brightness is strange because the back light doesn't seem overly bright, but it is certainly bright enough to be able to see during the day.
Buttons
The buttons don't stand out as anything special, in fact they're made the same as the rest of the body, so they blend in pretty well.
Up top we have the fire button which is a nice decent size and easy to press; it really doesn't take too much pressure to fire it.
The at the bottom just below the '+' and '-' buttons we have the mode button which I am a major fan of when it comes to starter kits.
The 'mode' button is not a new idea but it's always nice to see on starter kits because it makes the kit so much easier to operate removing the hassle of having to remember what combination of buttons to press at the right time to achieve something.
It doesn't seem like a major thing, but that it can be intimidating to someone who has never had a vape before.
I am happy to inform you, that the buttons do not rattle.
I think that always seems like a very small insignificant detail but I think it says a lot about the build quality.
Lost Vape Back To Basic Kit Quick Start Guide
Filling the Ultra Boost X Tank
Find the arrow on the side of the top cap
Place your thumb/finger on the arrow and push it directly back
Fill the tank through the filling hole
Slide the top cap back into place
If you are using a new coil, allow 5 minutes for the liquid to soak in before using
Changing the Ultra Boost X Tank Coils
To reduce loss of liquid it is best to do this while the liquid level is low.
While holding the tank upside down, if you look into the tank you will see the holes where the coil is present.
Any liquid above these holes (while upside down) will leak out when you remove the coil.
Unscrew and remove the base of the tank
Pull out the coil from the bottom of the tank
Push a new coil into the chamber
Reapply the tank base
Fill the tank with Liquid and allow 5 minutes for the liquid to soak in before using
Lost Vape BTB Button Operations
Turn On/Off = Press fire 5 times in quick succession
Switch modes= Press the mode button, then press the '+' / '-' buttons to change the setting, press mode button again to save selection
Change Power Setting= Press '+' or '-'
Lock Wattage Settings = Press and hold the mode button and '+' simultaneously
Reset puff info= Press and hold the mode button and '-' simultaneously
Change Theme Colour = Press and hold Mode button for 2 seconds and repeat until you have your desired colour option
How Does The Lost Vape BTB Kit Perform?
Again, like the Gemini Hybrid, There's a lot to get through because I have the 5 coils (including the RBA) so I'm going to try a keep each coil run through a little bit shorter.
Lost Vape 0.2ohm Ultra Boost M4 Coil
This coil is recommended at 40W and 60W.
I used it with Brain Freeze Apple with this coil (0mg 70VG/30PG), although it doesn't sound like an interesting flavour it is a gorgeous sweet apple (with no menthol).
Unlike with the Gemini, at 15W we practically get nothing even with the airflow turned right down.
At 20W the vapour starts to come but it's without flavour, at 30W we start to get a small cloud and the flavour is best with the airflow fully open, it's prominent enough to taste but it is very subtle.
At 40W we get a very satisfactory DTL experience, a small but thick cloud and the flavour and the flavour is nice and dense at the back of the throat.
All the way up at 60w, everything is amplified. We get a nice and thick cloud and the flavour is very decent for a 60w system.
This just continues as you go up, even at 75w the cloud is plenty thick and the flavour is on point! However after a few 75W puffs I did start to get some burning.
Lost Vape 1.0ohm Ultra Boost MTL coil
This coil is recommended at 8W and 15W.
I used it with my usual Got Salt Peachy Promise (a peach and passion fruit 50VG/50PG Nic Salt).
At 8W it performs pretty well, you get a subtle taste at the back of the mouth that lasts longer than the vapour, while the vapour output is very discrete.
At 12W I think it performs better with 2 small holes (rather than the 1, although that's OK too), the flavour is great for a MTL vapour, it's really prominent.
Meanwhile the vapour production is still pretty discrete.
At 15w I think the flavour drops off a bit although the vapour production is still reminiscent of smoke from a cigarette.
Lost Vape 0.6ohm Ultra Boost M2 Coil
This coil is recommended at 20w and 28W, I used this coil with Brain Freeze Apple as well.
Like I said in the Gemini Hybrid review, 28W should be the minimum wattage for this coil not the max.
At 28W you don't get much joy from it, DTL with full airflow gives you a little cloud with not much flavour, turning the airflow down ups the flavour a very little bit but still, not worth mentioning.
However up and beyond, at 40W the flavour starts to be come more pleasing…be careful though, if you go up to 50W you're going to get some burnt cotton!
Lost Vape 0.3ohm Ultra Boost M1 Coil
This coil is recommended at 30w and 40W. Again, I used this coil with Brain Freeze Apple.
20W didn't provide much again and to be honest although 30W gives off a small cloud there still isn't much flavour.
At the top of the recommended wattage range 40W gives off a thick and fairly big cloud, with the airflow fully open the flavour isn't flooding the mouth but it is satisfactory for a 40w output.
To be honest the vapour production is pretty impressive for 40w.
At 50W everything is upped a little bit, but for me there's just not enough flavour, it's leaving me wanting more.
Lost Vape Ultra Boost Coil Summary
Well here we go…
I think the coils performed better on the Ultra Boost X tank to what they did with the Gemini Hybrid, I was hoping for a different result for the 0.6ohm M2 though.
It would be interesting to see what you think of it, if you have used the M2 coil, please let us know what you think down in the comments below.
The 1ohm coil and the 0.2ohm coil do have the screws for the built in adjustable airflow, however I didn't use it, it's a bit redundant on this tank as it as a pretty good airflow control.
Lost Vape BTB Functionality
As a starter kit, it is nice and simple as well as being easy to operate.
With that being said it's not really that low of features, I was quite surprised to see that it has TC and I'm as equally surprised that it does not have a bypass mode.
Lost Vape BTB Battery Life
The Lost Vape BTB take a single 18650, as far as I'm aware the most common 18650s are 2,500mAh and 3,000mAh.
I used a 2,500mAh battery and the recommended wattage of the coils that come with the kit varies between 8W and 60W, so that's what we'll look at.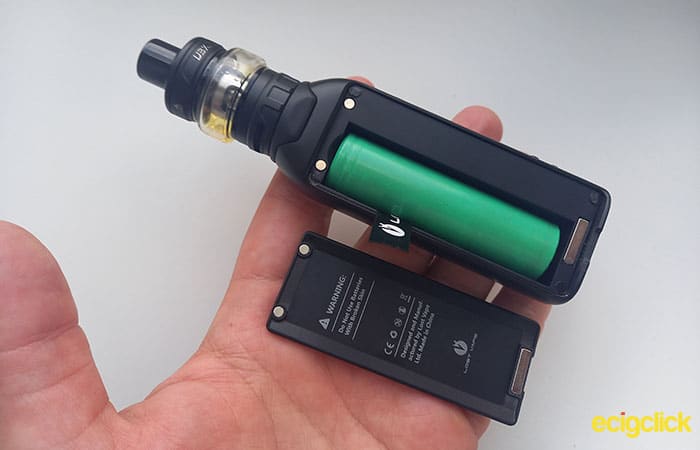 If you're using the kit at 8W you're going to get about 2,000 x 2 second puffs, that's about 69 hours of use!
At 60W you're going to get about 278 x 2 second puffs, that's over 9 hours of use!
Any complaints about that? Nope, thought not.
Lost Vape Back To Basic Charging
For some reason Lost Vape doesn't seem to have included the charging power input information anywhere… again. You can charge the mod directly by plugging it in or using an external charger.
I always opt for the External because depending on the device you are using it is better for the battery, but a big advantage is, you can have two batteries, one charging and one using.
However for the purpose of information I drained the battery and plugged it in to charge the system took between 1hour 15minute and 1 hour 30minutes…which is honestly a lot better than I expected from a device that doesn't brag about it. ( I used a 2A plug).
The device does not support pass through, which means you cannot use it while it is charging.
Does the Lost Vape Ultra Boost X Tank Leak?
I can honestly say I haven't noticed a single drop of leaking.
Ready Aim And Fire…
On the second day of using the kit, the fire button stuck leaving the mod to continue to fire until the 10 second cut off protection kicked in.
I don't understand why it happened, I wasn't pressing it hard and the button didn't visually jam, I didn't and still know how I got it to un-jam. I just took the battery out and played with the button until it started clicking again.
Now this happens…although I've never had it happen, in the first 2 weeks before. Although it was just the once, I have no idea what caused it, it was practically brand new, and I'm sure it hasn't been exposed to leaking juice.
I must stress that this only happened that once, and hasn't happened again.
There is also the possibility there there was something small caught in the button area or it is a one off fault. I don't know, all I know is it happened and it's my job to tell you.
The Ultra Boost RBA Deck
The Ultra Boost RBA deck I used is the same Ultra Boost RBA deck I used on the Gemini hybrid.
It is well made, the threads are nice and smooth, the wicking port is fine and the built in airflow is a good mid range airflow, it smaller than the airflow on some of the other coils.
How Does It Perform?
It's good, with it's restrictive airflow I think it performs a lot better when it is build for MTL than DTL, so keep low wattage in mind.
What About Building
As far as small decks go, this is really easy to build. If anything it's just a little bit fiddly trying to get the allen key into the small screws.
If I have any tips, it would be
Try to get the coil above the airflow, but not right above the airflow, place it slightly towards the posts.
Thin your wicks out very slightly. I wicked it fine without wicking but it maybe just ever so slightly too thick, so thin it out a little bit, but be careful not too go too mad.
Pros
Good Adjustable Airflow
Good Top Fill
Doesn't Leak
Easy to Build RBA
Easy To Use
Fits the hand nicely
Good Build Quality
Screen Looks good and easy to see
Well designed and built
Cons
A Little on the heavy side for a starter kit
Battery Cover is hard to remove without nails
Not all coils are top scorers
Final Verdict
Without a doubt I enjoyed this better than the Gemini Hybrid.
I supposed it's 'each to their own", but I found not only is it much nicer to hold (despite it's unexpected weight), the same coils seem to produce a much better flavour.
I said the Gemini Hybrid is really only good for starters and although the Lost Vape BTB is a good place to start, I can also image a lot of 'long term vapers' being pleased by it.
The 1ohm coil works well with the Ultra Boost, providing a true MTL airflow and flavour. While the 0.2ohm performs impressively well DTL for a 60W coil.
I'm still concerned about the fire button getting stuck, I still can't figure out why it happened, but it did only happen once, however I'm not going to factor that into the scoring because it only happened once, so that suggests it's not a persistent or common issue.
However, if I start to hear from other people that the error is common place, i will update the review.
The Lost Vape BTB is a good place to start your vape journey if you are interested in both Mouth To Lung vaping and Direct To Lung Vaping.