We had a great response this year, thanks all for taking part! As well as being a bit of fun, the main reason for running the E Cig Awards 2014 was to recognise the hard work many have made to make the vaping world what it was in 2014!
The awards are really just a snap shot in the world of vaping from the nominations received, if you didn't get a chance to nominate this time around be sure to keep an eye out for next year!
OK… without further ado. Here are our award winners as voted by you!
Company: Best Overall 2014
Nominated companies:
Company: Best Newcomer 2014
Nominated companies:
M Vapes
Red Juice
Cyber Cig
Spiritus Vapes
Company: Best Customer Service 2014
Nominated companies:
My E Pack
Totally Wicked
Liberty Flights
Best One Stop Shop 2014
Nominated companies:
My E Pack
UK E Cig Store
Vape Escape
Bricks & Mortar: Store of the Year 2014
Liberty Flights – Stockport
Nominated companies:
Vape Escape – Heywood
The Vape Lab – Shoreditch
UK E Cig Store – Wembley
The Vapour Room – Eastbourne
E-Liquid: Vendor of the Year 2014
Nominated companies:
Chefs Vapour
Liberty Flights
Digby's Juices
Totally Wicked
E-Liquid: Brand of the Year 2014
Nominated companies:
E-Liquid: Best New Brand 2014
Nominated companies:
Generals Juices
Colonel Boom
The Lancashire Steam Company
E-Liquid: Best Value 2014
Nominated products:
Kraken
Wizmix – Ecigwizard
Flavourart
The Alchemists Cupboard
E-Liquid: Best Flavour 2014
Nominated products:
Dandelion & Burdock by Liberty Flights
Squid Ink by Kraken
Snake Oil by T Max Juices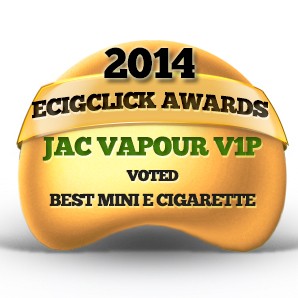 Best Mini E Cigarette 2014
Nominated products:
Best EGO/Pen Style 2014
Nominated products:
Best APV 2014
Nominated products:
Kanger K Simar
Provari P3
Innokin SVD 2.0
Best Box Mod 2014
Nominated Products:
IPV 2
Vapor Shark DNA 30
Sigelei 50W
Stig Helix
Best Mech Mod 2014
Nominated Products:
GP Paps Lux
Pegasus Mod by Olympus Creations
Stingray X
MCR101
Best Clearomiser/Tank 2014
Nominated Products:
Nature Vape Mini
Kanger Aerotank
Kanger Aerotank Mega
Aspire Nautilus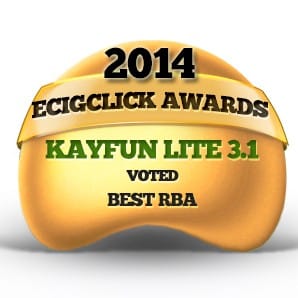 Best Rebuildable Atomiser / Tank 2014
Nominated Products:
Rose V2
Origen Genesis V2
Squape Reloaded by Stattqualm
Fogger 4.1
Best Dripper 2014
Nominated Products:
IGO L
Trident V2 by Grand Vapor
Magma Dripper RDA
Mutation X
Forum of the Year 2014
Nominated Forums:
UK Vapers
ECF
The Vaping Forum
Most Helpful Forum Member 2014
Nominated Forum Members:
Diche – POTV
Miss Pepper – POTV
Gords1001 – POTV
Best Informational Blog 2014
Nominated Blogs:
Grumpy Vaper
Verns Vapes
Red Head Full of Steam
Ashtray Blog
Best Youtube Video Review Channel 2014
Nominated E Cig Reviewers:
Scott Bonner
RIP Tripper
Grimm Green
P Busardo
Best New Youtube Video Review Channel 2014
Damian – A Bloody Good Vaping
Nominated E Cig Reviewers:
Suck My Mod
Martyn Parker
Brad Vapes
The Vaping Bogan
Best Reviewer 2014
Mark Todd – 'Todds Reviews'
Nominated E Cig Reviewers:
Vaping With Twisted 420
Grimm Green
P Busardo
Damian Morter – A Bloody Good Vaping
Gareth Witty
RIP Tripper
Scott Bonner