The Smok Alike pod kit review, and this represents a radical change in appearance from the manufacturer that has sold products to over 80 million consumers.
It's almost as if to hide an unavoidable fact – it's another pod.
While it's true that pod systems remain highly popular especially among virgin vapers, Smok continue to create confusion with pods and their compatibility.
We've seen the Smok Nord and the Nord 2. The Smok RPM40 followed by the RPM80 and RPM80 Pro. More recently the Smok Fetch Mini spawned a big brother, the Fetch Pro.
Upon releasing devices that could reach 80W, Smok began including the RGC pods as part of the packaging. Consequently a new range of coils was designed specifically to cater for the increased power output.
So despite the change in aesthetics and overall design, there's still some head scratching as to which coils are compatible across their range of pod systems.
..I think I've just confused myself now lol!
What Can We Expect From The Smok Alike Pod Kit?
The Smok Alike pod kit is capable of powering up to 40W.
This means it's compatible with all previous RPM coils, and that includes the rebuildable (RBA) section of the RPM40 device – Bonus! Get those glasses out and ready, steady those hands! lol
The airflow is non adjustable so what you vape is what you get. Both mesh and MTL coils are included along with a brand new pod specific to the device.
So we can expect to get a cool flavoursome direct lung vape on the one hand and a restrictive intense mouth to lung on the other.
The device has an IPX7 rating which means it's water resistant. I hesitate to use the word waterproof.
What it does mean is the Smok Alike Pod kit can withstand water immersion of up to one metre, and for a period of thirty minutes.
So has Smok provided us with anything other than a change of aesthetics?
Sounds like a great place to kick start this review.
Inside the Box
Alike Device
RPM Mesh 0.4ohm DL coil
RPM DC 0.8ohm MTL coil
USB cable
Alike empty pod (5.5ml)
User manual
Warranty card
Note: The version under review is the standard US edition. There is of course a TPD version for use inside the EU. Naturally this features a 2ml capacity Alike empty pod. Everything else remains the same.

The Smok Alike Pod Kit is available in Matte Gold, Matte Red, Matte Blue, Matte Gun Metal and the one I received, Matte Green.
Specifications
Size 77 x 43.2 x 23.4mm
Weight 120g (excluding pod)
Output power 1W – 40W
Battery capacity 1600mah
Output voltage 0.5V – 4.0V
Resistance range 0.2ohm – 2.5ohm
Charging voltage 5V
Features
2ml / 5.5ml pod compatible with all RPM coils
Tri proof protection
Includes coils for both MTL and DL vaping styles
1600mah internal battery with adjustable power output in Wattage
Compact size with ergonomic contouring for comfort and grip
0.96inch colour screen
Leather body with natural texturing
Design And Build Quality
I have to say I'm impressed with this radical new direction from Smok.
The device feels solid and very comfortable in the hand.
There's no difficulty in slipping into a pocket and it's a highly portable AIO pod.
Smok Alike Pod Kit – Drip Tip and Airflow Design
Fans of their own 510 drip tips will be pleased to know they can take full advantage with the Smok Alike Pod kit.
The one included provides a nice tight fit thanks to double O rings. There's no movement and it feels comfortable while vaping.
In fact you can remove the pod from the battery section by simply pulling on it! Lazy – that's me lol!


Dual airflow ports are built into the removable pod section. They're quite large so should allow for plenty of vapour production during direct lung use on the included RPM Mesh coil.
SMOK Alike Pod Kit – The Pod Section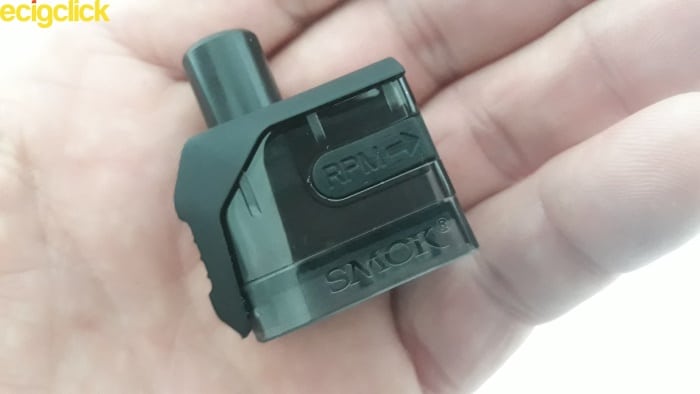 This is where another element of the tri-proof design comes in. The entire exposed portion of the pod has been updated with additional protection, against dust, water, bumps and knocks.
Although not rubber, it appears to be a toughened plastic. The pod itself is the usual PCTG food grade material, and there's very little tinting of the viewing window which is always a good thing.
The only downside is you'll need to constantly remove the pod in order to view those juice levels.
Two magnets on the underside of the pod marry up to those within the battery section to provide a strong contact between both.
The pod fits snugly in the battery section with no movement.
I'm amazed Smok didn't provide a better lifting tab on the silicone stopper. Positioning it on the side of the pod certainly makes life easier and by now should be mandatory.
Yet it takes an eternity to open, and attempting to fill in a hurry is not an option.
A Negative Neil mentioned in the past – and I'm mentioning it again… If only patience was my virtue…
While we're on the subject of filling..
SMOK Alike Pod Kit – Installing the Coil and Filling
It's a simple case of plug and play with the provided RPM coils.
Remove the pod from the battery section
Push the coil head securely up and into the pod
Use the magnetic contacts to snap the pod back into the battery section
Thanks to a relatively large filling port on the side administering e liquid is an easy process.
Remove pod from the battery section
Lift silicone stopper away from the pod
Carefully insert bottle nozzle and administer e liquid into pod – taking care not to overfill
Return silicone stopper back into the body of the pod
Snap the pod back into the battery section
At this point it's always advisable to let the e liquid soak into the cotton of a new coil.
Give it a good five minutes prior to the first vape – known as 'priming your coil'.
SMOK Alike Pod Kit Battery Section
There are a total of five star screws incorporated around the main body and a couple underneath.
For a device with submersible properties I find their presence a little concerning.
Inside the housing are the obligatory negative and positive spring loaded battery contacts along with bridging magnets for the pod itself.
SMOK Alike Pod Kit – USB Port and Battery Venting
There's sufficient battery venting on the underside of the device. However, I'm afraid we're back to fingernail length issues with the rubber release tab of the USB port.
I found it fiddly to release and just as difficult to push back into place. For the second time, my confidence in the devices' waterproof properties waned.
Not all USB cables will fit either due to the recessed nature of the connector.
You won't be able to charge the device in a vertical position. In my case, prompting the removal the pod – something of a personal bug bear.
It's Very Much Alike
The Smok Alike Pod Kit features an impressive leather like finish with a natural texture.
However, other manufacturers have already used a similar aesthetic approach.
Just like theirs, only time will tell if the incorporated stitching will hold up.
The spray coloured perimeter is composed of a very strong steel, bound to resist a few knocks.
SMOK Alike Pod Kit – Screen Display
The Smok Alike Pod Kit features an impressive 0.96inch TFT colour screen.
Thanks to a strong backlight the display is easy on the eye and doesn't suffer in direct sunlight.
The backlight will turn off after fifteen seconds of inactivity to preserve the 1600mah internal battery.
Screen Functions
The fire button (located at the top) is responsive with just the right amount of travel.
Beneath the main display is the menu function rocker, eassy enough to use but the buttons could have been made a little larger.
Press the fire button five times to power the device on or off
In standby mode, press the fire button three times to lock or unlock the device
Press the left rocker button to decrease wattage in 1W increments
Press the right rocker button to increase wattage in 1 W increments
Hold the left and right rocker buttons to lock or unlock wattage settings
Hold the fire and right rocker buttons to cycle through any of the six colour schemes
Press the fire and left rocker buttons to reset the puff counter
When held, the left or right rocker buttons allow the device to scroll through wattage at a faster speed. Once the maximum 40W is reached it will stop. Press the right rocker again to reset the value to 1W.
The Voltage output is only visible when the fire button is activated.
SMOK Alike Pod Kit – USB Charging
I've got to hand it to Smok! They've not only included the usual battery strength icon but a charge percentage too.
I put the charge percentage reading to the test once the battery had fully depleted. The device stated a 90 minute charge cycle.
It actually took thirteen minutes less. A bonus, but by no means entirely accurate.
Neither was it during use because there was sudden unexplained drops in percentage. No doubt a firmware update will solve this minor issue.
It's useful to know that pass through charging is available should you become impatient for a vape – meaning you can still vape whilst charging.
How Does The Smok Alike Pod Kit Perform?
I began by using the included 0.8ohm DC RPM coil, using Vape Dinner Lady Cola Ice with freebase nicotine. The liquid ratio was 50VG / 50PG.


The recommended output for the coil is 16W so that's what I went with.
I have to stress that this is not  an MTL vape in my experience. It is possible but just far too airy to be suitable for a new vaper.
Most of the vape tends to be lost in the air and flavour suffers as a consequence.
As a restrictive direct lung draw the coil functions adequately enough.
I'm provided with plenty of throat hit from the nicotine and cloud production is very satisfying.
There is a mild amount of turbulence created during the draw, emitting more noise than I would have liked.
Flavour properties are OK. Nothing striking, being a little dull and flat during the exhale.
The cola tends to get muted, fading early during this cool but dry vaping experience.
However, the cooling agent tends to last much longer on the tongue and throat.
It's something of an unbalanced reproduction of a profile I'm very familiar with.
SMOK Alike Pod Kit – 0.4ohm Mesh RPM coil
The test for the mesh coil was achieved using NVEE Strawberry e liquid.
Another 50VG / 50PG ratio nicotine salt, and again I went with the recommended power setting of 25W.
Wow! This is most definitely your classic direct lung vape!
Cloud production is insanely impressive for this 0.4ohm rated coil. I would go as far as to suggest that it matches some dedicated sub ohm tank devices, it's both thick and dense and it's a very satisfying vape.
The gush fest doesn't end there either. Flavour replication is bang on point.
It literally spills out of the vape even able to produce cream sub notes with ease. The strawberry content is omnipresent and the intensity is balanced perfectly.
With this mesh coil you can expect to receive a very smooth and airy vape, with just a smidgen of airflow restriction.
Some turbulence and noise can still be witnessed but takes little away from a pretty flawless vaping experience.
Pros
Impressive battery performance
Both ergonomic and portable
Large fill port to suit all bottle nozzles
Fantastic flavour and vapour performance from the 0.4ohm Mesh RPM coil
IPX7 rating works a treat
Cons
Poor MTL experience and average flavour production from 0.8ohm DC RPM coil
Silicone pod stopper can be difficult to use
Rubber USB protector is awkward to remove and replace
Both coils are prone to leaking
Choose Your E-liquid Carefully!
With the 0.8ohm DC RPM coil I amassed an impressive eleven and a half hours before recharging, and at no time did the flavour or vapour production wain.
With just a few percent of battery life left, the device was still chucking out plenty of cloud.
The puff counter was reading just under 300 after having vaped approximately 5ml of e-liquid – pretty good going for the 1600mah internal battery.
Unsurprisingly, the power demands of the 0.4ohm Mesh RPM coil saw the battery holding out significantly less at eight hours. The screen registered 180 puffs with 5ml of e liquid vaped.
I found a significant amount of difference between the two included coils, with the mesh coil far superior to its dual coiled relative.
The 0.8ohm DC RPM is not a MTL coil and shouldn't be classed as such. There needs to be at least another 25% reduction in airflow to even consider it as such.
Unfortunately both were prone to mild leaking from the base of the coil. This was not condensation. Symptomatic across a vast array of pod systems, a weakness that should've already been tackled.
As a general rule of thumb I would suggest using liquid ratios of between 50/50 and 70VG/30PG with the included coils.
Don't Talk Wet, Neil!
I will attest to feeling a bit doubtful about the water test.
For this reason I left it until others had been completed! lol
The device was left in a bowl of water for thirty minutes. Air bubbles periodically formed around the area where the leather meets the steel frame – slightly worrying.
After removing from the bowl I noticed how quickly the stitched material was drying, but it only needed a few wipes which was impressive.
..It was business as usual when I fired the device back up.
The rubber USB stopper had done its job too, and there were no issues when charging – based on that the IPX7 waterproofing works a treat. Proof also then that my previous concerns were unfounded!
Final Review Verdict
Smok has certainly designed a product that has more on offer than just aesthetics.
It's ideal for someone who works in the construction industry for example, as it feels solid, robust and built to last in environments such as those.
There's also the likelihood of obtaining a full days use between battery charges.
It won't be suitable for a new vaper because neither coil offers the ability to replicate the experience of a cigarette, unfortunately.
For someone that likes the portability of a pod system, is familiar with them and prefers a less restrictive vape the Smok Alike Pod Kit is a viable option.